FireLake Casino Shawnee
Address: 41207 Hardesty Rd, Shawnee, OK 74801
Phone Number: +1 405-878-4862
Website: www.firelakecasino.com
Hours: FireLake Casino is open Monday 8 am – 2 am, Tuesday 8 am – 2 am, Wednesday 8 am – 2 am, Thursday 8 am – 2 am, Friday 8 am – 2 am, Saturday 8 am – 2 am, Sunday 8 am – 2 am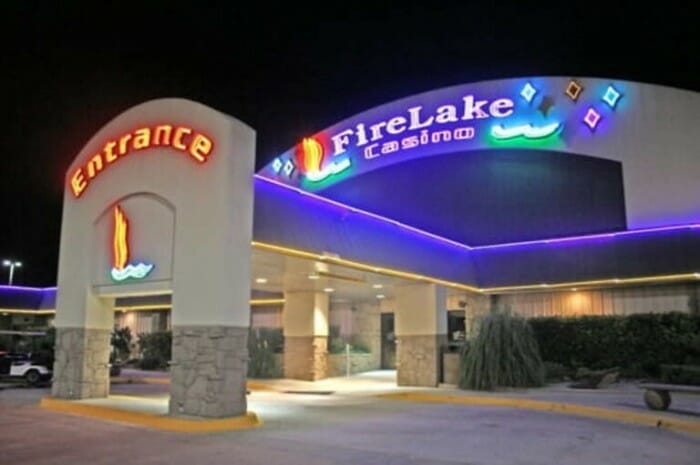 FireLake Casino in Shawnee is currently owned and operated by the Citizen Potawatomi Nation. The property was initially opened as a bingo hall back in 1982 and was owned by a different entity.
Today, this casino offers over 700 slots, video gaming machines and table games that provide guests with a variety of gaming options. In addition to the slots and table games, the casino also offers various promotions, tournaments and entertainment to guests.
The casino also features live entertainment and live bands that play both country and rock music. They also have an onsite bar and grill that serves up a variety of food and drinks. This casino definitely has something for everyone, from gaming to entertainment to food and drinks.
If you're looking for an exciting night out in Shawnee, then be sure to check them out. With over 700 slot and video gaming machines, live entertainment, promotions and more – there's something for anyone seeking a fun night out.
On popular review sites, this casino in Shawnee has been given an average rating of 4.3 out of 5 stars by many guests. One visitor said, "I really enjoyed my time at FireLake Casino. The slots were great, and the staff was friendly and helpful. I'll definitely be back."
Another said, "This casino had a great atmosphere with lots of fun activities. The food was delicious, and the service was excellent! Highly recommend checking it out!"
(Related reading: Oklahoma casinos)
Gaming
Their casino has a great selection of gaming machines and table games for guests to play. Slot machines include a variety of classic and progressive slots, as well as video poker, keno and more.
Table Games
This casino in Oklahoma offers a variety of exciting game experiences. Whether your tastes lean towards the classic card and number games, or something more challenging like Ultimate Texas Hold'em and flop poker, there's guaranteed to be something that will suit your gaming needs.
Try your luck at one of their multiple-player Blackjack tables, take a spin on the Roulette wheel, test your nerve with a round of Craps or get dealt 3-card poker for a chance to hit it big.
If Holdem is your interest, both limit and no-limit games are available so you can find the version that best fits your style.
Additionally, the minimum table game bets here are $5, depending on the game. Be sure to check in with your local casino for exact table limits. They also offer high-limit gaming areas where you can find even larger table limits.
Slots
The slots at this casino have something for everyone. Whether you're looking for classic 3-reel games, video slots with bonus rounds or progressive jackpots that can reach the millions, you'll find it all here. Popular slot games include:
Li'l Red
Colossal Wizards
Spartacus Gladiator of Rome
Queen of the Wild II
Forbidden Dragons
Lazer Lock Ice Sapphire
Unfortunately, this casino does not release its specific slot machine payback percentages. However, players may check with the casino itself for current information.
Hotel/Resort
This casino in Oklahoma offers an incredible gaming experience for its guests, but sometimes you need to break away from the casino floor for a little relaxation and disconnection.
Even though they do not have an on-site hotel, there are plenty of amazing hotels and resorts located just minutes away from the casino.
Holiday Inn Express & Suites, Grand Casino Hotel & Resort, and Hampton Inn are just a few viable choices that can provide the perfect retreat after a night of gaming. Each hotel ensures comfort and relaxation with modern amenities and exceptional service that will put your mind at ease.
With such great options nearby, you don't have to worry about finding a comfortable place to stay while enjoying all the excitement that this casino has to offer.
Restaurants & Buffets
Even though they do not offer any buffet-style restaurants, there are a few great options available at the casino. Its two restaurants, Bistro Grill and Lucky 7's Bar offer great food that will satisfy any taste bud.
At Bistro Grill, you can enjoy an array of both traditional American cuisine as well as really wonderful specialty dishes. The menu items are affordable, and the atmosphere makes it perfect for family dinners or special occasions.
On the other hand, Lucky 7's Bar offers a fun dining experience with arcade games and even karaoke nights. Here you can find different versions of your favorite classic pub foods paired perfectly with their selection of craft beer.
No matter if you're looking for an upscale night out or a laid-back evening of entertainment, this casino has something for everyone to enjoy.
Pools
This casino in Oklahoma is an exciting destination featuring a wide selection of the latest slots and games. However, this casino does not house any pools on its premises.
If you are looking to cool off or spend some time in the water, there are several nearby resorts with amazing indoor and outdoor pool areas that offer everything from hot tubs and swim-up bars to waterslides and lazy rivers.
Afterward, you may come back to the casino and enjoy all the exciting gaming options this casino has to offer. Whether you're looking for a night of fun or a weekend away, this is the perfect place for you.
FireLake Casino, Shawnee, OK FAQ
Does FireLake Casino Have A Sportsbook?
Unfortunately, this casino does not have a sportsbook. However, guests may still enjoy a wide variety of table games, slots and other gambling options. From classic card games to the newest slots, this casino has something for everyone.
Is Poker Available At FireLake?
Yes, this casino offers a variety of poker games for guests to enjoy. Players can choose from Texas Hold'em, 3-card poker, No-Limit and more. There's something for all levels of experience, so anyone can have a great time and win big.
What Are The Age Requirements For Gambling At FireLake Casino?
All guests must be 18 years of age or older to enter and gamble at this casino. Guests must present valid identification when entering the casino, so you are advised to bring your ID when visiting this location.
Does FireLake Have An Online Casino?
Currently, they do not offer an online casino. You will need to visit the actual casino to take part in any of its gaming activities. With all their exciting games and great prizes, you are sure to have an amazing time when you visit this casino.
Is There An FireLake Casino App?
Unfortunately, this casino does not have an app yet. However, you can still get the latest news and updates on their official website. There, you can also learn about promotions and upcoming events at the casino.
You may also follow their social media accounts to keep up with the latest happenings at the casino.
What Is The Dress Code At FireLake?
The dress code at this casino is casual. You should dress in comfortable clothing that respects the other guests and staff. Inappropriate attire, such as revealing or offensive clothes, is not allowed inside the casino. Remember always to follow their rules when visiting the casino.
Is There An Airport Shuttle Available From FireLake Casino?
No, there is no airport shuttle available to or from this casino. However, it is located just a few miles from the Will Rogers World Airport in Oklahoma City. If you need to get to the casino from the airport, you can take a taxi or an Uber ride.
What Is The Smoking Policy At FireLake?
To accommodate individual preferences, they've created a smoking policy that allows smokers to enjoy the casino in designated areas. If you're visiting the casino and prefer not to be around smoke, there's no need to worry.
This casino has a Non-Smoking Slot Section where you can play without any worries about inhaling secondhand smoke. Visitors can also find a state-of-the-art ventilation system in the Non-Smoking Area to ensure their experience is enjoyable.
What Is The Pet Policy At FireLake Casino?
Only service animals are allowed inside the casino. If you want to bring your pet, you should leave them at home or in a safe place while you visit the casino.
Is Wifi Available At FireLake?
Unfortunately, there is no wifi available at this casino. However, you can still enjoy a great gaming experience with all the amenities they offer. From classic table games to exciting slots and more, this casino has something for everyone.
What Is The Cancellation Policy For FireLake Casino?
Players may come and go on a first-come, first-served basis. The casino does not require its players to reserve a spot in advance. With all their great gaming activities, there is no need to worry about needing to cancel your visit.
Conclusion
FireLake Casino is a great destination for anyone looking to have some fun. With its wide range of games and exciting prizes, it's sure to be an entertaining time.
Be sure to follow their dress code and pet policy when visiting this casino, and remember that all guests must be 18 years or older in order to enter the premises. You can also find more information on their official website or social media accounts.
With all the great amenities they offer, this casino will surely provide a fun and enjoyable experience for all.