By Steve Beauregard
The cities and plains of Oklahoma are sprinkled with a number of casinos (102 to be exact), ranging from tiny truck stop slot machine rooms, all the way to the largest casino in the United States.
Here is a list of the top ten largest casinos in Oklahoma. The Sooner State casino market is constantly growing and expanding, and thus, this list is likely to change from year to year. After all, the number one biggest casino on our list was nothing more than a bingo hall just a few years ago.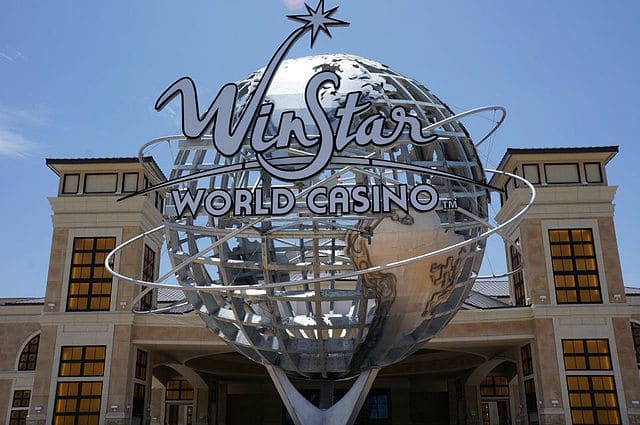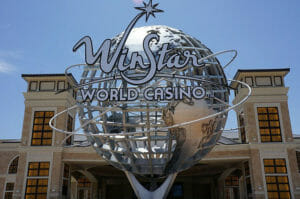 All of these casinos are owned by Indian tribes. Since the 2004 vote, when Oklahoma voters passed legislation expanding Indian casino gaming, a new casino land rush has seen glitzy casinos spring up in nearly every corner of the state.
The list below is in order of size – specifically square footage.
We want to go strictly on square footage of casino space, but unfortunately, casinos do not have any official standard or requirement to list their square footage devoted to gaming. As such, I believe some of these casinos are counting hotel rooms, restaurants, clubs, etc, in their "casino square footage." Others, like the WinStar, only count actual gaming floor space as casino square footage.
1) WinStar World & Casino Resort – Thackerville: 519,000 square feet of casino space. It's by far the largest casino in Oklahoma. In fact, it's the second biggest one in the world, and the biggest one in the United States.
According to the Oklahoma Indian Gaming Commission, there are 71,750 electronic gaming machines (slot machines, video poker machines, etc.), in the state. Winstar has 7,400 of them, meaning that the massive casino near the Red River has over 10% of the state's in slot machines.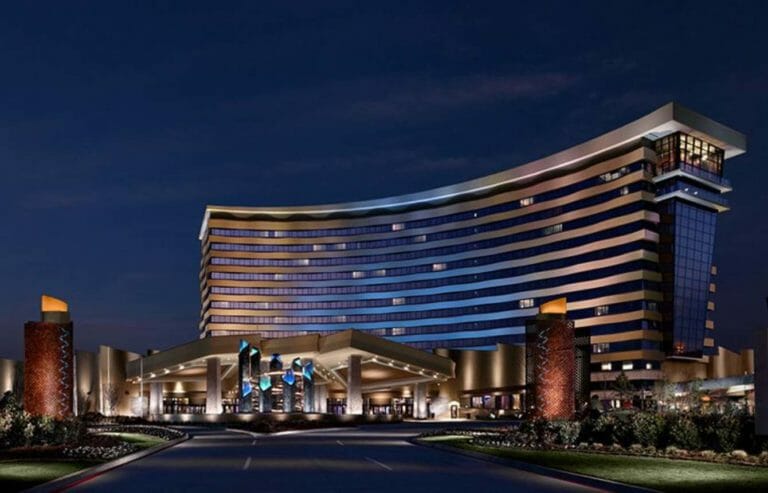 2) Choctaw Casino Resort – Durant: 300,000 square feet of casino space. (This, according to the state travel commission. However I can't confirm this on the resort's site or anywhere else. The resort opened in 2006 with 108,000 square foot casino. In 2010, the casino opened up a new casino space of 110,000 square feet giving us 218,000 square feet.) Either way, it does have 3,500 slot machines. It also has a 786 room hotel.
3) Riverwind Casino – Norman: 219,000 square feet. 2,700 electronic games, and 20 table games.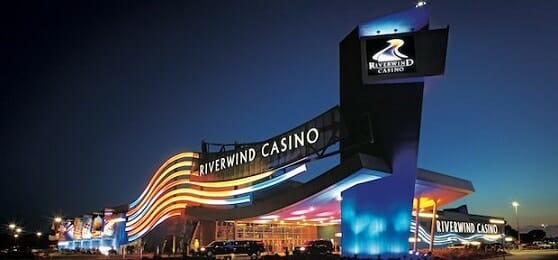 4) River Spirit Casino – Tulsa. In addition to its own spacious casino floor, River Spirit has an attached Jimmy Buffet's Margaritaville Casino. The two casinos have a combined 200,000 square feet of gaming space and 3,100 electronic games, along with 40 table games.
5) Hard Rock Hotel & Casino Tulsa – Actually located just outside of Tulsa, in Catoosa, Oklahoma, the Hard Rock has 170,000 square feet of gaming space, along with a 454 room hotel.
The Hard Rock has 2,600 slot machines and video poker machines.
6) Cherokee Casino – Roland: 170,000 square feet. 850 electronic games. 9 table games.
7) Grand Casino Hotel Resort – Shawnee: 125,000 square feet. 1,800 games.
8) Newcastle Casino – 83,000 square feet of confirmed gaming space. 2,900 gaming machines, but just 14 table games.
9) Downstream Casino Resort – Quapaw: 70,000 square feet of gaming space.
10) Buffalo Run Casino & Resort – Miami: 70,000 square feet of casino space. This is the largest of the six casinos in Miami, Oklahoma.
Honorable Mention goes the the Indigo Sky in Wyandotte: 45,000 square feet of gaming space, but 1,250 gaming machines.
Other Bigger Casinos in Oklahoma
The information above has been obtained from either the state of Oklahoma's official travel site, or the casino itself. In other words, take them with a grain of salt.
There are some larger casinos that do not list their square footage and therefore are not included here.
This would include the Comanche Red River, the Choctaw Casino Hotel – Pocola, the First Council Casino Newkirk, and Osage Casinos (Tulsa, etc.) – none of which give square footage figures at all.
(WinStar photo by Kym Koch Thompson – Flickr. Riverwind Casino photo courtesy of Riverwind's media blog)