What is the Largest casino in Oklahoma?
The largest casino in Oklahoma happens to be the largest casino in the U.S..
It's the WinStar World Casino & Resort in Thackerville, Oklahoma, just north of the Oklahoma and Texas border on the Red River. It is the second largest casino in the entire world, (by square footage), but it's the largest in the world if you go by number of slot machines and games. It's a big casino in an increasingly big gambling state.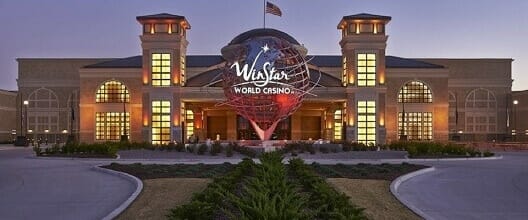 With over $4 billion in annual gaming revenue, Oklahoma's gambling market is booming. Currently there are 102 casinos in Oklahoma, with more on the way.
Yet of the 102, the WinStar World Casino stands tall as by far the largest casino in all of Oklahoma.
It has room for up to 500 people.
And that's just the buffet.
The resort as a whole is much more enormous. The internationally themed complex is shaped like a backwards "7." It has sections of the casino that represent several different international exterior motifs based on various cities of the world, (i.e. London, Paris, Beijing, Cairo, etc.)
It annually brings in hundreds of thousands of visitors from Dallas and Ft. Worth, as the casino is just 80 miles away from the heart of Dallas. In fact, it's the closest casino to Dallas. The populous suburbs in north Dallas are just an hour or less away. The resort also draws in gamblers from nearby Oklahoma City, which is around 127 miles away.
Biggest Casino in Oklahoma
At around 400,000 square feet of gaming space, the WinStar's casino square footage puts several thousand feet shy of being the largest in the world. (That designation goes to the Venetian Macao, just off the coast of China, with 546,000 square feet of gaming space).
Still, WinStar's square feet of casino floor space dwarfs it's much more famous cousins in Las Vegas. To put WinStar Casino's 400,000 square feet of gaming floor space in perspective, the Wynn Las Vegas has 110,000 square feet while the Bellagio has 155,000 square feet.
The WinStar's massive casino wings are covered with 8,600 slot machines/video poker machines and 100 table games.
These table games include all the usual favorites, such as black jack, Pai Gow Power, Ultimate Texas Hold-em, 3-card poker, Let it Ride, etc, along with mini-baccarat and now both regular roulette and craps with dice (previously, state regulations required them to use a card-based craps game).
WinStar's popular poker room consists of 46 tables, and it hosts several big-name tournaments on the professional poker circuit. And at 19,000 square feet, the poker room alone is larger than many of the casinos in the Sooner state.
(RELATED: Top ten Largest casinos in Oklahoma)
Besides the endless array of slots and table games, the resort has mega-frenzy bingo and an off-track betting parlor for horse and greyhound races.
(The red dot marks the WinStar, about 80 miles north of downtown Dallas, Texas).
Biggest Casino/Hotel in Oklahoma
With 1,400 hotel rooms spread across two towers, (one a 12 story, and newer 18 story tower), the WinStar is the second biggest casino/hotel in Oklahoma, behind the Choctaw Casino in nearby Durant, which has 1,700 hotel rooms.
Either way, the WinStar World Casino Resort, which is owned by the Chickasaw Nation Indian tribe, has numerous restaurants, four gift shops, a spa, multiple pools, a 36 hole golf course, and a 65,000 square foot convention center.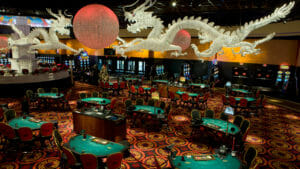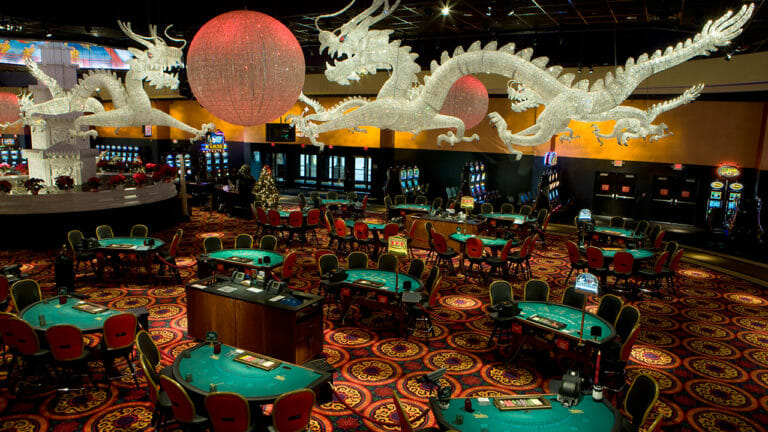 Its 3,500 seat entertainment venue called the "Global Event Center" is matched only by The Colosseum at WinStar, a 9,000 seat amphitheater for outdoor shows.
The resorts massive grounds also include a 1,400 space parking garage and a separate RV Park with its own pool, clubhouse, and 153 sites with full hook-ups, (along with 6 dry camping sites).
Photos courtesy of the Winstar and Chickasaw Country