Butterfields Buffet at Choctaw Casino Hours & Price 2023
As one of the largest casinos in the United States, with over 7,000 slots and 100 table games, the Choctaw Casino in Durant, Oklahoma sees thousands of visitors each day. And a good number of those gamblers scratch their hunger itch at the very popular Butterfields Buffet.
Located in the Grand Casino (Choctaw Durant has three different casino wings), Butterfields is just steps away from the bustling energy of casino floor. It has a contemporary décor with lots of red, high ceilings, and decorative lights. It's not the largest buffet you'll every see, but it is reasonably-priced.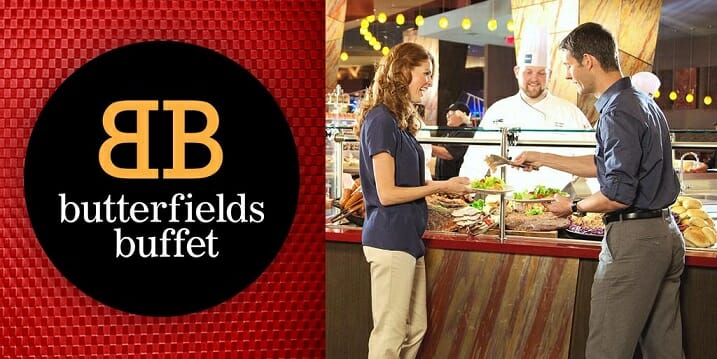 Butterfields Buffet Choctaw
Stations here include a carving station, Southern, Italian, and Asian, in addition to the separate salad bar and dessert island.
Lines can get long here, especially on weekend nights during Butterfields' very popular seafood buffet. You'll pay first, then be seated, and this is one of those buffets where a waitperson will take your drink order, rather than you going up to a self-service drink stand.
Selections at the various stations range from your typical salad bar to brick-oven pizza to catfish, Tex-Mex, a Mongolian type grill, Pho station, a huge variety of sweets, and nearly everything in between. It is not an upscale dining experience by any means, but it does offer a wide variety of options, at an affordable price.
Butterfields Buffet Hours & Prices
Below are the standard hours and prices, which are subject to change, especially on holidays. These prices are before your Choctaw Rewards discounts, which are covered further below.
| | | |
| --- | --- | --- |
| Sunday | | |
| Brunch | 8 AM – 2 PM | $30 |
| Dinner | 4 PM – 9 PM | $30 |
| Monday – Thursday | | |
| Lunch | 11 AM – 2 PM | $20 |
| Dinner | 4 PM – 9 PM | $30 |
| Friday | | |
| Lunch | 11 AM – 2 PM | $20 |
| Seafood Dinner | 3:30 PM – 11 PM | $40 |
| Saturday | | |
| Brunch | 8 AM – 2 PM | $30 |
| Seafood Dinner | 3:30 PM – 11 PM | $40 |
Should you bring the little ones, know that kids 5 and under eat for free. Children from 6 to 12 pay half price. Your 13 year-old (and up) pays adult prices.
During holidays, these prices may increase. New Year's Eve and NYE Day 2023 brunches were $55, for example, but also included an expanded menu.
Choctaw Rewards Buffet Discounts
As you may know, Choctaw Casinos have a player's club card with five different levels (or tiers), starting at Ruby. Definitely show your player's card when arriving at the cashier's stand, as all five levels entitle you to discounts at Butterfields, (when paying with cash). The buffet discounts are as follows:
Ruby: 10% discount
Amber: 25% discount
Sapphire: 40% discount
Royal: 50% discount
Onyx: 60% discount
In addition to the 60% off the buffet price, those with a tier 5 Onyx card have their own priority line at the buffet.
Butterfields Buffet Menu Items
We're just covering dinner, as your breakfast and brunch items here are your typical casino buffet staples: egg dishes, bacon, sausage, pastries, pancakes, fruits, and the like.
Some dinner menu selections are below. As with most casino buffets, items are subject to change, but here's a small sampling of what you are likely to find at Butterfields.
Seafood station:
This weekend night buffet is the highlight for many. They advertise "seasonal seafood" and often, even recently, this included lobster.
An October 2022 Google review from a Choctaw guest said the lobster wasn't available during their visit. I followed up with the Choctaw and they've informed me they do not have lobster, nor crab legs as of this Fall 2022 update. I don't know if it is a supply issue or not, however if the lobster option is important to you, you may want to call Butterfields ahead of time at (888) 652-4628. The same goes for the steamed crab legs.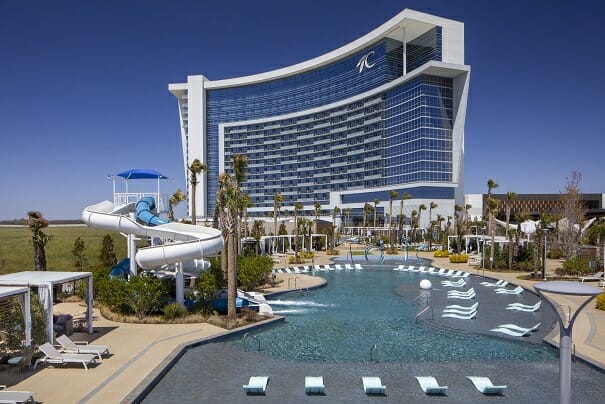 Other seafood options include clams, oysters, catfish and shrimp cocktail.
At the Asian station, you'll find a Pho station, fried rice, orange chicken, spring rolls, wantons, noodles and green beans. A small Italian area had brick oven pizza, and some bread and pasta dishes, including spaghetti.
Southern Station
The Southern station had corn fritters, BBQ pulled pork, okra, gumbo, ribs and baked beans and macaroni and cheese. The far left side of the buffet is home to the carving station, with prime rib. Other options at Butterfields include mashed potatoes and gravy, chicken fried steak, pork chops, corn fritters and mixed vegetables. Fried chicken gets good marks here.
Salad bar: In addition to the standard salad bar options and toppings, you'll find pre-made salads like potato salad, macaroni salad and the like, along with fruits and cottage cheese.
The dessert area is in a separate island station. Here you'll find a variety of cakes, and pies including German Chocolate cake, coconut cream pie, cupcakes, cheesecake, pineapple upside down cake, cobbler (apple and peach), bread pudding, macaroons, and of course, ice cream.
Other
Parties of 7 or more may have a gratuity automatically added.
The closest parking to Butterfields is found at Choctaw's north parking garage. This is the parking garage closest to the Grand Casino.
Other dining options at the Choctaw Casino & Resort include the 1832 Steakhouse, Salt & Stone, the League sports bar, Gilley's, the Grand Cafe, Bamboo Noodle Bar, Guy Fieri's American Kitchen + Bar, and a food court featuring a Papa John's Pizza, Krispy Krunchy Chicken, Cinnabon and a Smashburger.
Butterfields Buffet at Choctaw Durant Phone & Website
4216 S. Highway 69/75
Durant, OK 74701
Butterfields: (888) 652-4628
Choctaw Casino Resort: (580) 920-0160
Website: Choctawcasinos.com/durant
(By Steve Beauregard. Top photo courtesy of Choctaw's Media and Twitter page).