Choctaw Casino Stringtown
Address: 893 US-69, Stringtown, OK 74569
Phone Number: +1 580-346-7862
Website: www.choctawcasinos.com/stringtown
Hours: Choctaw Casino Stringtown is open 24 hours a day, 7 days a week.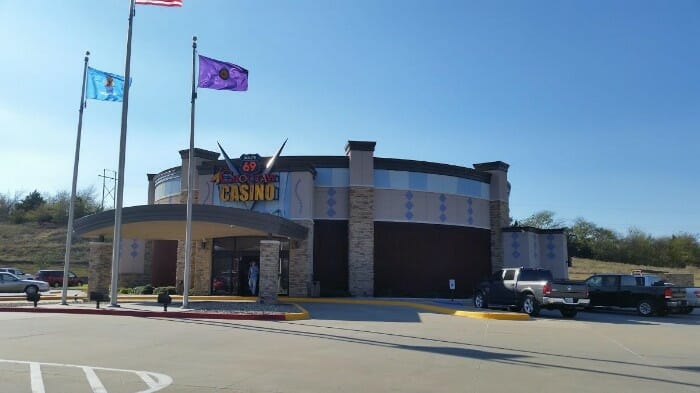 Choctaw Casino is a tribal casino in the small town of Stringtown, Oklahoma. The Choctaw Nation of Oklahoma built it as one of its gaming establishments. It opened as a single bingo hall and has since grown to become one of the most popular Native American casinos in the area.
The Choctaw Nation has invested heavily in making sure that this casino remains a great destination for guests from all over. Their casino floor offers the latest gaming technology, with various slots and electronic gaming machines.
They also offer promotions and tournaments for their patrons. These include a progressive jackpot slot machine game and monthly giveaways. In addition to the casino floor, the casino also offers onsite dining and various entertainment options.
From the moment you walk in the door, it is clear that this casino puts its guests first. With friendly and helpful staff members, state-of-the-art gaming technology and great amenities, this casino will surely be a hit with anyone who visits.
On several review sites, including TripAdvisor and Yelp, this casino has received a rating of 4 stars or better from the majority of its patrons. One guest claimed, "I had a great time at the casino; they have all sorts of slots and tables to choose from, plus plenty of food and drinks available."
Another customer stated, "The Choctaw Casino Stringtown offers an amazing experience with friendly staff and a great selection of games. Highly recommend it to anyone looking for a good time."
(Related reading: Oklahoma casinos)
Gaming
Its casino boasts a wide selection of gaming machines, including slots and electronic games. It also features a progressive jackpot machine where you can win big money if luck is on your side.
Table Games
This casino might not be the ideal spot for those looking for a night of thrilling table games. Unfortunately, they don't offer such exciting activities; only slot machines can be found here. However, if a night spent on the slots is what you're after, then look no further.
With plenty of options, there are countless opportunities to try your luck and show off your skills right through this casino's doors.
Slots
If you're heading to this casino, check out its popular slot machines. Lil Red is a fun game with a five-reel "Luck of the Irish" style of play. Big Money Burst features seven reels and colorful symbols, giving you plenty of excitement.
Cash Falls is filled with exciting bonus options and multipliers that can help increase your winnings. For those looking for something simple, Cash Machine is minimalist but provides ample opportunity to win big.
Dancing Drums contains beautiful dragon symbols and lots of fun slots filled with bonuses! Shark Week takes diving enthusiasts on a deep-sea adventure where they can win some incredible cash prizes.
Hex Breaker features vibrant colors and unique symbols that stand out from other slot games. Jinse Dao is an innovative game where players can try their luck at winning enormous jackpots with its advanced progressive feature.
Unfortunately, the only way to know this casino's exact slot machine payback percentage is to contact them directly.
Hotel/Resort
This casino in Oklahoma is an excellent choice for a night out and the perfect complement to any stay in the area. Unfortunately, there is no onsite hotel, but guests don't have to worry – there are several nearby options, such as Comfort Inn & Suites and Best Western Atoka Inn & Suites.
Both offer great accommodations, with modern amenities and top-notch service designed to make your stay that much more delightful. So, when you're ready for a night of fun or just looking for some relaxation near this casino, look no further than this local hotel.
Restaurants & Buffets
Even though they currently do not offer a buffet, you won't have to worry about getting hungry during your stay. The two restaurants at this casino are sure to provide guests with a pleasant dining experience.
At the Blue Moon Diner, visitors can enjoy classic American dishes like cheeseburgers and milkshakes. If you're craving something other than traditional favorites, Route 69 Bar is ready to satisfy your appetite with its selection of comfort food from around the world.
So whether you're in the mood for something familiar or you'd like to explore international flavors, this casino has you covered.
Pools
This casino is a great destination for those looking for a fun-filled vacation. Unfortunately, this casino does not have a pool, but there are nearby accommodations with pools if that's an important factor for your trip.
Plus, with the casino's great selection of gaming machines and the plethora of nearby attractions, you'll surely have an entertaining time here.
Choctaw Casino Stringtown, OK FAQ
Does Choctaw Casino Stringtown Have A Sportsbook?
Unfortunately, no. This casino does not offer sportsbook betting at this time. Although, this casino still has plenty to offer visitors with its slot machines, restaurants, and nearby attractions. From electronic games to live entertainment, guests have plenty of options to choose from.
Is Poker Available At Choctaw Casino?
The only variation of poker available at this casino is video poker. The casino features various games with various denominations, so you can find something that fits your budget.
Whether you're an experienced player or just learning the ropes, this casino can provide you with a great poker experience.
What Are The Age Requirements For Gambling At Choctaw Casino Stringtown?
The legal age for gambling at this casino is 18 years old. All guests must have valid identification to enter the gaming floor, and no one under the age of 18 will be allowed in. Failure to provide valid identification may result in the guest being denied entry.
Does Choctaw Have An Online Casino?
This establishment offers an online casino experience through the Choctaw Slots Mobile App. Now you can play all your favorite slots right from the comfort of home and have access to virtual table games like video poker.
Plus, with several different options available, it's easier than ever to find the perfect game for you, whether that's classic reels or progressive jackpots.
Is There An Choctaw Casino Stringtown App?
No, there is currently no official app for this casino yet. However, you can access the Choctaw Slots mobile app to enjoy an online casino experience with slots and table games available through your phone or tablet.
If you want to stay updated with the latest promotions and events, you can also follow their social media accounts to stay in the loop.
What Is The Dress Code At Choctaw Casino?
This casino does not have a strict dress code, although it's best to dress appropriately for a night out. T-shirts and jeans are usually acceptable, but you should avoid wearing anything too revealing or inappropriate.
Is There An Airport Shuttle Available From Choctaw Casino Stringtown?
No, there is no dedicated shuttle from and to this casino. However, you can arrange for private transportation or take a taxi for your convenience.
There are also several nearby hotels that offer shuttle services to and from the casino. Several ridesharing services, such as Uber and Lyft, are available in the area.
What Is The Smoking Policy At Choctaw Casino?
This casino is committed to providing a safe and healthy environment for all visitors. Smoking is not allowed anywhere inside the property, including the gaming floor, restaurants, or restrooms. You may smoke in designated outdoor areas only.
What Is The Pet Policy At Choctaw?
Pets are not allowed on the property, with the exception of service animals. If you plan to bring your service animal, you must provide proof at the check-in desk. All pets that are not service animals must stay in a pet boarding facility or at home.
Is Wifi Available At Choctaw Casino Stringtown?
You may want to bring a secure internet connection, as wifi might not be available at the casino. However, there are a few businesses and restaurants near the casino that offer free wifi for their customers.
What Is The Cancellation Policy For Choctaw Casino?
Players may come and play as often as they like, as there is no need for a reservation. If you have a reservation for a live event at this casino, you will need to contact the property in advance to cancel or make changes.
Conclusion
In conclusion, Choctaw Casino in Stringtown is a favorite destination for those seeking entertainment and incomparable hospitality.
The friendly staff members are always ready and willing to provide support, and their modern gaming technology offers an exciting and enjoyable experience. With great amenities, this casino continues to exceed expectations each and every time.
So if you're looking for a guaranteed good time, make sure to check out this casino next time you're in town – you won't be disappointed.