Ada Gaming Center
Address: 1500 N Country Club Rd, Ada, OK 74820
Phone Number: +1 580-436-3740
Website: www.adagaming.com
Hours: Ada Gaming Center is open 24 hours a day, 7 days a week.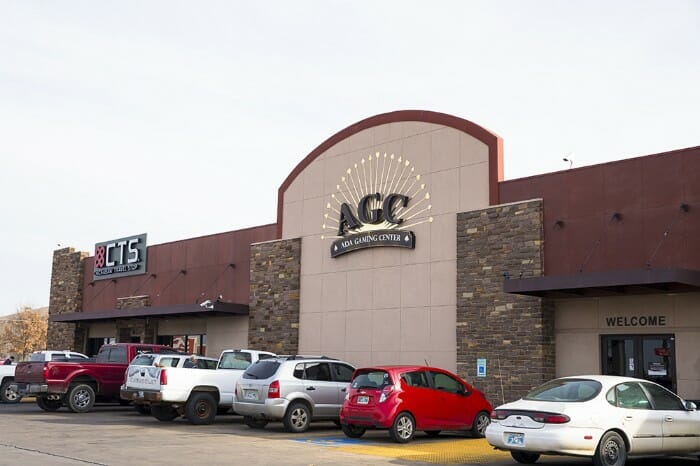 Ada Gaming Center was established in 1983 and has been providing top-notch gaming experiences to locals and visitors alike ever since. The gaming center is the tallest building in Ada, Oklahoma and boasts a variety of different gaming options.
It was founded and is still currently owned by the Chickasaw Nation of Oklahoma. The property was built initially as a bingo hall but has since expanded to include over 300 slot machines and other gaming options.
From table games to slot machines, this casino offers something for everyone. They also have an onsite snack bar and a bar that serves drinks.
The gaming center is a great place to relax, have fun and maybe even win some money. It is located close to several other attractions in town, making it easy to visit during your stay in Ada, Oklahoma
If you're looking for a fun and entertaining night out in Ada, then be sure to check out this gaming center. Whether you are a local or just visiting this great city, you won't regret making the visit.
On average, guests rate this casino 4.5 stars out of 5 stars. One guest said, "Ada Gaming Center is a great place to go and have some fun. The atmosphere was enjoyable and the staff was helpful. I had a lot of fun playing the slot machines."
Another guest said, "The casino has a wide variety of games and incentives for spending money. It was really easy to learn how to play all the different games. I had a great time and would definitely come back again."
(Related reading: Oklahoma casinos)
Gaming
Their 9,220 sq ft gaming floor offers 300 slot machines and all the classic table games like blackjack and poker.
Table Games
This casino in Oklahoma offers many opportunities for gamers, with plenty of exciting table games to choose from. Blackjack is a classic card game that never goes out of style; you can enjoy this traditional casino experience right here in Oklahoma.
For those looking for something a bit more sophisticated, Ultimate Texas Hold 'em is sure to provide hours of thrilling entertainment. With its hidden poker strategy, it's sure to challenge even the most experienced gamer.
The minimums for table games at this gaming center vary by game. Generally, the minimum bet for most tables is $5. But for a more accurate idea of what to expect, it's best to call ahead and ask.
Slots
This gaming facility offers an exciting selection of slot machines from which to choose. Top club favorites include:
Queen of the Wild II
Lazer Lock Ice Sapphire
Spartacus Gladiator of Rome
Colossal Wizards
Li'l Red
Forbidden Dragons
Unfortunately, the gaming center does not disclose its slot machine payback percentage. However, players can always check the slot machines for the RTP (Return to Player) percentage, which tells you how much of their money will be returned in winnings.
Hotel/Resort
If you're looking for a place to stay after your fun and exciting day at this gaming center – you're in luck. Although there's no onsite hotel, there are several nearby, like the Holiday Inn Express & Suites, the Hampton Inn & Suites and the SureStay Plus Hotel.
Each offers easy access to the casino while providing all of the amenities you'd expect from any hotel – comfort and convenience at its best. So whether you choose to stay the night or just hang out a bit longer at this casino, you'll have plenty of cozy options to choose from.
Restaurants & Buffets
This gaming center in Oklahoma offers gaming enthusiasts a fun and exciting experience. With hundreds of different games to choose from, you're bound to find something that fits your interests.
You can take a break from the action and head over to their snack bar or Traditions Bar for some great food and drinks. There's no full-service restaurant, but both the snack bar and Traditional Bar offer plenty of tasty options.
Pools
This gaming center offers a wide variety of gaming entertainment options. From classic video games to the latest digital release, you can find something to keep your family and friends entertained for hours.
Unfortunately, there are no pools on the premises but never fear – the nearby hotels are more than happy to supply all the swimming fun you could ask for. So stop by this casino for all your gaming favorites and then hop over to nearby hotels for a dip in the water.
Ada Gaming Center, OK FAQ
Does Ada Gaming Center Have A Sportsbook?
Unfortunately, this casino does not have a sportsbook. However, their slot machines and table games offer plenty of gaming entertainment. But if you're looking for a sportsbook, you'll have to check out another nearby casino.
Is Poker Available At Ada Gaming Center?
Yes, this casino is happy to offer poker as one of its table games. You can play Ultimate Texas Hold 'Em and enjoy a classic casino experience right here in Oklahoma. With minimal buy-ins and tournaments available, you're sure to find something that fits your gaming interests.
What Are The Age Requirements For Gambling At Ada Gaming Center?
Players must be 18 years or older to gamble at this casino. It is strictly enforced, so make sure you have your ID on you before visiting the gaming floor. Additionally, all players must be at least 21 years of age to purchase and consume alcoholic beverages in the casino.
Does Ada Gaming Center Have An Online Casino?
No, they do not have an online casino option. However, you can enjoy all the same exciting gaming options when you visit the physical location. So come on down and get ready for some great entertainment.
Is There An Ada Gaming Center App?
No, there is no app for this casino. However, you can always check their website or social media channels to stay up-to-date on the latest promotions and events. It's a great way to get all the information you need before your visit.
What Is The Dress Code At Ada Gaming Center?
At this casino, the dress code is smart and casual. While there's no strict enforcement, visitors should be mindful of the casino's policy when selecting their attire. Anything that could potentially cause a disturbance to other guests or anyone on the gaming floor will not be tolerated.
Is There An Airport Shuttle Available From Ada Gaming Center?
No, there is no airport shuttle available from this casino. However, you can find plenty of nearby hotels that offer shuttle services to and from the airport. You may also want to consider renting a car or taking public transportation.
What Is The Smoking Policy At Ada Gaming Center?
This gaming center does not allow smoking inside the casino. There is a designated outdoor smoking area, however, that players can make use of if they wish to smoke. All other areas are strictly non-smoking.
What Is The Pet Policy At Ada Gaming Center?
As of today, only service animals are allowed on the premises. All other pets must be left at home or in a designated pet-care facility. This policy may change in the future, so it is always a good idea to check with the casino prior to arriving with your pet.
Is Wifi Available At Ada Gaming Center?
Unfortunately, there is no wifi available at this casino. However, most of the nearby hotels offer free wifi for their guests, so you can easily stay connected while you're in town. Plus, many of the restaurants and cafes nearby also offer wifi access.
What Is The Cancellation Policy For Ada Gaming Center?
There is no need for a reservation when visiting this casino. Guests may come and go as they, please. Additionally, all gaming machines and tables are available on a first-come, first-served basis.
Conclusion
Ada Gaming Center in Oklahoma is a great place to enjoy some classic casino gaming. With poker, slot machines, and table games available, there's something for everyone.
There's no need to worry about missing out on the classic casino gaming experience when you visit this casino in Oklahoma. Make sure to adhere to the age requirements, dress code and pet policy when visiting, so you can have the best experience possible.