Choctaw Casino Grant
Address: 1516 US-271, Grant, OK 74738
Phone Number: +1 580-326-8397
Website: www.choctawcasinos.com/grant
Hours: Choctaw Casino Grant is open 24 hours a day, 7 days a week.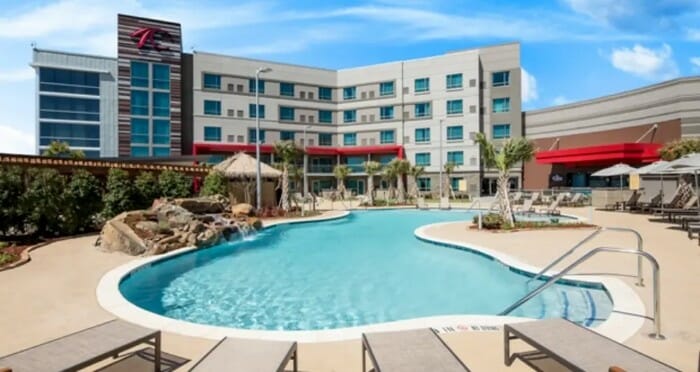 Choctaw Casino in Grant, Oklahoma opened as a part of the Choctaw Nation's gaming network. It is the closest casino to Dallas and has been providing casino entertainment for many years. It has since become a popular destination for gamblers looking to try their luck.
Their casino floor features more than 1,200 of the newest and most popular slots, video poker and electronic table games. Their table games selection includes blackjack, three-card poker, and more.
For guests wanting to stay the night, they offer a hotel on-site that boasts modern amenities, such as an outdoor swimming pool, a business center, and complimentary breakfast. Guests can also enjoy fine dining at their restaurant or their lounge for something different.
On top of it all, they also offer live entertainment that includes music, comedy, and other shows. Throughout the year, they also host various tournaments for players looking to test their skills against others.
With all of these offerings, this casino is a great entertainment destination for anyone looking to win big.
Generally, guests rate this casino very highly, with a 4.5-star rating on Google Reviews, and an overall "Very Good" rating from TripAdvisor. One guest said, "This is an amazing place to come and gamble. The staff is always friendly, the games are great, and the atmosphere is really nice!"
Another guest wrote, "I've been coming here for a few years now and I absolutely love it. The slots are always paying out and the tables are great for those who like to play more than just slots. Highly recommend!"
(Related reading: Oklahoma casinos)
Gaming
Its gaming floor features more than 1,200 slots, video poker and electronic table games. Their table games selection includes blackjack, three-card poker, roulette and much more.
Table Games
This casino is full of exciting table games to play. Whether you're a fan of traditional Vegas-style games or modern poker variants, there's something for everyone. Enjoy the classic card game of Blackjack, or up the ante with Three Card Poker or Craps.
For an immersive experience, try your luck at Roulette. If you're after a game exclusive to this casino, give WPT Heads Up Hold 'Em a shot for some high-stakes fun. With plenty of options to choose from, there will be no shortage of excitement.
Generally, the minimum bet for most table games is between $5 and $10. However, these can vary depending on the game and the day of the week. Check with a casino representative to find out more information about specific game limits.
Slots
This casino has a huge selection of the latest and greatest slot machines. Some of their more popular titles include:
Tabasco
Hexbreaker
Lucky Ducks
Brady Bunch
Big Money Burst
Cash Falls
Dancing Drums
Piggy Bankin'
Wicked Wheel
Unfortunately, the exact slot machine payback percentage for this casino is unknown. However, players may check with a casino representative for more information.
Hotel/Resort
This casino offers a hotel on-site that boasts modern amenities. Their rooms are divided into their East and West Towers. Each room features a flat-screen TV, Keurig coffee maker, mini-refrigerator, work desk and complimentary Wi-Fi.
Room types include:
Standard Rooms – features one king or two queen beds
Premium King – features one king bed and a more spacious room
Junior Suite – features one king bed, a sleeper sofa, and a walk-in shower
Miko Suite – features one king bed, a living room, a patio, and a walk-in shower
Exec Suite – features one king bed, a living room, a soaking bathtub, and a walk-in shower
This casino offers a variety of amenities to make your stay more enjoyable. These include:
Free wifi
24-hour front desk
Daily housekeeping
Free self-parking and valet parking
Business center
Outdoor swimming pool
Onsite dining and live entertainment
Room rates vary depending on the day and season, but start at around $139 per night. This rate does not include taxes and fees. For more information, visit the casino's website.
Check-in time at Choctaw Casino Grant is 3:00 pm
Check–out time at Choctaw Casino Grant is 11:00 am
Restaurants & Buffets
Even though they currently do not have a buffet, this casino offers a great selection of restaurants for its guests. From casual to fine dining and quick snacks, this casino has all your cravings covered.
Check out The Chop House for an elegant and high-end dining experience. The River Bar & Grill has something for everyone – from delicious southwestern cuisine to craft breweries.
For something more casual, visit The Cove Café or The Cove Bar – both of which feature amazing sandwiches, salads, and snacks in an atmosphere that's both inviting and relaxed. If you're looking to satisfy that south-of-the-border craving, try Chili's Grill & Bar.
Whether you're looking for a quick snack or a full-course meal, this casino has something to satisfy everyone.
Pools
This casino is the perfect escape from everyday life. If you're looking for a way to cool off during your trip, you'll love the outdoor pool available on-site.
Enjoy the amazing natural views and lush vegetation while taking a dip – it's the perfect place to soak in some sunshine and take a break from the hustle and bustle of daily life. Relax, unwind and make memories at this casino – you won't regret it.
Choctaw Casino Grant, OK FAQ
Does Choctaw Casino Grant Have A Sportsbook?
Unfortunately, there is not a sportsbook available at this casino. But guests may enjoy the plethora of other gaming and entertainment options available on-site. With over 1,200 electronic games and several table games, there's sure to be something for everyone to enjoy.
Is Poker Available At Choctaw Casino?
Yes, poker is available at this casino. There are multiple tables and daily tournaments. A variety of cash games and tournament types are also offered, including Three Card Poker and WPT Heads Up Hold 'Em.
What Are The Age Requirements For Gambling At Choctaw Casino?
The minimum age to enter the casino is 18. All guests must show a valid ID at check-in. Those under 18 years of age are not permitted on the gaming floor. Failure to provide proper identification may result in the guest being asked to leave.
Does Choctaw Have An Online Casino?
This establishment offers a wonderful mobile app called Choctaw Slots Mobile App which gives you the experience of playing games right in your own home.
Featuring exciting games such as slot machines and table games, Choctaw Slots is a great way to get your casino gaming fun while also staying safe. You can join hundreds of players from around the world and access daily bonuses, tournaments and promotions, all from your mobile device.
Is There An Choctaw Casino Grant App?
No, there is no app available for this casino at this moment. But guests can access their Choctaw Slots Mobile App on their mobile device to experience the casino gaming fun right from home.
This app offers a variety of games such as slot machines, table games, and daily bonuses, tournaments and promotions.
What Is The Dress Code At Choctaw?
The dress code at this casino is casual and guests are advised to dress comfortably. Shorts, jeans, t-shirts, and sneakers are all acceptable attire. Men should avoid wearing baseball caps or tank tops while on the gaming floor.
Is There An Airport Shuttle Available From Choctaw Casino?
Unfortunately, there is no airport shuttle available from this casino. However, guests may arrange for a taxi or other transportation from the nearby airports. There are also several car rental agencies located nearby.
Ridesharing services such as Uber and Lyft are also available to get guests to and from the casino.
What Is The Smoking Policy At Choctaw Casino Grant?
The casino is a smoke-free facility. Smoking is not allowed in any of the gaming areas, restaurants, or other public spaces. Guests are permitted to smoke in designated outdoor areas only.
What Is The Pet Policy At Choctaw?
Sadly, pets are not allowed in or around the casino. Service animals are welcome, however, and must be properly identified. All other animals must be left at home or with a friend/family member.
If you require a service animal, please let the casino know ahead of time, so that they can make appropriate accommodations.
Is Wifi Available At Choctaw Casino Grant?
Yes, free WiFi is available throughout the casino. Guests can access the internet from their mobile devices or laptops in order to play games, check emails, or browse the web. Plus, the casino offers several entertainment options, so you can stay connected and entertained while playing.
What Is The Cancellation Policy For Choctaw Casino?
Cancellations must be made at least 24 hours prior to the date of arrival. Guests who cancel after this time frame will be charged a one-night room and tax fee. Additional cancellation policies may apply, so please check with the casino for more information.
Conclusion
Choctaw Casino Grant is a great destination for those seeking an exciting casino experience. Featuring all the classic casino games, as well as tournaments and daily promotions, you're sure to have a blast at this establishment.
Enjoy free WiFi and other amenities such as pet policy and dress code while you play. Be sure to check out the Choctaw Slots Mobile App for even more fun. With all these features, don't forget to game responsibly and have a great time!