Tulalip Resort Casino
Address: 10200 Quil Ceda Blvd, Tulalip, WA 98271
Phone Number: +1 888-272-1111
Website: www.tulalipresortcasino.com
Hours: Tulalip Resort Casino at Quil Ceda is open 24 hours a day, 7 days a week.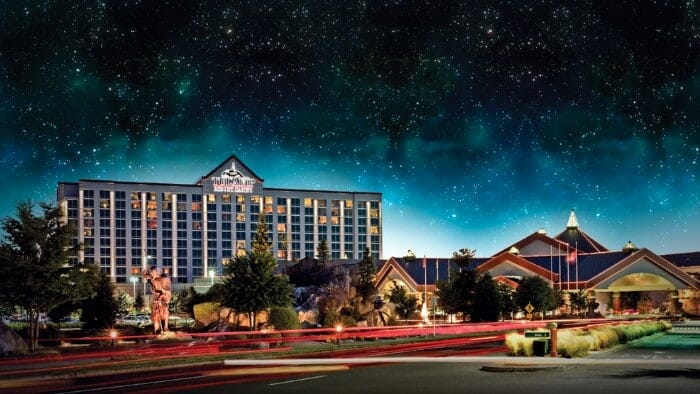 Tulalip Resort Casino opened its doors in 2003, located on the Tulalip Tribes' ancestral lands. Since its opening, the casino has been providing high-quality gaming and entertainment experiences to its guests.
It is one of the most popular casinos in Washington State and offers a wide selection of games, including slots, table games, bingo, and more. They also offer promotions and other events to keep their guests entertained.
They also offer accommodations to visitors, with luxurious rooms and suites that range from standard to premium. The resort also offers a variety of amenities, such as a pool, a tech center, and a full-service spa.
The casino is also well-known for its restaurants, offering some of the best dinings in the area. From steakhouses to seafood restaurants, they have something to satisfy any appetite. There are also several bars onsite that offer live music and signature cocktails.
This casino is one of the top destinations for gaming and entertainment in Washington State, providing top-notch service and various experiences for its guests. With its high-quality offerings and amenities, it's no wonder why so many people choose to visit here every year.
On several customer reviews sites such as Yelp, Google, and TripAdvisor, this casino has an impressive 4.5-star rating. One guest said, "Tulalip Resort Casino is an amazing place. From the luxurious room to the great restaurants and gaming options, it has something for everyone."
Another guest commented, "I had an amazing time at Tulalip Resort Casino. They have everything you need to enjoy your stay – great games, good food, beautiful accommodations, and friendly staff. Highly recommend."
(Related reading: Washington casinos)
Gaming
Their gaming space offers various options, including slots, table games, bingo, and more. They also offer promotions and other events to keep guests entertained.
Table Games
At this casino, you can find various exciting table games to choose from. One of the most popular options is Blackjack, where you can test your card skills against the dealer.
For those looking for something different, there's Free Bet Blackjack which offers a unique twist on the classic game. If you're lucky, try Roulette or Craps Fire, which offer thrilling spins and rolls.
For a chance at big bonuses, check out Bonus Craps or the Bahamas Bonus game. And for those who love poker, I Luv Suits Poker is a must-try.
The minimum bets for each game at this casino vary, depending on the table you're playing at. Generally, the minimum bet is $5-$10 per round.
Slots
This casino offers a wide selection of slot machines for guests to play. From classic 3-reel slots to the latest video reels, there are plenty of choices. The most popular games include:
$tinking Rich – Skunks Gone Wild
5 Dragons
88 Fortunes
Action Dragons
Amazon Gold
American Original
Apollo Gold
Aztec Fortune
Bartop Slot Bundle
Big and Bad Bolt
Blazing Tiki
Buffalo
Buffalo Wild & Free
Cash Cove
Cash Falls – Huo Zhu
Cherry Bomb
Smokin' Hot Stuff – Wicked Wheel – Fire
Solar Disc
Spin Big Galaxy
Spin Big Mardi Gras
Star Jewels
Stinkin' Rich
Super Buffalo
As per the Washington State Gambling Commission, most slot machines at this casino should have a minimum return percentage of 75%. Some games may offer higher paybacks.
Hotel/Resort
This casino offers luxurious accommodations to its guests. Guests can enjoy various amenities, such as complimentary high-speed Wi-Fi access, valet parking, and room service.
Room types include:
King Bedded Rooms – features one king bed
Double Queen Bedded Rooms – features two queen bed
Orca Suites – features one king bed, a living room, a jetted tub, a wet bar, a fireplace, and a sleeper sofa
Additionally, this casino offers several amenities to make your stay even more enjoyable. These include:
Wifi access
Parking on site
24-hour front desk
Concierge services
Daily housekeeping
Onsite restaurants and bars
Live entertainment
Outdoor/indoor pool
Tech center
A sportsbook
Banquet facilities
A marketplace
Fitness center
The cost of a stay at this casino depends on the type of room and dates you choose. Generally, prices start from $169 per night plus taxes and fees.
Check-in time at Tulalip Resort Casino is 3:00 pm
Check-out time at Tulalip Resort Casino is 12:00 am
Restaurants & Buffets
While it is true that they do not currently offer any buffet restaurants, the casino does have several eateries to choose from. From the upscale seafood and steak dishes at Blackfish to the casual pizza and beer at Blazing Paddles, there is something for everyone.
If you're in the mood for hearty Northwest fare, check out Canoes Carvery or Cedars Cafe. Sports fans can grab a drink and watch the game at The Draft, while those craving Asian cuisine will enjoy Journeys East. For a bright and refreshing brunch, head to Salish Sun.
And don't forget to visit Tula Bene for some delicious Italian dishes. No matter your taste or budget, this casino has a dining option to satisfy your cravings.
Pools
If you're looking for a refreshing way to beat the heat during your stay at this casino in Washington, be sure to check out the Oasis Pool. This amazing pool is both indoor and outdoor, making it the perfect spot to enjoy some sun while also having a bit of shade when needed.
One of the most stunning aspects of the Oasis Pool is its glass atrium which offers a clear view of the sky above. There's also a cascading waterfall that adds to the overall tranquil ambiance and helps you feel truly immersed in nature.
And if that isn't enough, there's also an outside patio area to lounge and soak up some rays. Whether you're looking to have a day of fun with friends or simply want to relax and rejuvenate, the Oasis Pool at this casino is definitely worth checking out.
Tulalip Resort Casino, WA FAQ
Does Tulalip Resort Casino Have A Sportsbook?
Yes, this casino features DraftKings Sportsbook. With the sportsbook, guests can bet on various major sporting events and leagues. Whether it's football, baseball, basketball, hockey, or soccer – you can place your bets in real time and enjoy the action.
Is Poker Available At Tulalip Resort?
Yes, this casino offers both live poker and video poker. I Luv Suits Poker is a variation of the popular Texas Hold'em, where guests can wager at tables with a minimum buy-in. The casino also has video poker machines in a variety of denominations.
What Are The Age Requirements For Gambling At Tulalip Resort Casino?
At this casino, guests must be 21 or older to partake in any gambling activities. This includes playing at tables, using slot machines, and betting on sportsbooks. Guests under the age of 18 are not allowed in the casino area.
Does Tulalip Resort Have An Online Casino?
No, this casino does not have an online casino. Guests may only gamble on-site at this casino. However, with so many great amenities and gaming opportunities available on-site, guests will surely find something they'll enjoy.
Is There An Tulalip Resort Casino App?
Yes, this casino offers the Go App. With the app, guests can book rooms and view menus at different restaurants within the casino. They can also check out upcoming events and find ways to save money on their stay.
What Is The Dress Code At Tulalip Resort?
The dress code at this casino is casual attire. Guests should avoid wearing anything too revealing or offensive. Shorts, jeans, and T-shirts are all acceptable choices. Heels, high boots, and sandals with a heel strap are also acceptable options for women.
Is There An Airport Shuttle Available From Tulalip Resort Casino?
No, this casino does not offer an airport shuttle service. Guests must arrange their transportation to and from the casino. However, several nearby airports offer taxi and ride-sharing services for those looking for transportation options.
What Is The Smoking Policy At Tulalip Resort?
This casino is 100% smoke-free. Smoking, including e-cigarettes and vapes, is prohibited inside the casino premises. There are designated smoking areas outside the building for guests who wish to light up.
What Is The Pet Policy At Tulalip Resort Casino?
Unfortunately, this casino does not allow pets on the premises. Service animals are welcome, but all other types of animals must stay at home. Guests who bring a pet to the casino will be asked to leave immediately.
Is Wifi Available At Tulalip Resort?
Yes, this casino offers free wifi for all registered hotel guests. Guests can access the public network anywhere in the resort complex using their devices. The connection is fast and secure so guests can stay connected with their friends and family during their visit.
What Is The Cancellation Policy For Tulalip Resort Casino?
Guests who wish to cancel their reservations must do so at least 24 hours before the scheduled check-in time. Any cancellations made after this window will be subject to a fee equal to one night's stay. Guests will also be charged for any damages caused during their stay.
Conclusion
This casino offers exciting gaming and sportsbook opportunities, as well as other amenities such as a restaurant and spa. Guests should familiarize themselves with the casino's age requirements, dress code, pet policy, wifi availability and cancellation policy before their visit.
So start packing your bags and head to Tulalip Resort Casino for an unforgettable experience! You can enjoy all the gaming, dining, and entertainment options available at this casino in real-time and have a great time.