It may be more famous for its tech industry, beauty and even coffee, but the Emerald City actually has a pretty busy casino market with casinos adding, expanding and growing at a healthy clip.
While Seattle proper has just over 660,000 residents, the Seattle/Tacoma/Bellevue Washington areas have over 3.7 million residents combined, making it the 15th largest metropolitan area in the United States.
Many of these 3.7 million people, (along with millions more visitors), flock to one of many of the numerous Indian casinos that are within an easy drive of Seattle. Gamblers wanting to get their gambling fix can choose among one of seven casinos within an hour's drive of the city.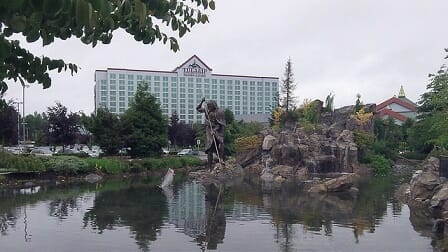 Here's a list of the seven Seattle area casinos. Please note that this "one hour drive" figure is for a normal commute. I've listed Google maps' estimates for driving times, but driving times can increase greatly depending on time and day driving on Seattle's notoriously congested roadways.
Because I only wanted to include casinos within an hour of town, this list only includes casinos very close to Seattle. Some are located in the Tacoma area, but limiting this list to casinos within a short driving range precludes the inclusion of nice casino resorts south of Tacoma, and far north of Seattle.
(Each color represents one of the seven Seattle-area casinos)
Tulalip Resort Casino (Yellow pin on map)
Thirty-seven miles north of Seattle, this resort just north of Everett is listed as a 40 minute drive normally, but up to 2 hours on a Friday afternoon.
This is perhaps the most Las Vegas-style casino in the Puget Sound area. And in fact, with a self-described 192,000 square feet of casino floor space, the Tulalip Resort Casino is one of the biggest casinos in the USA.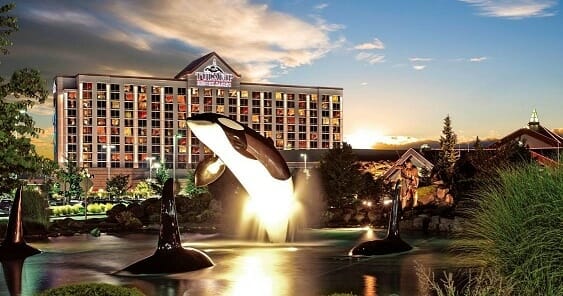 It boasts 2,400 slot machines and video poker machines, a bingo hall, 35 table games, and large poker room.
The AAA Four Diamond resort has 370 hotel rooms, a spa, eight restaurants, a 3,000 seat amphitheater, and 1,200 seat ballroom. Bordering the resort property (and within easy walking distance), is the Seattle Premium Outlets mall, with 130 stores.
Address, Phone & Website:
10200 Quil Ceda Blvd.
Tulalip, Washington

Phone (888) 272-1111

Website: TulalipResortCasino.com
Quil Ceda Creek Casino (Black pin)
Owned by the same tribe as the Tulalip resort, Quil Ceda Creek is currently undergoing an expansion that will bring the casino square footage an impressive 126,000 plus square feet.
Additions include 500 more slot machines, more table games, and more parking, bars and entertainment venues. The project is expected to be completed in the first quarter of 2021.

As for now, this casino-only property is three miles south of its larger, more glamorous sister resort, and 34.1 miles north of Seattle, or roughly a 35 minutes to 2 hour drive, depending on traffic.
The Quil Ceda Creek Casino in its current version has 1,000 slot machines, 13 table games, and three restaurants (not including an coffee/espresso bar).
Address, Phone & Website:
6410 33rd Ave NE
Tulalip, WA 98271

Phone: (360) 716-1700

Website: QuilCedarCreekCasino.com
Suquamish Clearwater Casino (Red pin)
Technically this is the closest casino to Seattle, at just 17 miles from downtown. But since you take the ferry to Bainbridge Island, it will take you about and hour 15 minutes to an hour and a half to drive here (including ferry time).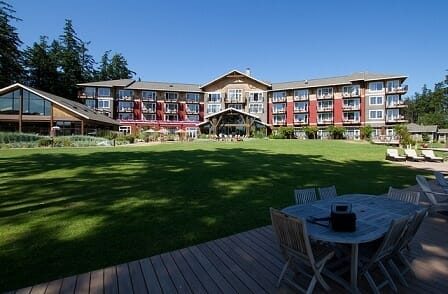 This waterfront resort has 22,500 square feet of casino space, complete with 1,200 slots and table games, including the rare $1 minimum blackjack, craps and roulette (at certain times). This is not your 24 hour a day Las Vegas-style casino, in that table games are open from 10 AM to 3AM (to 4AM on weekends).
The Suquamish has an 8 table poker room, and keno room, along with six restaurants.
The resort also includes a 183 room hotel and it's nearby White Horse Golf Course
Address, Phone & Website:
15347 Suquamish Way NE
Suquamish, WA 98392

Phone: (360) 598-8700

Website: ClearWaterCasino.com
Snoqualmie Casino (Blue pin)
The most eastern of all the Seattle-area casinos, it bills itself as the closest casino to Seattle, which is true in terms of road distance.

The Snoqualmie is just 26.7 miles east of the city. And due to its location, away from the Seattle metropolitan area, it's one of the faster drives, at just about 30 minutes away on Interstate 90.
Although it doesn't have a hotel attached to it, it looks like a mountain lakeside lodge. The casino space holds 1,700 slots, 54 table games and a smallish 5 table poker room.
(Related: List of Casinos in Washington State)
The resorts large showroom plays host to big acts like Jay Leno, Ringo Starr, Sara Evans and the like.
Address, Phone & Website:
37500 SE North Bend Way
Snoqualie, WA. 98065

(425) 888-1234

Website: SnoCasino.com
(Related: Tacoma Casinos)
Muckleshoot Casino (Brown pin)
This Indian casino twenty-nine miles southwest of Seattle is about 40 minutes to an hour's drive. Already one of the largest casinos in the area, it's about to get bigger.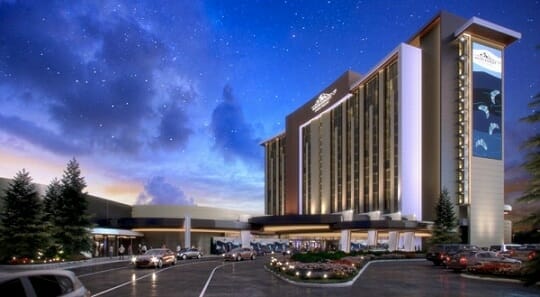 Work is under way that will not only update and revamp the existing floorplan, but will add 10,000 more gaming square feet, a 2,000 seat events center, three new restaurants, and a new bar. It's expected to be completed in late 2020.
Already however, the Muckleshoot is currently (by machine count), the largest casino near Seattle, with 3,100 slot machines and video poker machines. The spacious 340,000 square foot building is also home to 70 table games, a 32 table poker room, keno and even off-track betting.
The Muckleshoot also has several bars, entertainment venues, and seven restaurants, not including a candy shop, Starbucks and hot dog cart.
In addition to the expansion mentioned above, the casino is building an 18 story 400 room hotel tower. It will include a pool, spa, play area for kids and an arcade. It's expected to open in the spring of 2021.
Across the street sits a building home to Muckleshoot Bingo.
Address, Phone & Website:
2402 Auburn Way S.
Auburn, WA. 98002

(800) 804-4944

Website: MuckleShootCasino.com
Emerald Queen Hotel & Casino (Light Green pin)
One of two Tacoma Casinos fairly close to Seattle, this one is located in Fife, and is 28.7 miles south (30 minutes to an hour 40 minutes) south of Seattle.
There aren't any table games here, just lots of slots and video poker machines (3,500 electronic games in total).
Restaurants here include the Pacific Rim Buffet, Paradise Deli, and Tatoosh Grill.
Emerald Queen Casino I-5 (Dark Green pin)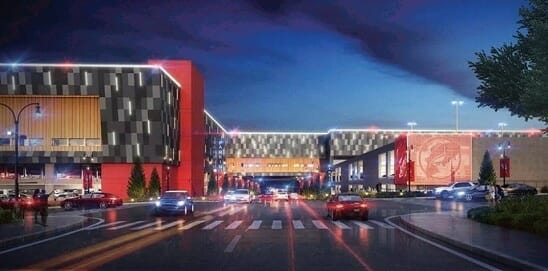 This brand-new casino is just a few hundred feet west of the "old" Interstate 5 Emerald Queen.
Built at a cost of $350 million, it's 31 miles off of Interstate 5, and 3.2 miles to the west of its sister property in Fife. It's about a 30 minute up to an hour and 50 minute drive from Seattle.
The massive building, expected to open in March of 2020, replaces the old dated structure, and boasts 110,000 square feet of gaming floor space, and a 21,000 square foot events center along with new restaurants.
It does not have a hotel yet, but will by the end of 2020. The hotel tower is expected to have between 150 and 200 rooms.
Unlike the Fife location this casino has table games, (along with thousands of slot machine/video poker terminals.) Table games include Spanish 21, regular blackjack, craps, 3 card poker, baccarat and roulette.
Other
Again, these are the casinos within an hour's drive of downtown Seattle. Other nearby casinos, like the Red Wind Casino at Nisqually (57 miles south, but almost always over an hour drive), and the Skagit Casino Resort, at 72 miles north, just barely missed the cut.
Seattle area Card and Poker Rooms
In addition to the seven Seattle-area casinos listed above, the area is home to several card rooms. These small casinos have poker tables, and usually some blackjack and other table games, but do not have slots. Nor do they give you the typical casino experience.
Nevertheless, the strictly card room only casinos include:
Goldie's Shoreline Casino, Roman Casino, Wizards Casino, three different Silver Dollar Casinos, Riverside Casino, Fortune Casino, Great American Casinos (locations in Everett and Tukwila), and Lucky Dragonz.
Other cardrooms near Seattle have closed, but still appear on some Seattle casino websites, causing some confusion. Please note that the following Seattle area casinos have closed: Diamond Lil's in Renton, and the Golden Nugget Casino in Tukwila, and the Great American Casino in Kent.
(By Steve Beauregard. Photos courtesy of Blake Handley, SeattleNorthCountry.com, the Snoqualmie Casino's pressroom, the Muckleshoot Casino's pressroom, and Michael Dunn via Flickr.)