Casinos in and Near Tacoma, Washington including Map
There are six casinos in the Tacoma area, not including the numerous card rooms in town. (More on that below).
Three of them are very close, while the other three involve a 30 minute plus drive.
All but one of the casinos are traditional Las Vegas style casinos with slot machines, table games, and the general feel of a normal casino. There are also big entertainment venues that play host to big-name acts and comedians.
Please note that this list of six only includes the casinos that are within an hour's drive of downtown Tacoma, and therefore do not include all the numerous casinos close to Seattle.
We've listed these in order of proximity to downtown.
Emerald Queen Casino & Hotel
A shiny new mammoth casino towering over Interstate 5, this is the closest casino to Tacoma, since it actually is in Tacoma, just to the south and east of downtown.
In fact, the Emerald Queen Casino I-5 is less than three miles from the heart of Tacoma, or just an 8 to 15 minute drive away. As the name implies, it's located just off of Interstate 5, about a mile east of the Tacoma Dome.
This new casino opened in June of 2020. The $400 million project replaced the prior smaller I-5 Emerald Queen just to the east.
This shiny new building has 310,000 square feet, of which 110,000 is casino floor space. There you'll find 2,100 slot machines and 60 table games. These include blackjack, Pai Gow, roulette and craps.
While sportsbooks now legal in Washington, the EQC boasts a new BetMGM sportsbook, featuring 6 betting windows, 30 self-serve kiosks, and a huge 500 square foot viewing wall.
Dining options include the Riverbank Buffet, a deli, sports bar, and more. In addition to the new 2,000 seat concert venue, there is a 150 room hotel.
The two new parking structures (offering free parking), provide spaces for over 1,300 vehicles.
Owned and operated by the Puyallup Tribe, it's one of two Emerald Queen casinos in Tacoma, but will definitely be the flagship of the two. There is a free shuttle that runs between both of the Emerald Queen casinos.
(Each pin represents one of the six casinos by Tacoma)
Emerald Queen Tacoma Address, Phone & Website
2024 E. 29th Street
Tacoma, WA. 98404
(253) 594-7777
Website: EmeraldQueen.com
Emerald Queen Fife Hotel & Casino
This hotel/casino is located in Fife, Washington, a suburb just 5 miles east of Tacoma. It's usually just a ten to twenty minute drive from downtown Tacoma.
The Emerald Queen Hotel & Casino is opened in 1982, but was renovated in 2004, and expanded recently. The casino floor has 2,300 slot machines/video poker machines. Oddly there aren't any table games here. Sports betting is available here however, with 22 kisoks (along with many other huge TVs.)
They do, however have three restaurants, including the Tatoosh Grill (a nice steakhouse/seafood style restaurant), the Paradise Deli, and the Pacific Rim Express Buffet. The property grounds include a modest 103 room hotel.
Emerald Queen Fife Address, Phone & Website:
5700 Pacific Highway E.
Fife, WA. 98424
(253) 992-2000
Website: EmeraldQueen.com/fife
Muckleshoot Casino (Yellow pin)
Before the new Emerald Queen, this was the nicest and largest casino near Tacoma. The Muckleshoot Casino is 16 miles north and east of downtown, or roughly between a 20 minute drive, to one hour during busy traffic times.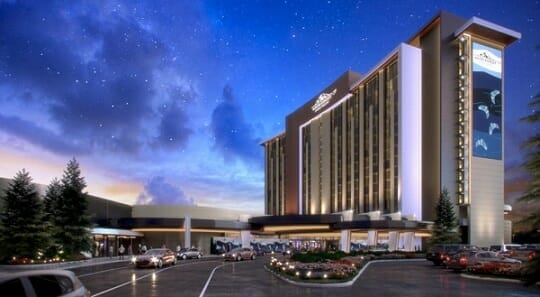 The casino floor boasts 3,100 slots, and 70 tables, both more than any other casino in the immediate Tacoma area.
Table games include blackjack, pai gow, Ultimate Texas Hold'em, EZ Baccarat, craps and roulette. There's now the Caesars Sportsbook here, with four live betting windows, along with self-serve betting kiosks. There's also a 32 table poker room, keno area and off-track betting parlor.
In addition to seven restaurants, the Muckleshoot has a candy shop, hot dog cart and Starbucks. The Muckleshoot does not have a hotel but that will change soon as the resort is adding new casino space, restaurants, and a 400 room hotel tower – all of which is expected to be completed in 2022.
A sparkling new $60 million dollar 1,850 seat events center opened in April of 2021.
Address
2402 Auburn Way S.
Auburn, WA. 98002
(800) 804-4944
Red Wind Casino at Nisqually (Red pin)
Located 26.8 miles south of downtown Tacoma, near Olympia, the drive to this casino can by anywhere from 45 minutes in non-peak times, to nearly 2 hours during Friday afternoon rush hour.
The contemporary casino-only property has 1,400 slot machines, and table games, including craps and roulette. This place often has just $5 limits on table games.
In addition to the buffet and three other restaurants, the Red Wind has a couple of bars and a large sports bar.
Address
12819 Yelm Highway SE
Olympia, WA.
(866) 946-2444
Snoqualmie Casino (Black pin)

The furthest north of the Tacoma-area casino, the Snoqualmie Casino is located in the mountains 40 miles to the north and east of Tacoma. Mapping systems indicate the drive will take you from between 40 minutes to an hour and 10 minutes, depending on your time of departure (Friday afternoons are always the busiest).
This is a beautiful, large casino-only property in a pretty mountain setting. The resort has 1,700 slots, 54 table games, and a sports book.
The resort boasts five restaurants, (not including a coffee stand) and an events center with the most impressive line-up of acts of all Seattle/Tacoma area casinos. Here I'm talking everyone from Engelbert Humperdinck to Tracy Morgan to Ringo Starr).
Address:
37500 SE North Bend Way
Snoqualmie, WA. 98065
(425) 888-1234
Little Creek Casino (Blue pin)
Located 45.4 miles west of Tacoma in Shelton, it will take you anywhere from 45 minutes to 2 hour to drive here from downtown Tacoma.
This 190 room resort 16 miles north of Olympia has the Salish Cliffs Golf Club, a spa, RV park, and the spacious Skookum Creek Event Center that plays hosts to big name concert acts (Toto, Trace Adkins, etc.), and boxing matches.
The 1,200 slots are accompanied by table games including craps and roulette, bingo, keno, and a poker room. The resort also has several bars, 5 restaurants and coffee stand.
91 West State Route 108
Shelton, WA. 985854
(360) 427-7711
***************
In addition, there is the Suquamish Clearwater Casino Resort, located 55 miles to the north. Similarly, the Lucky Eagle Casino and Hotel is also 55 away, but to the south, in Rochester, Washington.
Both of these casinos are typically over an hour's drive away and are therefore not covered here.
(Related: Casinos in Washington)
So these are what I call the typical casinos in and near Tacoma. In addition however, there are several self-described "casinos" that are actually just card rooms and/or bingo parlors.
Most have games like blackjack, some have poker tables, but there aren't slot machines or video poker games at these joints. Some even have those cheesy pull-tab games you see at every charity bingo hall.
These Tacoma area card rooms include BJ's Bingo & Gaming, Hawk's Prairie Casino, Macau Casino, Palace Casino (Chips and Palace Casino), Great American Casino Lakewood, Roxbury Lanes & Casino, Silver Dollar Casino Seatac, and the Iron Horse Casino.
As a side note, for those of you familiar with these places, Luciano's Casino & Waterfront in Tacoma closed, as has PJ Pockets Casino in Federal Way.
(By Steve Beauregard. Photos courtesy of the press room of each casino.)