Spokane Tribe Casino Airway Heights
Address: 14300 U.S. Rte 2, Airway Heights, WA 99001
Phone Number: +1 877-786-9467
Website: www.spokanetribecasino.com
Hours: Spokane Tribe Casino is open Monday 8 AM – 3 AM, Tuesday 8 AM – 3 AM, Wednesday 8 AM – 3 AM, Thursday 8 AM – 3 AM, Friday 8 AM – 3 AM, Saturday 8 AM – 3 AM, Sunday 8 AM – 3 AM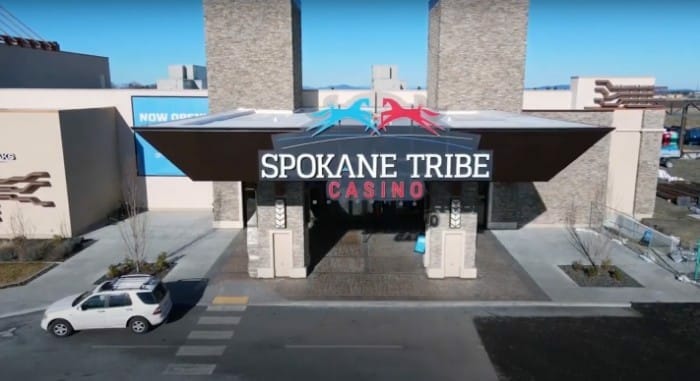 Spokane Tribe Casino is owned and operated by the Spokane Tribe of Indians. The casino opened in January 2018 and is located on tribal land near Airway Heights, Washington. Since its opening, the casino has become one of the most popular gaming destinations in the Spokane area.
Their gaming floor has multiple live table games that offer Blackjack, Craps, Roulette and more. There are no slot machines, but the casino offers multiple promotions and giveaways throughout the year, including cash drawings and car giveaways.
For anyone wanting to grab a bite after a long night of gaming, the casino also has multiple restaurants and bars. They also host various events and live entertainment at the casino.
So if you're looking for an exciting gaming experience, head to this casino in Washington. From the array of gaming options to the great food and atmosphere, it's sure to provide an enjoyable time.
On several online review sites, this casino has an overall rating of 4.5 stars out of 5. One guest said, "I was very impressed with the layout and atmosphere of Spokane Tribe Casino. The staff was friendly, helpful and professional."
Another guest noted, "The casino is clean and well-organized. They have a variety of table games, plus some nice bars and restaurants."
(Related reading: Washington casinos)
Gaming
Their gaming space offers a variety of table games, including Blackjack, Craps, Roulette, and more. With their promotions and giveaways, there is something for everyone to enjoy.
Table Games
At this casino in Washington, there are numerous options for table games. One popular choice is Heads-Up Hold'em, a fast-paced game of Texas Hold'em where you only play against the dealer.
Another exciting game is 21+3, which combines the challenge of traditional blackjack with the added excitement of three-card poker. For those looking to test their luck, Bonus Craps offers a chance to win big with multi-roll bets.
For a unique experience, try Emperor's Challenge, a variation of Pai Gow poker with a bonus bet. If you're looking for a faster-paced game, Three Card Prime is a great option, while High Card Flush adds a new twist to classic poker rankings.
And don't forget about Ride Free, which combines traditional stud poker with additional bonus bets. To top it all off, take a spin at the roulette table for even more gaming fun.
The table minimums vary depending on the game. For most games, the minimum bet is $5, but it can go up to as high as $25 for some of their more popular table games.
Slots
While visiting this casino in Washington, you may want to take a break from table games and try your luck at some slot machines. However, you may be disappointed that the casino offers no popular slot machines.
Instead, they focus solely on providing a variety of table games for their guests to enjoy. Whether you're a seasoned gambler or a novice, the friendly and helpful staff at this casino will gladly assist you with any questions or concerns.
Hotel/Resort
This casino is the perfect destination for casino and resort lovers alike. The casino has no associated hotel or resort, but it is only a short drive from Spokane International Airport and other downtown attractions.
Days Inn & Suites by Wyndham and Ramada by Wyndham are located within five miles of the casino, providing convenient and comfortable accommodations for those who cannot stay on-site.
Another nearby option to consider is Northern Quest Resort & Casino, which offers a range of amenities, including dining options and a spa. So even if you cannot stay at the casino, there are still plenty of options for where to stay.
Restaurants & Buffets
Even though they currently do not have a hotel, the casino does offer several restaurants onsite s for everyone to enjoy. One standout is Three Peaks, which offers a mix of American and regional dishes focusing on fresh, locally sourced ingredients.
Another popular spot is Speelya's Den, which specializes in burgers and pub fare with a Pacific Northwest twist. If you're in the mood for something more upscale, head to the Grill & Bar for steaks, seafood, and other elegant dishes.
No matter which restaurant you choose, you can be sure that you'll be treated to great service and delicious food in the heart of this casino.
Pools
Unfortunately, this casino in Washington currently has no swimming pools available for patrons to enjoy. However, if you're looking for some fun in the sun, there are plenty of other activities to take part in around the casino grounds.
You can try your luck at the slots or table games, dine at one of the casino's restaurants, or catch a live show. So while there may not be any sparkling pools on site, there are still plenty of options for a great time at this casino/
Spokane Tribe Casino, Airway Heights, WA FAQ
Does Spokane Tribe Casino Have A Sportsbook?
This casino has Caesars Sportsbook, available for wagering on major sports events. The betting options range from football to basketball, with plenty of other sports in between. You can make your bets using the mobile app or via the Caesars Sportsbook kiosks located inside the casino.
Is Poker Available At Spokane Tribe Casino?
Yes, this casino in Washington offers a variety of poker games for players to enjoy. The table minimums vary depending on the game, and the friendly and helpful staff are always available to assist with any questions or concerns.
What Are The Age Requirements For Gambling At Spokane Tribe Casino?
The legal age for gambling at this casino is 21 years of age. Patrons must be able to provide valid proof of identification when registering and must adhere to all casino policies regarding responsible gaming.
Does Spokane Tribe Casino Have An Online Casino?
No, this casino currently does not have an online casino. All their gaming options, including slots, table games, and sportsbooks, must be accessed in person at the casino. With so many activities and amenities to enjoy, you won't want to miss out on your chance to visit this Washington casino.
Is There An Spokane Tribe Casino App?
No, there is not currently an app for this casino. However, you can access the Caesars Sportsbook from your mobile device by downloading their app from the app store. And to stay updated on the latest promotions and news, follow the casino's social media accounts.
What Is The Dress Code At Spokane Tribe Casino?
The dress code at this casino is casual. However, patrons should avoid clothing with offensive language or graphics, as well as overly revealing attire. The casino reserves the right to determine the appropriate dress code and may ask patrons to leave if they are not compliant.
Is There An Airport Shuttle Available From Spokane Tribe Casino?
No, this casino does not currently offer an airport shuttle service. However, there are several public transportation options available for those traveling to and from the casino. Additionally, there are plenty of local taxi services that can provide convenient rides when needed.
What Is The Smoking Policy At Spokane Tribe Casino?
The casino's smoking policy is strictly enforced. Smoking is prohibited in all casino areas except for designated areas clearly marked as such. All guests must adhere to this policy or risk being asked to leave the premises.
What Is The Pet Policy At Spokane Tribe Casino?
Pets are not allowed inside the casino. However, service animals are permitted for those with disabilities. All service animals must adhere to the same rules as all other guests and must be accompanied by their owners at all times.
Is Wifi Available At Spokane Tribe Casino?
Yes, this casino offers free wifi to all its patrons. Guests can sign in with their mobile devices or at one of the many kiosks located throughout the casino. So even while enjoying the slots and other games, you can stay connected with friends and family back home.
What Is The Cancellation Policy For Spokane Tribe Casino?
As there is no hotel at the casino, there are no cancellation policies for this property. However, if you have booked entertainment or a restaurant reservation, don't hesitate to contact the hotel directly to cancel and receive a refund.
Conclusion
This casino is a great place to experience the excitement of gaming, betting and entertainment. The casino offers a variety of slot machines, table games, sportsbooks and poker options.
So if you're looking for a fun and exciting place to spend an evening, Spokane Tribe Casino is a perfect choice. With plenty of amenities and activities available, you won't regret your visit!