Nooksack Northwood Casino Lynden
Address: 9750 Northwood Rd, Lynden, WA 98264
Phone Number: +1 360-734-5101
Website: www.northwoodcasino.com
Hours: Nooksack Northwood Casino is open Monday 9 am – 2 am, Tuesday 9 am – 2 am, Wednesday 9 am – 2 am, Thursday 9 am – 2 am, Friday 9 am – 3 am, Saturday 9 am – 3 am, Sunday 9 am–2 am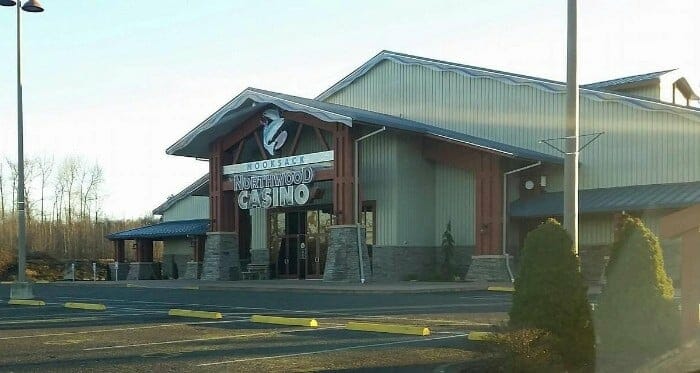 Nooksack Northwood Casino was opened in 2007 by the Nooksack Tribe. The casino is located on the tribe's ancestral lands, and it was built to generate economic opportunities for tribal members and also to provide entertainment to visitors from around the Northwest.
At this casino, you will find various table games such as Blackjack, Three Card Poker, Ultimate Texas Hold'em, and Pai Gow Poker. You can also enjoy slots, video poker machines, and keno. They also offer promotions and tournaments as well.
Additionally, they offer onsite dining, with a buffet, a deli, and a bar. Whether you're craving a classic burger or something more exotic, this casino covers you.
The casino also houses a gift shop where you can find souvenirs to take home with you. There's also a liquor store and a smoke shop on the property.
This casino is dedicated to providing its customers with the best possible gaming experience and an escape from their daily lives. Whether you're looking for fun or just want to relax, this casino has something for everyone.
On popular review aggregators websites, such as Yelp and Google, visitors rate this casino highly, with an average of 4.5 stars out of 5. One guest even said, "This is a great casino. The staff are friendly and helpful, the games are fun, and there are plenty of food options."
Another guest said, "I had a great time here. The staff was friendly and helpful, the games were fun, and the food was delicious. I would definitely recommend it."
(Related reading: Washington casinos)
Gaming
The casino floor features over 47- slot machines and video gaming terminals, along with multiple table games. Guests may try their luck at three Card Poker, Ultimate Texas Hold'em, Blackjack, and Pai Gow.
Table Games
If you're looking for some great table game action, you'll want to visit this casino. From Craps and Roulette to Blackjack, there's something for everyone. But if you're looking for something a little different, try your luck out on Fortune Pai Gow or 3 Card Poker.
And if you're feeling especially lucky, Ultimate Texas Hold'em and Lucky Ladies games will satisfy your needs. Don't forget to give Spanish 21 a whirl too.
Table game minimums depend on the day and time at this casino. On weekdays, table games can range from $5-$25, while on weekends, they start at $10.
Slots
The slots at this casino vary in denomination, from penny slots to $25 machines. Popular titles include:
Adonis
Colossal Wizards
Bison Bounty
Li'l Red
Cat's Eye
Double The Devil
Spartacus Gladiator of Rome
Fiesta 1
Forbidden Dragons
Fox Ultra
Queen of the Wild II
Happy Pandas
Lazer Lock Ice Sapphire
Even though this casino does not offer any information regarding its slot machine payback percentage, it is considered to be around the industry standard for Washington State casinos of at least 75%.
Hotel/Resort
This casino is great for anyone looking for a fun weekend getaway. Their gaming options, along with their on-site dining and bar, make this a great destination for any traveler. However, guests must know they do not offer a hotel or resort stay.
But the good news is that there are plenty of nearby accommodations. From budget motels to luxurious resorts, visitors can find a place to stay for the night. Sumas Mountain Lodge offers cozy rooms just a short drive away, with inviting fireplaces and free Wi-Fi in each room.
Or perhaps The Inn At Lynden is more your style; located conveniently close with contemporary rooms providing access to an indoor pool and exercise room.
Windmill Inn Lynden provides rustic yet modern amenities, including an outdoor patio perfect for lounging with friends or family before or after a night at the casino.
Finally, Super 8 by Wyndham Bellingham Airport/Ferndale is the closest hotel, within 7 miles of the casino, providing comfortable beds and warm hospitality for all its guests. Any of these accommodations would provide a great place to rest your head after a long night at the casino.
Restaurants & Buffets
A visit to this casino in Washington isn't complete without trying its delicious restaurants. There is no buffet onsite, but diners can choose from various options. The Chef's restaurant offers Italian-influenced cuisine like pasta and risotto at reasonable prices.
For those wanting something lighter, they can grab a bite at Thirst, where they will serve up fresh salads and wraps with lots of healthy options as well. If you're looking for something heartier, Prime Buffet is your place.
With specials ranging from $12.95 to $27.95, it's an affordable option for any budget. And best of all, each dish is made for maximum satisfaction.
Pools
This casino in Washington State is a great place to have some fun. There are slot machines, gaming tables, and a well-stocked bar, so you can really enjoy yourself while you are there.
Unfortunately, while the casino offers plenty of entertainment opportunities, it doesn't feature any swimming pools. But the nearby hotels do have a swimming pool and hot tub, so if you're looking for a refreshing dip, that's your best option.
Nooksack Northwood Casino, Lynden, WA FAQ
Does Nooksack Northwood Casino Have A Sportsbook?
No, this casino does not have a sportsbook. However, they offer plenty of other gaming options, such as slots, table games, and video poker. Guests can also enjoy the restaurants and bars here for delicious food and drinks.
Is Poker Available At Nooksack Northwood?
Yes, there is poker available at this casino. Their poker variations include Texas Hold'em, 3-Card, and Pai Gow. There are also tournaments available on select days of the week for anyone looking to test their skills.
What Are The Age Requirements For Gambling At Nooksack Northwood Casino?
The minimum age requirement for gambling at this casino is 21 years old. Anyone under the age of 21 will not be allowed to enter the gaming floor or participate in any of the activities there. It's important to note that all guests must have a valid ID to be admitted.
Does Nooksack Northwood Have An Online Casino?
No, they do not currently have an online casino. However, they offer plenty of other forms of entertainment, such as live music and special events. Guests can also enjoy their on-site restaurants and bars for a fun night out.
Is There An Nooksack Northwood Casino App?
No, they do not currently have an app. However, they offer a website where guests can find information about their casino and upcoming events. They also have an active Facebook page where they post updates and promotions.
What Is The Dress Code At Nooksack Northwood?
The dress code at this casino is relaxed, but it's still good to look presentable. Guests should avoid wearing anything too casual such as shorts, tank tops, and flip-flops. It's also important to note that all guests must not wear offensive clothing.
Is There An Airport Shuttle Available From Nooksack Northwood Casino?
No, they do not offer an airport shuttle service. However, there are multiple car rental locations nearby where guests can rent a vehicle. Alternatively, they can take public transportation or utilize local taxi services to get to and from the casino.
What Is The Smoking Policy At Nooksack Northwood?
This casino has a no-smoking policy. Smoking is prohibited anywhere on the property, and all smoking areas are clearly marked. Guests must respect this policy to comply with local regulations.
What Is The Pet Policy At Nooksack Northwood Casino?
Sadly, they do not allow pets on the premises. Any guests that arrive with a pet will be asked to leave the property and find alternative accommodation for their animal companion. Service animals are the only exception.
Is Wifi Available At Nooksack Northwood?
This information is not available on their website, and they may not be offering wifi services at this time. It's best to contact the casino directly if you need more information on their wifi policy.
To be safe, it's always best to bring your wifi device if you plan on visiting this casino. This way, you'll stay connected with friends and family without hiccups.
What Is The Cancellation Policy For Nooksack Northwood Casino?
Since no hotel is attached to the casino, they do not have a cancellation policy. If you happen to have a reservation for a live event, make sure to double-check the terms and conditions before making any changes.
Conclusion
Overall, this casino has something for everyone. From the gaming floor to the restaurants and bars, there are plenty of entertainment options available. Just adhere to their age requirements, dress code, and pet policy before visiting.
Keep all of these details in mind when planning your next trip to Nooksack Northwood Casino. With a little bit of research and preparation, you can have an unforgettable experience at this one-of-a-kind casino!