Crazy Moose Casino Pasco
Address: 510 S 20th Ave, Pasco, WA 99301
Phone Number: +1 509-542-8580
Website: www.maverickgaming.com/maverick-washington/listings/crazy-moose-casino-pasco
Hours: Crazy Moose Casino is open Monday 9 am – 5 am, Tuesday 9 am – 5 am, Wednesday 9 am – 5 am, Thursday 9 am – 5 am, Friday 9 am – 12 am, Saturday Open 24 hours, Sunday 12 – 5 am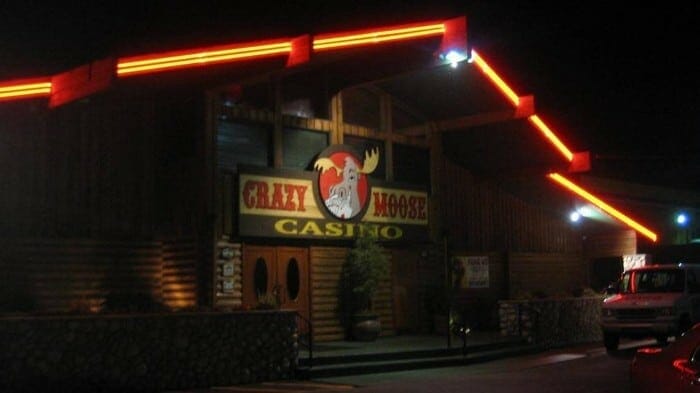 Crazy Moose Casino was a property of the Maverick Gaming group that opened its doors to serve players from Pasco. Even though it's not as big as some of the other casinos in the area, the casino offers a great selection of games for customers to enjoy.
Their gaming space constitutes multiple live table games, ranging from blackjack to poker, and a sportsbook where customers can place bets and watch live sporting events. Additionally, the casino offers promotions and tournaments with great cash prizes up for grabs.
And if you want to take a break from the games, you can always grab a bite at the casino's restaurant or enjoy some drinks in their lounge. With its friendly staff, great selection of games and delicious food, this casino is a great way to experience the thrills of gambling in Pasco.
On most popular review websites like Google and Yelp, this casino is rated highly by guests. The average rating on Google is 4.4 stars out of 5. One guest said, "Fantastic place to visit with friends and family. The staff is always friendly and helpful."
Another guest said, "I love coming here! They have great food, drinks, and live entertainment. Highly recommend it."
(Related reading: Washington casinos)
Gaming
Their gaming space constitutes multiple live table games, ranging from blackjack to poker and roulette. They also offer a sportsbook where customers can bet on the biggest sporting events of the day.
Table Games
At this casino, there are seven exciting table games you can play. Firstly, Bahama Bonus takes Caribbean stud poker and adds an exciting bonus round. Next up is DJ Wild, a game of One Eyed Jacks that offers Players an optional bet to win big on Two Plus One Wild cards.
Are you feeling lucky? Then try playing I Love Suits, a twist on 3-card poker with four ways to win. Spanish 21 offers players a unique twist as the 10s have been removed from the deck.
If that wasn't enough of mixing things up, you can also choose to take on Tri Lux Blackjack or Ultimate Texas Hold 'em for even more thrills and excitement.
The minimum bet at this casino is $5-$10. The maximum bet depends on the game being played and the customer's credit limit. The casino also offers a variety of special promotions which provide players with additional chips or cash bonuses.
Slots
While this casino is an exceptional table game venue, they do not have any slots or electronic gaming machines. If you're looking for a venue with slots, you must find another casino.
But don't let that stop you from enjoying the great selection of table games and promotions on offer at this casino. With a friendly staff, great meals and drinks, and plenty of entertainment options, this casino is a great place for all your gaming needs.
Hotel/Resort
If you're looking for lodging near this casino, there are several great options to choose from.
The Red Lion Hotel Pasco Airport & Conference Center offers a stylish stay with plenty of amenities and perks, while Loyalty Inn Pasco is a more budget-friendly option with comfortable, convenient rooms.
Best Western Premier Pasco Inn & Suites boasts plush accommodations with selected rooms offering views of the nearby Columbia River, while Econo Lodge provides excellent value and thoughtful services tailored just to you.
Restaurants & Buffets
They do not have any buffet-style restaurants onsite, but they do have a full-service restaurant offering tasty meals and drinks. The Moose Rack Bar & Restaurant offers the best sit-down dining with an extensive menu of delectable dishes.
From burgers and steaks to signature salads and wood-fired pizzas – there's something to please every palate. In addition, their selection of mouthwatering appetizers and desserts should not be overlooked.
It's no surprise that this restaurant continues to be one of the top choices for visitors to the area – come try it out soon.
Pools
Located in Pasco, this casino offers a lot of great things, but unfortunately, it does not have any pools onsite. However, if you're looking for some fun water activities while you're in the area, there are plenty of nearby public pools to cool off and enjoy.
If your goal is to relax with a day of lounge poolside, you should check out the local hotels that have fantastic options with amenities like pool bars and whirlpools. Whatever type of aquatic adventure you're seeking, Pasco has a place that's sure to make a splash.
Crazy Moose Casino, Pasco, WA FAQ
Does Crazy Moose Casino Have A Sportsbook?
Yes, this has a sportsbook where customers can bet on the biggest sporting events of the day. Whether it's football, baseball, basketball, or hockey — there are exciting opportunities to win big. And with plenty of HD TVs and great seating, you can always watch the game in style.
Is Poker Available At Crazy Moose?
Yes, this casino offers plenty of poker action with daily tournaments and regular cash games. There's something for every skill level, from casual beginners to experienced professionals. So come on down and see what all the excitement is about.
What Are The Age Requirements For Gambling At Crazy Moose Casino?
Anyone aged 21 or older can gamble at this casino. Please bring a government-issued ID with you when visiting to prove that you are of legal gambling age. You may be asked to show your ID anytime during your visit.
Does Crazy Moose Have An Online Casino?
Unfortunately, this casino does not have an online casino. However, they offer great gaming action with their table games and promotions for players onsite. And don't forget to take advantage of the delicious restaurant options and nearby hotels for a full casino experience.
Is There An Crazy Moose Casino App?
Unfortunately, this casino does not offer an app at this time. However, you can check their website for up-to-date information on all the specials and promotions they run. And don't forget to follow them on social media too.
What Is The Dress Code At Crazy Moose?
Casual attire is preferred at this casino. Shorts, jeans, and t-shirts are all acceptable. However, they ask that visitors please remain respectful with their clothing choices and refrain from wearing anything that might be considered offensive or inappropriate.
Is There An Airport Shuttle Available From Crazy Moose Casino?
Unfortunately, there is no airport shuttle available from this casino. However, the local hotels do offer shuttles for their guests. And you can always call a taxi or rideshare service to get to and from the airport quickly and safely.
What Is The Smoking Policy At Crazy Moose?
This casino is 100% smoke-free. They offer designated outdoor smoking areas for customers who wish to smoke while they play.
Cigars, pipes, and electronic cigarettes are not allowed at any time. Make sure to comply with this policy, as failure to do so may result in you being asked to leave the premises.
What Is The Pet Policy At Crazy Moose Casino?
Unfortunately, pets are not allowed inside the casino. However, service animals are welcome with proper documentation. If you're looking for a pet-friendly place to stay, there are plenty of hotels in the area that will happily accommodate your furry friend.
Is Wifi Available At Crazy Moose?
Unfortunately, this casino does not have wifi available. However, don't let that prevent you from staying connected. Several cafes and restaurants in the area offer free wifi for customers.
There are also hotels providing strong connections to their guests – there are plenty of ways to stay updated on all the latest news.
What Is The Cancellation Policy For Crazy Moose Casino?
There is no cancellation policy for this casino, as no hotel is attached to the property. However, if you have booked any special events or promotions, please get in touch with them ahead of time so they can make the necessary arrangements.
Conclusion
With plenty of gaming action, delicious restaurants, and nearby hotels to choose from — this casino Pasco is the perfect destination for a fun night out. From poker tournaments to their great promotions and specials, there's something for everyone.
Start packing your bags and prepare for a night of excitement at Crazy Moose Casino Pasco. Who knows, you could hit the jackpot and become an instant winner.