Coulee Dam Casino
Address: 515 Birch St, Coulee Dam, WA 99116
Phone Number: +1 509-633-0766
Website: www.colvillecasinos.com/coulee-dam-casino
Hours: Coulee Dam Casino is open 24 hours a day, 7 days a week.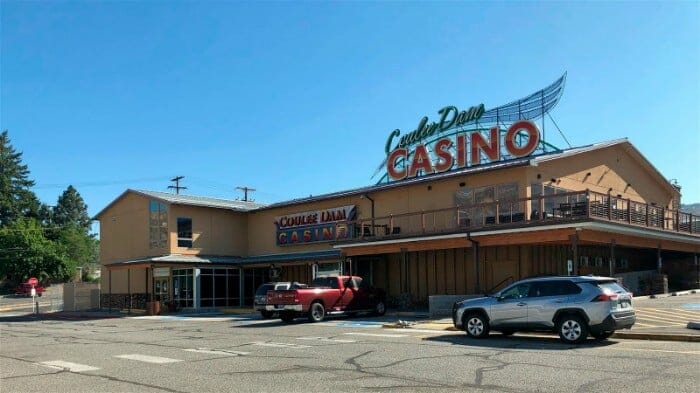 Coulee Dam Casino opened in January 2004 and is owned and operated by the Confederated Tribes of the Colville Reservation. It is located on Birch Street in Coulee Dam, Washington and offers a range of gaming and entertainment options.
Their gaming space offers over 200 slot machines, with various denominations available. From traditional reels to video slots, there will surely be something for everyone. They also offer promotions and jackpot opportunities.
And if you want to grab a bite, the casino's restaurant is open daily for breakfast, lunch and dinner. The menu features a variety of sandwiches and salads and a selection of steak, seafood and other entrees.
Whether you're just looking for a night of gaming fun or quality time with friends and family, this casino is the perfect place. So why not come by and check it out today? You won't be disappointed.
On average, guests have rated this casino 4.5/5 stars on popular review websites. According to one guest, "Coulee Dam Casino is one of my favorite places to go when I'm in the area. The service is always great, and they have a really nice selection of slot machines."
Another guest wrote, "I love coming here! The staff is always friendly and helpful. Plus, the food in the restaurant is delicious."
(Related reading: Washington casinos)
Gaming
Their casino floor offers over 200 slot machines, with various denominations available. From traditional reels to video slots – there will be something for everyone.
Table Games
This casino has plenty of exciting entertainment for its visitors. Even though there are currently no table games at the casino, guests can find a variety of slot machines to play. These range from classic three-reel slots to popular multi-line video slots to progressive jackpots.
There is something to suit all preferences—so come on down and enjoy spinning the reels in pursuit of that big win. The energetic atmosphere of the casino and its friendly staff will make sure you have an unforgettable time.
Slots
This casino in Washington offers some of the most exciting slot experiences around. From classics like Queen of the Wild II to more exotic options such as Colossal Wizards and Li'l Red, you will surely find something to suit your style here.
Get your blood pumping with Forbidden Dragons, or feel like an all-powerful gladiator when you spin on Spartacus Gladiator of Rome. For a truly unique experience, check out Lazer Lock Ice Sapphire's interactive touchscreen technology and advanced graphics capabilities.
Although this casino does not publish the exact payback percentages of its slot machines, the Washington State Gambling Commission requires all slot machines in the state to have a minimum payback of 75%.
Hotel/Resort
If you're looking for a great place to stay while visiting this casino in Washington, the accommodation options won't disappoint.
Columbia River Inn Inc offers comfortable rooms, great amenities and incredible views of the Grand Coulee Dam, while Grand Coulee Center Lodge has cozy cabin-style suites conveniently located near downtown.
12 Tribes Omak Casino Hotel is a luxurious and modern hotel with an on-site casino, restaurant and heated outdoor pool. For something lower-key and budget friendly, consider Sky Deck Motel, which offers basic but comfortable rooms at a reasonable price.
Restaurants & Buffets
Although they do not offer any buffet options, this casino in Washington does have an excellent restaurant with a menu full of delicious options.
The Spillway Bar and Grill, located inside the casino, offers an array of delicious dishes made with only the freshest ingredients that will tantalize your taste buds.
From signature breakfasts served all day and lunch sandwiches stacked with unique flavors to steaks seasoned just right for a hearty dinner, you're guaranteed to find something to satisfy any craving.
For those looking for lighter fare, there is an abundance of enticing sides and snacks. With its inviting atmosphere, friendly staff, and mouthwatering eats—The Spillway Bar and Grill is not to be missed if you visit this casino.
Pools
For some fun in the sun, swing by this casino. Located in the Pacific Northwest, this casino offers top-notch gaming with incredible views of Lake Roosevelt. However, this casino does not have onsite pool facilities.
But even though you won't find a pool here, you can still enjoy all your favorite gambling activities. With plenty of other options to choose from on-site or around the area, you will have a great time discovering why this casino is a popular destination for tourists and locals alike.
Coulee Dam Casino, WA FAQ
Does Coulee Dam Casino Have A Sportsbook?
Yes, this casino has the 12 Sports Book, where guests can find sports betting options. From basketball to UFC, the 12 Sports Book allows you to bet on all of your favorite sports and events. Plus, the onsite restaurant and bar make it ideal for a day of playing and watching sports.
Is Poker Available At Coulee Dam Casino?
No, this casino does not offer poker. The casino does not offer any live table games, including poker. However, there are plenty of slot and video poker machines to choose from, as well as keno.
What Are The Age Requirements For Gambling At Coulee Dam Casino?
The legal gambling age at this casino is 18. All guests must be 18 or older to enter the casino and participate in any gaming activities, including slot machines and keno. ID may be requested when entering the premises.
Does Coulee Dam Casino Have An Online Casino?
No, this casino does not have an online casino. The casino is only open for gaming activities on-site and does not offer any virtual or online games. However, those looking to play their favorite slots or video poker machines can do so in person at the casino.
Is There An Coulee Dam Casino App?
No, this casino does not have an app. The casino does not offer any downloadable apps or online games, but it does have a website where guests can find information about the casino and its services. Plus, visitors can sign up for their rewards program for exclusive offers and discounts.
What Is The Dress Code At Coulee Dam Casino?
The dress code at this casino is casual. Guests should feel comfortable and dress in what they would normally wear. Shorts, jeans, and t-shirts are all acceptable attire. However, visitors may be asked to wear a shirt or shoes if they enter the restaurant or bar areas of the casino.
Is There An Airport Shuttle Available From Coulee Dam Casino?
No, there is no airport shuttle available from this casino. However, there are plenty of transportation options available nearby. Guests can take buses or taxi services to get to and from the casino, as well as rent a car if they wish. Parking is also free at the casino for those driving in.
What Is The Smoking Policy At Coulee Dam Casino?
The smoking policy at this casino is strictly enforced. Smoking, including e-cigarettes, is not allowed inside the premises or in any of the restaurants and bars. There are designated smoking areas outside where guests can enjoy their cigarettes without disrupting other visitors.
What Is The Pet Policy At Coulee Dam Casino?
Only service animals are allowed in the casino. Other pets must stay outside or at home. All service animals must remain on a leash while inside the premises and should be accompanied by their owners at all times.
Is Wifi Available At Coulee Dam Casino?
Unfortunately, there may not be free wifi available at the casino. However, most of the restaurants and bars in the area offer complimentary wifi to guests, so you may be able to get online with an internet connection that way.
What Is The Cancellation Policy For Coulee Dam Casino?
There is no accommodations cancellation policy for this casino. All reservations must be canceled or changed at least 24 hours before arrival, and any changes or cancellations made within the 24-hour period will not receive a refund.
Conclusion
This casino is a great destination for sports fans and those looking to try their luck at some slots. With its 12 Sports Book, onsite restaurant and bar, and various gaming options, there's something for everyone at this casino.
So if you find yourself in the area, be sure to check out Coulee Dam Casino. They will surely have something that will keep you entertained and make your visit worth it. Just remember to bring ID, follow the dress code, and adhere to the age requirements when gaming.