Joker's Casino Richland
Address: 624 Wellsian Way, Richland, WA 99352
Phone Number: +1 509-943-1173
Website: www.atomicbowl.com/casino-tri-cities-wa-2
Hours: Joker's Casino is open Monday 11 am – 4 am, Tuesday 11 am – 4 am, Wednesday 11 am – 4 am, Thursday 11 am – 6 am, Friday 11 am – 6 am, Saturday 11 am – 6 am, Sunday 11 am – 4 am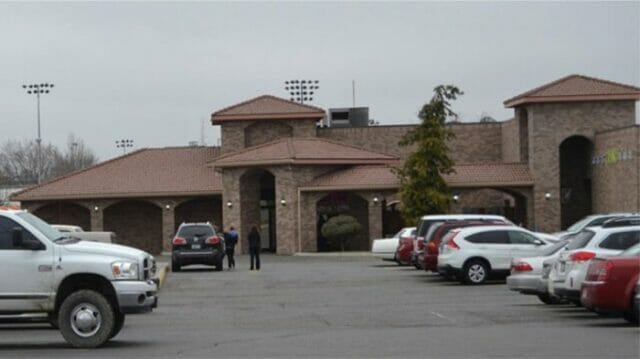 Joker's Casino is a premier entertainment and gaming destination in Richland, Washington. The casino opened its doors to the public in 1998 and has provided a fun and safe gaming environment ever since.
Their casino floor offers multiple live table games for poker and blackjack for all levels of players. They also offer a bowling alley if you want to cool off the tables. The bar also offers a selection of craft beers, signature cocktails and signature snacks.
In addition, they also have a comedy club to entertain you while you enjoy a few drinks. Plus, they also offer live entertainment, DJs and karaoke nights in their all-ages lounge.
So, if you're looking for a fun night out in Richland, this is the perfect place. Whether you want to test your luck at the tables or just enjoy some good food and drinks with friends, they'll have something for everyone.
On average, guests rate this casino with a 4.2-star rating on Google Reviews, Yelp and TripAdvisor. One guest mentioned, "It was a great experience. I especially liked the comedy show. The seats were comfortable, and the drinks were good. Highly recommend!"
Another guest said, "The casino has all the necessary amenities like live table games, bowling alley, bar and lounge to keep people entertained."
(Related reading: Washington casinos)
Gaming
The casino floor offers multiple live table games for poker and blackjack, including Texas Hold 'em and High Card Flush.
Table Games
Step into this casino and try one of their exciting table games. They offer something for everyone, such as Spanish 21, which boasts a diverse set of rules and side bets that let players customize the game to their liking.
They also have Player's Edge 21, a quick-hitting version of classic blackjack for those looking for an adrenaline rush. Double Action Blackjack incorporates a bonus payout for strong hands.
Heads Up Hold'Em provides a unique twist on the popular game of Texas Hold'Em; High Card Flush is an exciting new game with varying pay tables; Emperor's Challenge Pai Gow adds some extra strategy and decision-making with bonus bets.
And don't forget to check out Match The Dealer, where the entire table can get involved whether or not they're playing.
Table game minimums vary from game to game, so check before sitting at the table. Most games have a $5 minimum bet, but some may be higher or lower depending on the game and during peak hours.
Slots
This casino is renowned for its exclusive card games instead of the more traditional slot machine games. Their selection includes some of the most renowned card games, such as Texas Hold'em and Blackjack.
With lavish tables and professional dealers, there is no better place if you are in the mood for an exciting game of cards with friends or family. However, if you are looking for the classic slot machines you can find at other casinos, you won't find them at this casino.
Hotel/Resort
This casino is a great destination for an evening of fun and games. While there is no hotel on site, there are plenty of options nearby.
Angels Of The Wind Casino Resort is just a few miles away and offers comfortable accommodations and plenty of gaming options. There's also Emerald Queen Hotel & Casino, located about 20 minutes from the casino in Tacoma.
Lastly, The Point Casino And Hotel, located in Kingston, is just a short drive away and offers plenty of amenities, including a fitness center, spa and pool.
Restaurants & Buffets
This casino does not offer any buffet-style dining but does have a snack bar onsite that serves a variety of food and drinks. Whether you are looking for something light or a full-on meal, the snack bar has it all.
Enjoy the succulent prime rib, or go lighter with pizza, sandwiches, or soups. There are even mini tacos and burritos for a snack to satisfy your cravings between meals. If that's not enough, you can't go wrong with mini dogs and fries made fresh for every order.
So, if you're looking for a fun night out in Richland, this is the perfect place. With loads of gaming options, plenty of amenities and great food and drinks, it's sure to be an adventure that everyone can enjoy.
Pools
This casino in Washington State has no swimming pools onsite. But if you're looking for a great place to relax and have a fantastic time, it offers plenty of other great amenities, such as its snack bar, entertaining comedy shows, and a range of gaming options that suit all preferences.
Additionally, its friendly staff is always around to ensure you have the best experience possible. So, if you're looking for a great spot with plenty of activities and entertainment, this casino is the perfect place for your next adventure.
Joker's Casino, Richland, WA FAQ
Does Joker's Casino Have A Sportsbook?
Yes, this casino does have a sportsbook. The sportsbook area is on the main level near the lobby and includes various bet options. From professional sports to horse racing, the sportsbook provides bettors an exciting and unique gaming experience.
Is Poker Available At Joker's?
Yes, this casino offers poker games. Poker tables are available on the main level, adjacent to the sportsbook. You can enjoy Texas Hold'em, Pai Gow and other game variations in a friendly atmosphere with knowledgeable dealers.
What Are The Age Requirements For Gambling At Joker's Casino?
All guests must be 18 or older to gamble at this casino legally. Guests may also be required to provide proof of age and identity upon request. Additionally, all minors must be accompanied by an adult at all times in the casino area.
Does Joker's Have An Online Casino?
Unfortunately, this casino does not have an online casino. However, it offers an extensive selection of games for guests to enjoy in person onsite. With varying card games available, there is something for everyone at this casino.
Is There An Joker's Casino App?
No, there is no app for this casino at this time. But if you want to stay updated on the latest news and promotions, you can follow them on their social media accounts. You'll also find helpful information about upcoming events and entertainment schedules.
What Is The Dress Code At Joker's?
Most guests at this casino dress casually. But if you plan on visiting the nightclub or special events, it is advisable to dress according to the occasion. You may also want to check with the staff in advance if there are any specific dress codes for certain nights or events.
Is There An Airport Shuttle Available From Joker's Casino?
No, they do not offer an airport shuttle service. However, you may be able to arrange for a taxi or other transportation service from the airport with planning. You can also check with your hotel's concierge desk for more information.
What Is The Smoking Policy At Joker's?
The smoking policy at this casino is strictly enforced. The premises is entirely non-smoking, including all areas of the gaming floor. If you wish to smoke, designated outdoor areas are available for your convenience.
What Is The Pet Policy At Joker's Casino?
Sadly, pets are not allowed at this casino. This is for the safety and comfort of all guests and staff. However, service animals are always welcome and allowed on the premises. Just provide the necessary paperwork and proof of vaccination upon entry.
Is Wifi Available At Joker's?
Unfortunately, you may need to purchase a wifi package or use your mobile data. This casino does not offer free public wifi at this time. However, you may be able to find available internet hotspots while exploring the area.
What Is The Cancellation Policy For Joker's Casino?
There is no hotel or restaurant cancellation policy at this casino. However, you may be able to receive a refund for certain events, activities and shows with advanced notice. Check with the staff and review their terms and conditions before booking.
Conclusion
Overall, this casino provides an enjoyable and unique gaming experience for all guests. With a sportsbook, poker tables, and other games available onsite, you will surely have a great time at this casino in Richland.
So start planning your next adventure, and take yourself to Joker's Casino for an unforgettable experience. From the excellent customer service to the variety of poker and gaming tables, you won't regret it.