12 Tribes Resort Casino Omak
Address: 28968 US-97, Omak, WA 98841
Phone Number: +1 800-559-4643
Website: www.colvillecasinos.com/12-tribes-omak-casino-hotel/
Hours: 12 Tribes Resort Casino is open 24 hours a day, 7 days a week.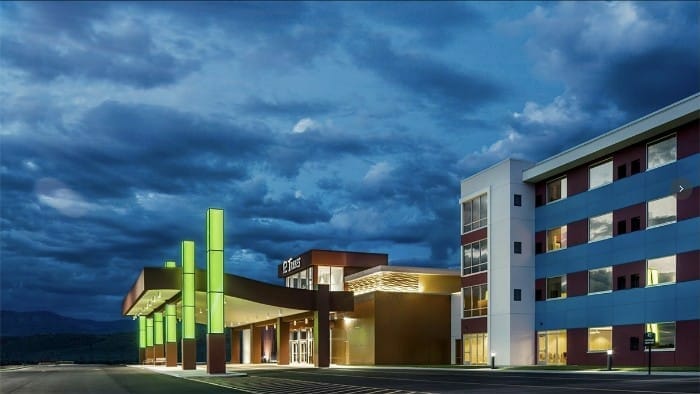 12 Tribes Resort Casino is owned and operated by the Confederated Tribes of the Colville Reservation, located in Washington's Okanogan County. The casino opened its doors in 2015 and is one of three gaming enterprises owned by the tribe.
The casino has over 480 slot machines, various table games, and keno and bingo. In addition to its gaming options, the resort also features accommodations for visitors, including an RV park, a pool and a full-service spa. The casino also hosts live events, such as comedy acts and concerts.
For dining, the casino offers a variety of options. From casual, fast-food eateries to gourmet restaurants, they have something for everyone. Visitors can also enjoy a full bar and lounge, as well as the popular Element 78.
Whether you're looking for an exciting gaming night or a relaxing getaway, this casino is the perfect destination. With top-of-the-line amenities, terrific dining options and entertainment, this casino has something for everyone.
On popular review sites, this casino has an excellent rating. One guest said, "The staff was so friendly and accommodating; the rooms were very comfortable and clean. The gaming floor has a great selection of slots, table games and more."
Another guest said, "I had a wonderful experience at 12 Tribes Resort Casino. The rooms were comfortable; the staff was friendly and helpful. The gaming floor is huge and has a great selection of games. Definitely worth checking out."
(Related reading: Washington casinos)
Gaming
Their casino floor consists of classic and trendy slot machines and table games such as blackjack, craps, roulette and more. Their promotions and rewards programs are designed to ensure that guests have a great time playing, with chances to win big.
Table Games
At this amazing casino, you can have an unforgettable time playing various table games. If you're a fan of traditional card games, Blackjack and Spanish 21 are perfect for you.
For more strategic players that want to increase their chances with shared community cards, there's Four Card Poker and Ultimate Texas Holdem' – both great choices. Finally, Roulette is always a classic and will provide a real thrill to the table.
The casino offers various minimum bet amounts for their table games. Depending on the game you're playing, tables can open as low as $5 for some and up to $25 for others.
Slots
The casino offers various slot machines with different themes and games. Popular titles include:
Colossal Wizards
Spartacus Gladiator of Rome
Li'l Red
Forbidden Dragons
Lazer Lock Ice Sapphire
Queen of the Wild II
Unfortunately, this casino does not release its slot machine payback percentage. But the Washington State Gambling Commission requires that all casinos in the state payout at least 75% on their slot machines.
Hotel/Resort
The resort also features luxurious accommodations for visitors. All rooms are finely appointed with modern amenities, such as free Wi-Fi and flat-screen televisions.
Room types include:
Premium Rooms – features one king or two queen beds
Deluxe Rooms – features one king or two queen beds in a more spacious room
The resort offers guests a variety of amenities, including:
Wifi access
Parking onsite
24-hour front desk
24-hour gym
Spa, sauna and hot tubs
Swimming pool
Business center and meeting rooms
Banquet facilities
Onsite restaurants and bars
24/7 room service
RV park
The cost of staying at this casino resort will vary depending on the season, availability and room type. However, you may easily find a room for as low as $130/night. Prices may increase during peak season and popular holiday weekends.
Check-in time at 12 Tribes is 4:00 pm
Check-out time at 12 Tribes is 11:00 am
Restaurants & Buffets
Although they do not have a buffet, this casino has various dining options. From casual fast-food eateries to gourmet restaurants, they have something for everyone. Experience the flavors of Washington at this casino.
Fuel your night with contemporary American cuisine while you explore all the exciting thrills that await at Element 78. Then be sure to visit Loggers Pub for delicious pub food and craft beer – the perfect way to wrap up an evening.
For something a bit sweeter, The Sweet Shop offers freshly baked pastries, cakes and treats made from scratch in-house. Or keep it classic with Tin Biscuits for homestyle cooking featuring local ingredients and flavors.
Pools
This casino resort in Washington is a perfect choice for those seeking all the fun of Vegas-style gaming in a relaxed, friendly atmosphere. For those looking to have a great experience even when the weather isn't cooperating, the resort features an indoor pool.
With its plush lounge chairs, tables and more – this pool provides all the comforts you expect from a luxurious 5-star resort. Whether splashing around with family members or spending time away from it all – this casino has something for everyone.
12 Tribes Resort Casino, Omak, WA FAQ
Does 12 Tribes Resort Casino Have A Sportsbook?
No, this casino does not offer a sportsbook. However, with their casino games, slots, and other amenities – there's plenty to do here. So make sure to bring your luck and prepare to have a great time.
Is Poker Available At 12 Tribes?
The poker variations offered at this casino include Texas Hold'Em and 3-Card Poker. The casino offers different limits and buy-ins, so there's something for everyone to enjoy. Additionally, tournaments are held several times a week.
What Are The Age Requirements For Gambling At 12 Tribes Resort Casino?
Gamblers must be at least 18 years of age to enter this casino. To avoid any unforeseen issues, make sure to bring your valid ID with you when gambling. If a valid identification is not presented upon request, it may result in being asked to leave immediately.
Do 12 Tribes Have An Online Casino?
No, they do not currently offer an online casino. However, you can always visit their website for more information about the casino and its offerings. Their website also includes directions, contact details, and other important information.
Is There An 12 Tribes Resort Casino App?
No, this casino does not have a mobile app at this time. However, they offer their website through your mobile device's web browser, so you can access all the information you need while on the go.
What Is The Dress Code At 12 Tribes?
The dress code at this casino is casual. However, it is recommended to wear clothing that is neat and presentable. Clothing items such as tank tops, flip flops, and beachwear are prohibited. Overly revealing clothing may also not be allowed.
Is There An Airport Shuttle Available From 12 Tribes Resort Casino?
No, this casino resort does not offer an airport shuttle. However, there are many local taxi and ride-sharing companies available to take you from the airport to the casino. You can also rent a car if you would like to explore the area yourself.
What Is The Smoking Policy At 12 Tribes?
The entire interior of the casino is smoke-free. However, there are designated outdoor smoking areas available to guests who wish to do so. It is important to follow all rules and regulations while smoking in these areas.
What Is The Pet Policy At 12 Tribes Resort Casino?
Sadly, pets are not allowed on the property. This includes the casino area and guest rooms. The only exception is for service animals with proper documentation. So if you plan on bringing your service animal, you should contact the resort in advance to make arrangements.
Is Wifi Available At 12 Tribes?
Yes, wifi is available at the resort. Guests staying in the hotel can access the wifi network upon check-in. You may access the wifi anywhere within the resort using your provided username and password.
What Is The Cancellation Policy For 12 Tribes Resort Casino?
The cancellation policy for their hotel states that the guest must cancel their reservation at least 72 hours before the check-in date to receive a full refund. Cancellations made within this time frame will be subject to an administrative fee.
Conclusion
This casino resort is a great place to spend some time. Whether you're here for the casino games, slots, or just spending time away from it all – this casino has something for everyone.
With their FAQs and policies in mind, make sure to bring your luck and have a great time. So if you're looking for a fun and exciting way to spend an evening, check out 12 Tribes Resort Casino today!