Silver Dollar Casino Mill Creek
Address: 17917 Bothell Everett Hwy, Bothell, WA 98012
Phone Number: +1 425-481-9227
Website: www.maverickgaming.com/maverick-washington
Hours: Silver Dollar Casino Mill Creek is open Monday 11 AM – 2 AM, Tuesday 11 AM – 2 AM, Wednesday 11 AM – 2 AM, Thursday 11 AM – 2 AM, Friday 11 AM – 2 AM, Saturday 11 AM – 2 AM, Sunday 11 AM – 2 AM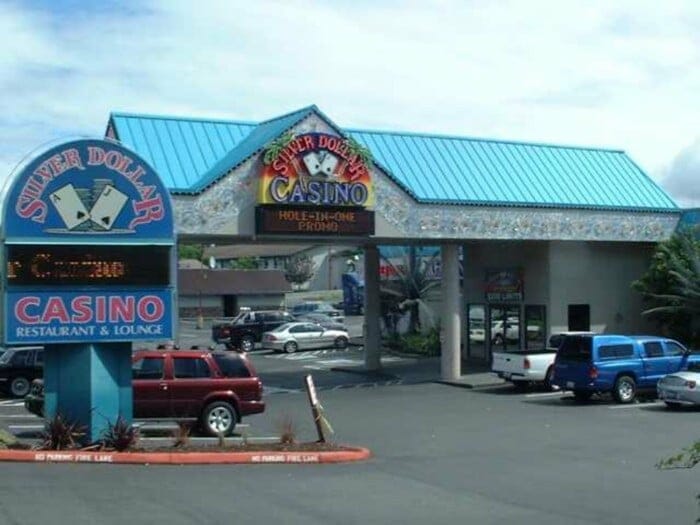 Silver Dollar Casino Mill Creek opened in 2010 and is owned and operated by Maverick Gaming. Since its opening, the casino has been a popular destination for gaming and entertainment.
The casino offers classic casino games like blackjack, poker and more. There are no slot machines on-site, however. But to compensate for it, they offer numerous promotions, tournaments and other events.
They also have a casual restaurant on-site, serving delicious American cuisine. The bar serves a variety of beers, wines and spirits to enjoy while gambling or lounging in their comfortable seating area.
If you're looking for a night out with friends or an evening of excitement and good company, this casino is a great option, especially if you don't like a big, crowded casino. The venue may be small, but the hospitality is big, and the atmosphere is welcoming.
On several online review websites, this casino has an overall rating of 4 stars out of 5. One guest said, "It's a great place to go for a quick and easy game of cards. The atmosphere is relaxed, but the staff is friendly and attentive."
Another guest remarked, "The drinks are reasonably priced, the food quality is okay, and they have a good selection of beer and wine."
(Related reading: Washington casinos)
Gaming
The casino offers several live gaming tables, including those for blackjack and poker. They also host regular tournaments and promotions.
Table Games
At this casino, you can find some of the best and most popular table games around. Looking for a fun card game? Try your luck at Four Card Poker and Ultimate Texas Holdem, or try something new like Spanish 21 and Mini Baccarat.
No matter which games you choose to play, and their experienced dealers will be there to help and guide you through the process.
The minimums vary depending on the game, but generally, it starts at $5 for most tables. Guests may also inquire with the dealer for a more accurate minimum bet.
Slots
This casino offers a unique selection of gaming options that have become increasingly popular among locals and visitors. The casino is well-known for its extensive array of table games, including blackjack, baccarat, and more.
However, this casino does not feature any slot machines. They do offer promotions and tournaments to keep players engaged and entertained.
Hotel/Resort
If you want to spend your night playing card games and betting on your luck, this casino is the best place to do it. However, it must be noted that they do not have any hotel or resort services offered on-site.
However, there are several nearby lodging options for casino visitors who want to stay near the casino. The Holiday Inn Express & Suites Seattle-Everett is a great option for convenient and comfortable accommodations.
There's also the Quality Inn & Suites Everett, located close to the casino and offers a complimentary breakfast. And La Quinta Inn by Wyndham Everett is another great option for those looking for a more budget-friendly hotel near the casino.
Restaurants & Buffets
This casino offers a range of options for those looking to satisfy their appetites. While you won't find a buffet here, you can still enjoy delicious fare within the Silver Dollar Casino Dining Room.
This casual restaurant has something for everyone, including breakfast and dinner classics. Whether it's fried oysters and egg dishes or burgers, fish and chips, steak or roasted vegetables with vegan macaroni & cheese – this is the place to go.
Pools
This casino in Washington is the perfect location to spend your night out. While they may not have a pool on-site, their convenient location puts you close to some of the most beautiful swimming pools in the area.
Whether you're looking for a scenic outdoor pool or an indoor hot tub, you can find it all within just a few miles of this casino. With their exclusive deals and events, you can have a night out that won't quickly be forgotten.
Silver Dollar Casino Mill Creek, WA FAQ
Does Silver Dollar Casino Mill Creek Have A Sportsbook?
No, this casino does not offer sports betting services. Instead, they focus on traditional casino gaming options such as table games. Guests can also take advantage of the promotions and tournaments to stay entertained at the casino.
Is Poker Available At Silver Dollar Casino Mill Creek?
Yes, this casino offers several poker tables, including Texas Hold'em and Limit Texas Hold'em. Guests can also participate in regular tournaments and promotions for a chance to win big. With their friendly and helpful staff, you can always expect a great experience at the poker tables.
What Are The Age Requirements For Gambling At Silver Dollar Casino Mill Creek?
The minimum age for gambling at this casino is 21 years old. All guests must provide valid photo identification to prove their age before being allowed to participate in any gaming activities. Bring your ID and prepare for a night of fun and entertainment at this casino.
Does Silver Dollar Casino Mill Creek Have An Online Casino?
No, they do not currently offer any type of online casino. However, they are always looking for ways to improve their services and may explore the possibility in the future. Check their website regularly for updates on new gaming options and promotions.
Is There An Silver Dollar Casino Mill Creek App?
No, they do not have a dedicated app for their casino. However, their website is easily accessible from any mobile device. You can check the website or their social media for upcoming promotions and tournaments or additional information about this great casino.
What Is The Dress Code At Silver Dollar Casino Mill Creek?
This casino has no strict dress code, so that you can dress casually and comfortably. However, they ask that guests refrain from wearing clothing with offensive language or images. Additionally, any outside food and drinks are strictly prohibited in the casino.
Is There An Airport Shuttle Available From Silver Dollar Casino Mill Creek?
No, they do not offer airport shuttles or other transportation services. However, the casino is located within a few miles of Seattle-Tacoma International Airport. Guests can easily arrange a taxi or ride-sharing service to get to and from the casino.
What Is The Smoking Policy At Silver Dollar Casino Mill Creek?
This casino is a smoke-free environment. This includes cigarettes, cigars, pipes, and all other forms of smoking. There are designated areas outside of the casino where guests may smoke, but they must be at least 25 feet away from any entrance.
What Is The Pet Policy At Silver Dollar Casino Mill Creek?
Sadly, pets are not allowed in the casino. This includes all types of animals, such as dogs, cats, and even service animals. The only exception is made for certified service animals that must remain leashed or caged at all times while they are in the casino.
Is Wifi Available At Silver Dollar Casino Mill Creek?
Unfortunately, guests may need to bring their wifi source as the casino provides none. However, there are several free public wifi hotspots located in the area that can be used instead. And, if all else fails, guests can always purchase a prepaid wifi card.
What Is The Cancellation Policy For Silver Dollar Casino Mill Creek?
Since no hotel is attached to the casino, they do not have a specific cancellation policy. However, it is always best practice to call ahead and confirm any reservations. That way, if you need to cancel or reschedule your visit, you can do so without penalty fees.
Conclusion
This casino is a great destination for poker, blackjack, and other forms of gaming entertainment. With their friendly staff and welcoming atmosphere, you can be sure to have an enjoyable experience when visiting this casino.
Whether playing alone or with friends, you will have a great time at Silver Dollar Casino Mill Creek. So grab your ID, dress comfortably, and come ready to have a great time!