Casino Snoqualmie
Address: 37500 SE North Bend Way, Snoqualmie, WA 98065
Phone Number: +1 425-888-1234
Website: www.snocasino.com
Hours: Casino Snoqualmie is open 24 hours a day, 7 days a week.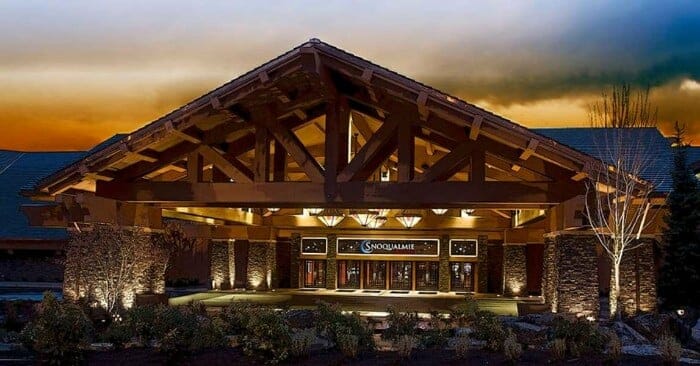 Casino Snoqualmie has been around since 2008, offering the best gaming and entertainment. The casino is on the Snoqualmie Tribe's ancestral land in Washington State. It is owned and operated by the Snoqualmie Indian Tribe and offers visitors a wide range of gaming options.
From classic table games like blackjack and roulette to the latest slots and electronic gaming machines, this casino has something for everyone. They also have promotions, tournaments, and even a karaoke bar.
Their dining options range from fine dining to casual eats, and they offer a wide selection of regional wines and beers. In addition to gaming, visitors can enjoy live entertainment, such as music and comedy shows.
This casino is a great spot for those who want a fun night out or simply want to experience the thrill of gaming. Whether you're looking for an exciting evening of gaming and entertainment or just want to relax and grab something to eat, this casino will surely please.
According to multiple reviews, guests rate this casino 4.6 out of 5 stars. One guest even said, "I had an amazing time here. The staff was friendly and helpful, the gaming options were varied and exciting, and the food was great."
Another guest said, "I stopped in for a few hours and had a great time. The staff was friendly and helpful, and the gaming options were plentiful. I will definitely be returning to this casino again!"
(Related reading: Washington casinos)
Gaming
Their 170,000-square-foot gaming area features 1,700 slot machines and video poker machines and over 54 gaming tables for blackjack, craps, roulette, pai gow and more.
Table Games
If you're looking for exciting and entertaining table games, this casino in Washington is the place to be. From the classic favorite game of Let It Ride and no limit Holdem to new favorites like Crazy 4 Poker, you'll find something to pique your interest.
Try your luck at a spin on Roulette or Texas Hold'em, or get in on the action with Blackjack and Fortune Pai Gow. Craps add excitement – think fast and succeed at this popular dice game.
Typically, the minimum bet for table games is set at $10. However, some tables may have lower or higher betting limits depending on the day and type of game.
Slots
This casino offers a wide selection of popular slot machines. The most popular games include:
Li'l Red
Colossal Wizards
Spartacus Gladiator of Rome
Queen of the Wild II
Lazer Lock Ice Sapphire
Forbidden Dragons
Washington State law dictates that slot machines in casinos have a minimum payback percentage of 75%. Consequently, players can anticipate reclaiming at least three-quarters of their money on slots here.
Hotel/Resort
Planning a vacation to this casino? Guests have plenty of options for lodging in the area. Snoqualmie Inn by Hotel America is just a short drive away and offers beautiful mountain views.
If you're looking for a more luxurious getaway, Salish Lodge & Spa provides an exquisite experience with fine dining, spa services and more. For those seeking something conveniently located nearby that won't break the bank, Summit Inn or Hilton Garden Inn will surely fit the bill.
So even if this casino does not offer an on-site hotel, visitors should have no problem finding a great place to stay nearby.
Restaurants & Buffets
This casino, located in Washington state, has plenty of culinary loveliness to offer its visitors. Start the evening off right with a meal at Vista – enjoy the island-style cuisine and savor the flavors at every bite.
For something a bit more upscale, 12 Moons offer fine dining fare crafted to perfection and served in an atmosphere of sophistication and style. If you're looking for a casual bite or to grab some goodies on the go, try out Snoqualmie Cafe & Deli.
You'll find all your snack favorites plus exciting toasty wraps, sandwiches, salads and more. And don't forget Drip; tempting coffee brews wait to be sipped while gourmet treats tantalize your tastebuds.
Lastly, The Falls Buffet features all-you-can-eat deliciousness that's sure to please everybody. Prices range from $14.99 to $31.99 but watch for specials and discounts for children and seniors.
There's something for everyone: American comfort food classics like fried chicken, mashed potatoes, and mac & cheese, as well as more international flavors like sushi rolls, teriyaki bowls, and tacos.
Pools
Even though there is no pool on site, this casino still has plenty of amenities to entertain visitors. The casino offers several exciting gaming options, including slots, poker, and blackjack, just to name a few.
Visitors can also enjoy fine dining at one of the many restaurants in the area or indulge their curiosity with some shopping and entertainment outside the casino. Plus, with the beautiful view of Snoqualmie Falls right outside your window, it's almost like having a pool.
Casino Snoqualmie, WA FAQ
Does Casino Snoqualmie Have A Sportsbook?
Yes, this casino offers a full-service sportsbook where visitors can place bets on their favorite teams and games. From the NFL to Major League Baseball, there are plenty of options to choose from.
Plus, they also offer mobile betting through their sportsbook app, so you can stay up-to-date on the latest games and lines even when you're away from the casino.
Is Poker Available At Casino Snoqualmie?
Yes, this casino offers plenty of poker options. Whether you are a beginner or a seasoned pro, you will find the game that's right for you.
The casino hosts regular tournaments and special events throughout the year, so be sure to check out their website for more information. The stakes range from small buy-ins up to high roller tables.
What Are The Age Requirements For Gambling At Casino Snoqualmie?
This casino has a strict age limit for gambling. Players must be 21 years or older to participate in any form of gambling at this casino. Additionally, anyone under the age of 21 is not allowed on the gaming floor unless accompanied by an adult.
Does Casino Snoqualmie Have An Online Casino?
No, they do not currently have an online casino available. However, they do offer a variety of gaming options at their physical location, including slots, table games, poker, and sportsbook betting.
Is There An Casino Snoqualmie App?
No, the casino does not have an app. However, they do offer a mobile betting option through their sportsbook app. This allows you to place bets on your favorite teams and games from anywhere with a Wi-Fi connection.
And if you want to get updated with the latest news, offers, and discounts at the casino, their official website can be accessed from any device.
What Is The Dress Code At Casino Snoqualmie?
The casino requests that guests dress in a relaxed yet appropriate manner. Tank tops, shorts and hats are not permitted while inside the betting area. Moreover, any clothing deemed offensive or excessively revealing is strictly banned from the premises.
Is There An Airport Shuttle Available From Casino Snoqualmie?
No, there is not currently an airport shuttle available from the casino. However, they do offer a variety of transportation options, such as taxis and rental cars, to help you get to and from your destination. Please get in touch with the casino for more information on their transportation services.
They also have their own bus service. However, it is uncertain if it goes to and from the airport. You may contact the casino for more information on their bus service.
What Is The Smoking Policy At Casino Snoqualmie?
The casino has a strict no-smoking policy. The entire gaming area, including the restaurants and bars, is non-smoking. Visitors are welcome to smoke in designated outdoor areas only and must comply with the casino's rules and regulations.
What Is The Pet Policy At Casino Snoqualmie?
Sadly, pets are not allowed in the casino. However, certified service animals are welcome if they remain on a leash or harness and follow all local laws. Make sure to contact the casino in advance to make sure your service animal is allowed.
Is Wifi Available At Casino Snoqualmie?
Yes, this casino offers free Wi-Fi for all guests. You can access the internet from any device and stay connected while you explore the casino. This is especially convenient if you plan to use their sportsbook app or check out their website for updates on offers, events, and discounts.
What Is The Cancellation Policy For Casino Snoqualmie?
The casino has no hotel, so you won't need to worry about canceling any reservations.
However, if you've booked for a special event or tournament at the casino, then there may be restrictions on when it can be canceled by – please get in touch with them directly, and they can give you more information regarding their cancellation policy.
Conclusion
This casino is a great place to visit for gaming and entertainment. With its various gaming options, stunning views of the mountains, and convenient amenities, you won't want to miss out on all the fun this casino offers.
If you find yourself in the area, make sure to check out Casino Snoqualmie and see what it has to offer. From its exciting gaming options to its convenient amenities, this casino is definitely worth a visit.