Red Dragon Casino Mountlake Terrace
Address: 21917 Pacific Hwy, Mountlake Terrace, WA 98043
Phone Number: +1 425-275-4444
Website: www.maverickgaming.com/maverick-washington
Hours: Red Dragon Casino is open Monday 10 AM – 5 AM, Tuesday 10 AM – 12 AM, Wednesday Open 24 hours, Thursday Open 24 hours, Friday Open 24 hours, Saturday Open 24 hours, Sunday 10 AM – 5 AM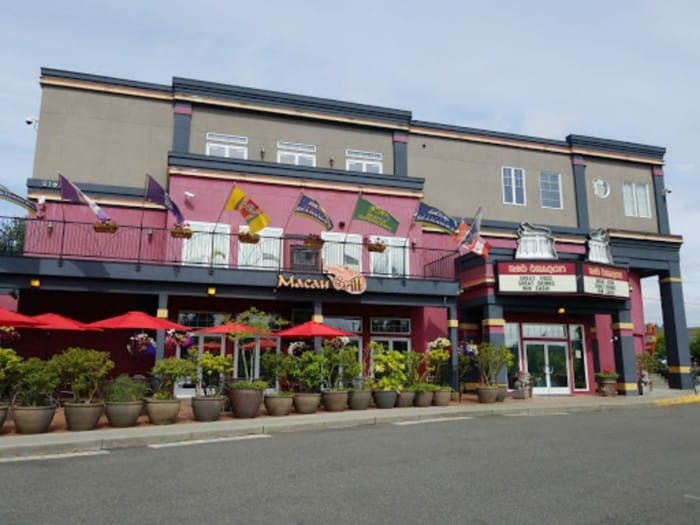 Red Dragon Casino is a property owned and operated by Maverick Gaming, LLC. The casino opened its doors to the public in 2011 and has provided a high-quality gaming experience in Mountlake Terrace ever since.
The casino floor features multiple live gaming tables ranging from blackjack baccarat to poker with various denominations. However, this casino does not offer any slot machines. On the other hand, they have promotions, discounts and giveaways for patrons.
The casino also features some dining options, such as Sports Bar & Grill, which serves delicious food in a relaxed atmosphere. Customers can enjoy the best of sports viewing while dining on some great eats like burgers, sandwiches and appetizers.
They also host live music events and karaoke nights at this casino, which is open nightly. So, whether you're looking to have a great time gambling or just want to unwind after work with some beer, music and food – this casino has it all.
On several review websites, this casino has earned a 4/5 rating from satisfied guests. One guest said, "I had a great time at Red Dragon Casino. The staff was friendly and helpful, the games were enjoyable, and the food at the Sports Bar & Grill was delicious."
Another guest said, "It was a great experience playing at Red Dragon Casino. The atmosphere was lively, and the staff was very nice. I will definitely come back again!"
(Related reading: Washington casinos)
Gaming
The cardroom offers classic table gaming with various limit and no-limit games. Beginners and experienced players can find a wide selection of poker, blackjack and baccarat tables.
Table Games
This casino has a range of popular table games for you to explore. Try your luck at Baccarat, a card game where players only have 3 betting options and can take risks to try and occupy one of the top positions.
Alternatively, Spanish 21 is the blackjack variant with additional rules that could give the house edge a spin. If you're looking for something more progressive, Four Card Poker offers an immersive poker experience with 3 ways to play and a lucrative progressive jackpot up for grabs.
Texas Shootout adds an extra twist to traditional poker by adding Texas rules into your hand play; Lucky Ladies lets you double down on any two cards dealt; and Emperor's Challenge brings together 2 classic titles in a single gaming session.
The minimums for table games at this casino vary. Generally, the minimum bet is $5 for most table games. For a more accurate estimate, it's always best to contact the casino directly.
Slots
This casino in Washington is a great place for anyone looking for a night of poker and table gaming fun. From blackjack and baccarat to an array of poker games, the casino has something for everyone.
Unfortunately, this casino offers no slot machines or other electronic gaming options, such as video poker. However, there are plenty of casinos located in the area that do. And if card games are your thing, then you're lucky because this casino offers plenty.
Hotel/Resort
This casino in Washington is the perfect place to have a great time, but if you're looking for lodging, then you're going to have to look elsewhere.
While it doesn't have a hotel, there are plenty of nearby options for visitors, such as the Emerald Best Motel, the Days Inn by Wyndham Seattle Aurora and Studio 6 Mountlake Terrace.
All of these hotels offer competitively priced accommodation that'll make your stay comfortable and enjoyable. So don't let the lack of a hotel fool you; this casino still offers plenty.
Restaurants & Buffets
Even if they do not have any buffet-style restaurants, the casino still offers a great selection of eateries. The Macau Grill has all of your classic favorites, an extensive sushi menu and a wide variety of drinks.
If you are looking for a more casual experience, head over to the Dragon Zone Sports Bar & Grill for appetizing finger foods and an inviting atmosphere perfect for socializing. Whether you're looking for a night out with friends or time to unwind after work, they have you covered.
Pools
This casino in Washington offers a great gaming experience. This popular casino on the west side of the state has no swimming pools on-site, but guests are never far from water-based fun and relaxation.
There are several nearby public and private pool venues, ranging from large and lavish resorts to small, family-owned locales. With so many options available, visitors to this casino can have some aquatic fun no matter what their budget or preferred pool style may be.
Red Dragon Casino, Mountlake Terrace, WA FAQ
Does Red Dragon Casino Have A Sportsbook?
Unfortunately, this casino in Washington does not have a sportsbook. However, they have a sports bar where you can watch your favorite games and an array of table games to keep you occupied.
Is Poker Available At Red Dragon?
Yes, this casino has an extensive poker room with multiple tables. They offer various poker games and tournaments, and even if you are a novice, their friendly staff is always available to help and teach you the ropes.
What Are The Age Requirements For Gambling At Red Dragon Casino?
At this casino, you must be 21 or older to gamble. This is a state-mandated law that applies to all casinos in Washington. IDs are checked at the door for anyone looking to play games the casino offers.
Does Red Dragon Have An Online Casino?
No, this casino does not offer an online casino. All their games are available only in-person at their Mountlake Terrace, Washington location. So if you want to play table games, slots or poker at this casino, you must make the trip down to their location.
Is There An Red Dragon Casino App?
No, this casino does not currently offer an app. However, if you want to stay updated on the latest events and news, you can sign up for their mailing list. The casino also has a website to learn more about its offerings.
What Is The Dress Code At Red Dragon?
The dress code for this casino is casual. No formal attire is required, but you should still dress respectfully and avoid clothing that is too revealing or provocative. Also, keep footwear comfortable since it can be hard to stand on your feet all night when playing games.
Is There An Airport Shuttle Available From Red Dragon Casino?
No, they do not offer an airport shuttle. However, there are several nearby airports that you can fly into and make the trip to the casino, such as SeaTac International Airport or Everett Paine Field. You can also take a taxi or ride-sharing service if needed.
What Is The Smoking Policy At Red Dragon?
At this casino, smoking is not permitted inside the gaming floor. Smoking is only allowed outside in designated areas or the casino's hotel rooms as long as you are 18 years of age or older. If you are caught smoking indoors, a fine may be imposed.
What Is The Pet Policy At Red Dragon Casino?
Sadly, they do not allow pets inside the casino. However, there are a few pet-friendly hotels nearby that you can book for your stay if you plan on bringing your furry friend with you.
Service animals are allowed indoors if they follow all guidelines and regulations. All other pets must stay outside or at the hotel.
Is Wifi Available At Red Dragon?
No, they do not offer wifi in the casino. If you need internet access, your best bet is to connect to a nearby network or use your phone's data plan. And once you're done playing games, you can always check out the nearby restaurants and cafes that have wifi.
What Is The Cancellation Policy For Red Dragon Casino?
The casino has no official cancellation policy because no hotel is linked to it. But, if you have booked for a special event, there may be a different policy. To be sure, it's best to confirm with the casino before making any reservations.
Conclusion
This casino is a great place for anyone looking to gamble in Washington. It has an extensive selection of games available, as well as a friendly staff and helpful resources.
Whether you are a new or experienced gambler, you can find a game that suits your needs at Red Dragon Casino. And with a convenient location and plenty of nearby amenities, this casino will keep you occupied for hours.