Muckleshoot Indian Casino Auburn
Address: 2402 Auburn Way S, Auburn, WA 98002
Phone Number: +1 800-804-4944
Website: www.muckleshootcasino.com
Hours: Muckleshoot Indian Casino is open 24 hours a day, 7 days a week.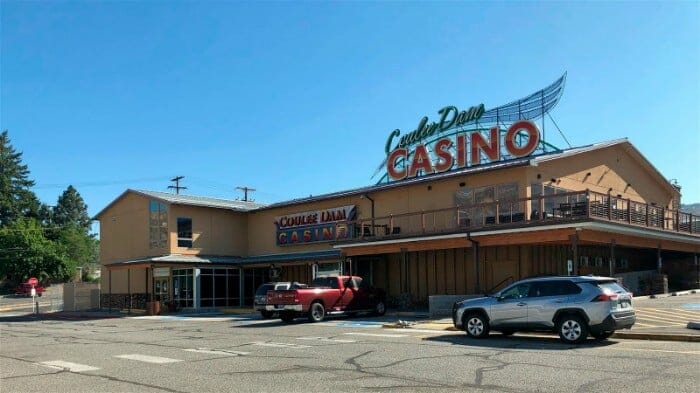 Muckleshoot Indian Casino is a tribal-owned casino in Washington, serving the local community since April 1995. Owned and operated by the Muckleshoot Indian Tribe, the casino is on their traditional land in Auburn.
The casino features over 3,000 state-of-the-art slot machines, ranging from penny slots to high-limit betting. It also offers table games like blackjack, baccarat, Pai Gow poker, and more, along with promotions, rewards and a Player's Club.
For anyone wanting to grab a bite to eat, the casino boasts a variety of dining options, from sit-down restaurants to grab-and-go places like Hubby's Place. With live entertainment, lounges and bars, there is something for everyone at this casino.
So if you're looking for exciting gaming action, head to this popular casino in Auburn. With its 24 hour-operations and variety of entertainment options, you'll have plenty of chances to hit the jackpot.
On review sites like Yelp, guests rate this casino with 4.5 out of 5 stars. One guest said, "The Muckleshoot Casino is a great place to spend some time and win some money. The atmosphere, staff, games and food are all top-notch."
Another reviewer remarked, "Amazing place to have a fun time. Great variety of slots and table games. The staff was so friendly and helpful."
(Related reading: Washington casinos)
Gaming
Their casino floor comprises a variety of slot machines, from penny slots to high-limit betting. There are also table games such as Blackjack, Baccarat and Pai Gow Poker.
Table Games
If you're looking for thrilling table game entertainment, you've come to the right place at this casino. Here, you will find plenty of classic casino table games like Roulette and Baccarat, as well as a handful of amazing variations that promise an unforgettable gaming experience.
For instance, Lucky Ladies will surely get your adrenaline rushing with its unique jackpot side bet system. If that's not enough, try Spanish 21 or ruffle up the odds with the popular WPT Heads Up Hold'em.
Meanwhile, those looking for something more relaxed can enjoy High Card Flush or test their luck with Lucky Stiff Blackjack. And they also have poker games like Texas Hold'em, Limit and NL, and Fortune Pai Gow.
The table minimums at this casino may vary depending on the day or night, but generally, you may easily find $5 tables and sometimes even $3. So, whatever your budget, don't hesitate to come down and experience the thrill of a real-life casino game.
Slots
The casino features over 3,000 slot machines, ranging from classic slots to the hottest new releases. Some popular game titles include:
Lazer Lock Ice Sapphire
Colossal Wizards
Spartacus Gladiator of Rome
Queen of the Wild II
Li'l Red
Forbidden Dragons
As per Washington State law, all slot machines in this casino must have a minimum return-to-player (RTP) of 75%. This means that for every dollar you wager at the casino, you can expect to receive back an average of 75 cents in winnings.
Hotel/Resort
This casino is popular amongst the locals due to its proximity to Seattle, but it also attracts tourists from far and wide. However, guests may need to find somewhere else to stay while visiting the casino as they do not have a hotel attached to their property.
Legends Casino Hotel, Angel Of The Winds Casino Resort, Emerald Queen Hotel & Casino and Suquamish Clearwater Casino Resort are just some of the nearby options that will ensure plenty of gaming entertainment throughout your stay.
Restaurants & Buffets
Even though they do not offer any buffet options at the casino, there are plenty of restaurants to satisfy everyone's appetite.
From Mexican cuisine at Baja Fresh Express to Chinese dishes at Manchu Wok and everything in between, there will surely be something for everyone. If you're feeling adventurous, perhaps head to the Muckleshoot Restaurant for authentic Native American delicacies.
Or, if all else fails, enjoy some piping hot slices of pizza or sandwiches from The Deli. No matter what your stomach desires, you won't be disappointed by the selection at this casino.
Pools
This casino is the perfect place to spend a fun-filled day with friends and family. With plenty of gaming options, great food, and live entertainment, it's sure to be a good time.
Unfortunately, there are no swimming pools onsite, so if you're looking for some aquatic fun, you'll need to find another location. But overall, this casino is a great choice for first-time or seasoned gamblers alike and is sure to provide hours of enjoyable entertainment.
Muckleshoot Indian Casino, Auburn, WA FAQ
Does Muckleshoot Indian Casino Have A Sportsbook?
Yes, this casino is partnered with Caesars Sportsbook, and you can place bets on all major sports, from football to basketball. You'll also find many other betting options like prop bets, parlays and in-game wagers. They also offer mobile options so you can access the sportsbook anywhere.
Is Poker Available At Muckleshoot Indian Casino?
Yes, they offer a variety of poker games, including Texas Hold'em, Limit and NL, and Fortune Pai Gow.
You can also find tables with different buy-ins to choose one that best fits your gaming style. Enjoy the thrill of competing against other experienced players, or simply watch as others battle it out.
What Are The Age Requirements For Gambling At Muckleshoot Indian Casino?
You must be at least 21 to gamble at this casino. You may also need to provide valid identification or other proof of age if requested by security personnel. If you appear under 21, you may be asked to leave the premises immediately.
Does Muckleshoot Indian Casino Have An Online Casino?
No, they do not currently have an online casino. You will need to go in person to the casino to play slot machines and other games. From slots to video poker, this casino has plenty of options. So why not make a day trip out of it and enjoy everything this casino offers?
Is There An Muckleshoot Indian Casino App?
No, this casino does not have an app, but there is a website to check out all the latest promotions and news. You can also find out about upcoming events, view the casino's restaurants, and even make reservations online.
What Is The Dress Code At Muckleshoot Indian Casino?
The dress code at this casino is casual. Shorts, t-shirts, jeans and sneakers are all acceptable attire. However, it is generally recommended to avoid clothing that could be deemed offensive or disruptive. You should also wear clothing that covers you up appropriately.
Is There An Airport Shuttle Available From Muckleshoot Indian Casino?
No, they do not currently offer an airport shuttle. However, there are many other transportation options available in the area to get you around and make your stay more comfortable.
Taxis, limousines, car services, buses and even Uber can all be used to reach the casino from the airport.
What Is The Smoking Policy At Muckleshoot Indian Casino?
The casino is completely non-smoking. You will not be allowed to smoke or vape in any areas of the casino, so please make sure you follow the rules when visiting.
There are outdoor smoking areas available, however, so smokers can still enjoy the casino without worrying about breaking any rules.
What Is The Pet Policy At Muckleshoot Indian Casino?
Sadly, pets are not allowed in the casino. You may need to make arrangements for your pet before visiting if you plan to stay at the casino for an extended period. Please also remember that service animals are permitted but must be kept on a leash and under control at all times.
Is Wifi Available At Muckleshoot Indian Casino?
Unfortunately, you may need to stay off the internet in the casino, as wifi is unavailable. However, most cell phone carriers should still have service inside the casino, so you can use your data plan if needed.
What Is The Cancellation Policy For Muckleshoot Indian Casino?
There is no cancellation policy in place at this casino since there is no hotel or other services associated with it. However, if you need to cancel an upcoming event, it's best to do so as early as possible to avoid any last-minute fees or penalties.
Conclusion
This casino is a great place to enjoy gaming and entertainment. There are plenty of options for all types of players, including table games, slots and video poker. You must be 21 or older to enter the premises, with valid identification if requested.
So if you're looking for your next gaming destination, you should definitely consider Muckleshoot Indian Casino. Whether you are a beginner or an experienced player, there is something here for everyone.