Lucky Eagle Casino And Hotel Rochester
Address: 12888 188th Ave SW, Rochester, WA 98579
Phone Number: +1 800-720-1788
Website: www.luckyeagle.com
Hours: Lucky Eagle Casino is open Monday 10 am – 2 am, Tuesday 10 am – 2 am, Wednesday 10 am – 2 am, Thursday 10 am – 2 am, Friday 10 am – 4 am, Saturday 10 am – 4 am, Sunday 10 am – 2 am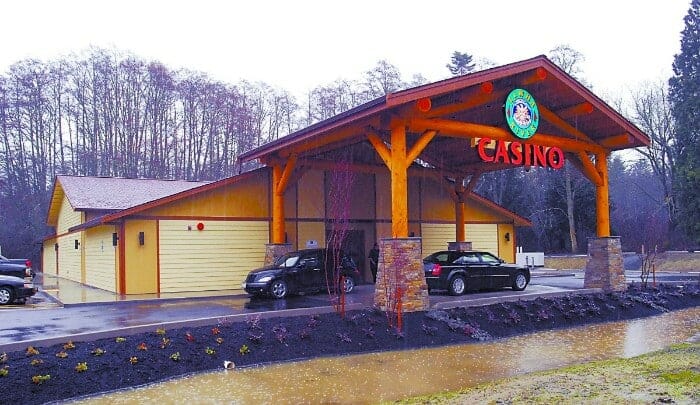 Lucky Eagle Casino And Hotel opened its doors in 1995 and has since become the premier gaming destination for Southwest Washington. It is owned and operated by the Chehalis Tribe and is located just a few miles south of Olympia.
The casino offers over 1,200 of your favorite games, including slots, table games, video poker, live bingo and keno. And with so many promotions and special offers, there's always something exciting going on.
Their hotel is conveniently located on the premises and offers 170 deluxe rooms and luxurious suites. Plus, they have various dining options and an indoor swimming pool that will help make your stay even more enjoyable.
This casino is dedicated to providing guests with an exceptional gaming experience, and it's no wonder they have become a staple of the Southwest Washington community.
Whether you're looking for a night out or just want to get away for a few days, they are sure to provide everything you need.
According to several review sites, this casino has a rating of 4.2 out of 5 stars. One guest said, "The staff was very friendly and helpful. The rooms were clean, the food was good, and the service was excellent."
Another guest said, "Good location, great services, nice staff and awesome atmosphere. And the food. Delicious. The casino itself is also well managed and maintained."
(Related reading: Washington casinos)
Gaming
Their gaming space includes 1,200 slot machines and table games such as blackjack, roulette and craps. They also offer poker tournaments throughout the year.
Table Games
This casino in Washington offers a wealth of table games to the discerning gambler. Customers can try their hand at classic card games such as Ultimate Texas Hold'em and Fortune Pai Gow Poker or opt for the popular Blackjack.
Gamblers who want something more daring can take their chances with Craps, while Roulette provides sophisticated entertainment to those looking for something different. Any of these appealing options are sure to provide hours of exciting gaming.
The minimum bet amounts vary depending on the game. For example, at most of the table games, the minimum bet is $5. This may go higher or lower depending on the game.
Slots
There are a variety of popular slot machines at this casino. Some of the most popular titles include:
Buffalo Gold
Buffalo Xtreme
Dangerous Beauty
Fantastic Jackpots Loaded
Double Dinosaur
Fortunes Fire Dragon
Lucky Tiger Mighty Cash
Dragon Spin
Golden Eagle
Snoop Dog's Jokers Wild
Prosperous Moon
Roaring Tiger Fortune
Press Your Luck
As per the Washington State Gambling Commission, the slot machine payback percentage for all casinos in the state should be at least 75%. So even if this casino does not have the highest payouts, you can be sure that they still follow their required minimum.
Hotel/Resort
This casino hotel offers guests a relaxing getaway with 170 deluxe rooms and luxurious suites. Each room offers modern amenities such as free Wi-Fi, flat-screen TVs and room service.
Some of their room types include:
Double Queen – features two queen beds
Black River Suite – features one king bed, a jetted tub, a shower, a fireplace, a living room, a dining space and a kitchenette
Chehalis River Suite – features one king bed, a jetted tub, a shower, a fireplace, a living room, a dining space for four and a kitchenette
Family Suite – features one king bed, another bedroom with two queen beds, one and a half bathrooms, a fireplace, a living room, a dining space for four and a kitchenette
This casino offers guests a variety of amenities to make their stay more enjoyable. These include:
Wifi access
Self-parking onsite
24-hour front desk
Concierge services
Daily housekeeping
Business center and meeting rooms
Indoor swimming pool and jacuzzi
Onsite restaurant and bar
ADA amenities
Pet-friendly
The cost to stay at this resort starts at $118 per night, excluding taxes and fees. Additional amenities may be available depending on the type of room you book. Also, check out the many different promotions they offer on their website that can help you save money.
Check-in time at Lucky Eagle is 4:00 pm
Check-out time at Lucky Eagle is 11:00 am
Restaurants & Buffets
When it comes to restaurants within this casino in Washington, you've got plenty of options for any mood and budget. If you're looking for an upscale night out, Room 188 Steakhouse offers signature steaks and seafood dishes in an inviting atmosphere.
In the mood for something more low-key? The Mainstreet Bar & Grill or Crafthouse provides cozy seating and a broad food selection. Feeling a little caffeine fix? You won't have far to look with Cedar Cafe & Espresso as well as Cedar Espresso there onsite.
For those who want something all-encompassing, try out Fire Kitchen Buffet–offering breakfast, lunch and dinner featuring all flavors worldwide at just $39.95 per adult. With so many choices at this casino, you won't be disappointed.
Pools
This casino has a wonderful indoor pool for guests to enjoy. It offers a peaceful setting for anyone wanting to lounge or break away from the noisy casino. For those looking to get an extra bit of exercise, there's plenty of room to do a few laps around the pool.
With comfortable loungers and complimentary towels, you can sit back and relax while taking in breathtaking views out of the windows surrounding the sun deck. Whether your goal is to take a dip or swim a few lengths simply, this casino's indoor pool will surely please everyone.
Lucky Eagle Casino, Rochester, WA FAQ
Does Lucky Eagle Casino And Hotel Have A Sportsbook?
Unfortunately, this casino in Washington does not have a sportsbook. However, they offer various gaming options, such as slots, table games, and bingo. So no matter what gaming experience you're looking for, this casino will surely have something to satisfy all your needs.
Is Poker Available At Lucky Eagle Casino?
This casino in Washington has a range of poker games available, such as Texas Hold'em and Pai Gow, catering to players of all experience levels, from beginners to advanced. So if you want to hone your poker skills, this casino is definitely the place for you.
What Are The Age Requirements For Gambling At Lucky Eagle Casino And Hotel?
You must be at least 21 to gamble in the casino. However, anyone under 21 can partake in bingo games if accompanied by an adult. Bring your ID to prove your age when visiting this casino, as you may be asked to show it to a security guard.
Does Lucky Eagle Have An Online Casino?
No, they do not have an online casino. But they do offer many gaming options and promotions onsite. Plus, they also have a hotel and other amenities that guests can enjoy while staying here. So you can still have a great time at this casino without logging in online.
Is There An Lucky Eagle Casino And Hotel App?
Currently, they do not have an app. But they have a website with all the information you need about this casino, including gaming options, promotions, hotel amenities and much more.
And if you're looking for updates on special offers or news related to this casino in Washington, you can follow them on their social media accounts as well.
What Is The Dress Code At Lucky Eagle?
The dress code at this casino is casual. So you can come in shorts, a T-shirt, or whatever else you feel comfortable wearing. Just make sure to keep it respectful so that the staff and other guests feel welcome when they visit this casino in Washington.
Is An Airport Shuttle Available From Lucky Eagle Casino And Hotel?
Unfortunately, there is no airport shuttle available from this casino. However, you can take a taxi or ride-sharing service to and from the casino if needed. So you don't have to worry about renting a car to get around while staying here.
What Is The Smoking Policy At Lucky Eagle Casino?
The casino is a smoke-free facility. However, they do have designated smoking areas outside the casino. So if you need to take a break and light up, there are areas available for your convenience. Make sure to follow the rules and regulations of the casino when smoking onsite.
What Is The Pet Policy At Lucky Eagle?
The hotel has a pet fee of $50 per accommodation per stay, which needs to be paid at check-in. In addition, only two pets are allowed per stay. If you have more than two pets, you must find other accommodation that suits your needs.
Is Wifi Available At Lucky Eagle Casino And Hotel?
Yes, complimentary wifi is available to all guests staying at the hotel. This makes it easier to stay connected with your friends and family back home while enjoying all the amenities and gaming options this casino offers.
What Is The Cancellation Policy For Lucky Eagle?
If you cancel up to 24 hours before the scheduled arrival date, there will be no fee. Any cancellations after this period will incur a charge of the full amount due. So make sure to make your reservation according to the terms and conditions of this casino.
Conclusion
This casino provides all the gaming, hotel, and dining options you need for an enjoyable stay. With plenty of games, complimentary wifi, a pet policy, smoking areas and more, this casino in Washington will surely offer something for everyone.
So plan your trip now and get ready to have some fun at Lucky Eagle Casino and Hotel. Make sure to book early and follow all rules and regulations when visiting this casino!