Ilani Casino Resort Ridgefield
Address: 1 Cowlitz Wy, Ridgefield, WA 98642
Phone Number: +1 877-464-5264
Website: www.ilaniresort.com
Hours: Ilani Casino Resort is open 24 hours a day, 7 days a week.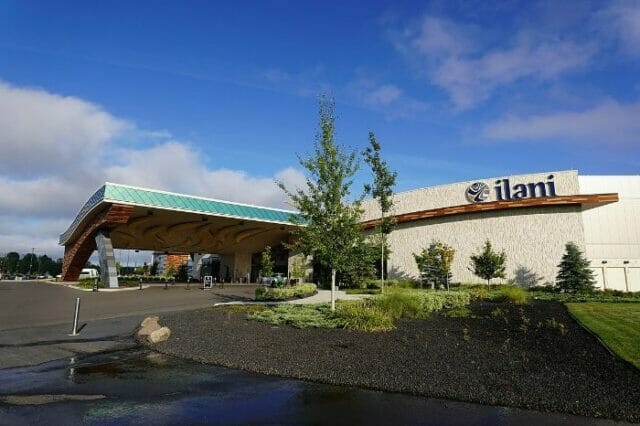 Ilani Casino Resort officially opened its doors in 2017. Its opening marked an important milestone for Cowlitz Tribe, who had worked on the project since the 2000s. The 510 million dollar casino and resort is located in Ridgefield, on a 150-acre site near La Center.
It features over 3,000 slot machines and multiple gaming tables, including blackjack, roulette, baccarat and craps. They also offer promotions and tournaments yearly where players can win large amounts of money.
If you want a place to rest, this casino resort also offers accommodations in the four-diamond hotel. This hotel has a spa, business center, pool and fitness center where guests can relax and enjoy the atmosphere.
The casino resort also entertains, such as concerts and comedy shows throughout the year. In addition, there are 17 restaurants and bars to satisfy your appetite. Whether you want a casual bite or a five-star meal, it offers something for everyone.
So, if you're looking for a fun place to spend the day or night, visit this casino resort in Ridgefield. From the gaming tables to the hotel accommodations, this casino resort offers it all.
Overall, guests rate their experience at this casino resort with a 4 to 5-star level. One guest said, "I had a really good time there. The staff was super nice, the food and drinks were delicious, everything was clean, and I even won some money. Highly recommend it"
Another guest commented, "If you're looking for a great place to relax and have fun, Ilani Casino Resort is the perfect spot. There's something for everyone here, and I can't wait to return."
(Related reading: Washington casinos)
Gaming
Their casino floor comprises 3,000 slot machines and 75 gaming tables. You'll find all your favorites, from classic slots to video poker and progressive jackpots. For table games, you can play blackjack, roulette, baccarat, craps and more
Table Games
At this casino, you can enjoy a wide selection of exciting table games. Blackjack and Roulette are two classics among the many options available on their lively casino floor.
While Pai Gow is arguably the most popular Asian game they offer, non-traditionalists might want to test their luck at Bahama Bonus Blackjack or Texas hold 'em. If skill is what you're after, try your hand at traditional craps or Baccarat.
Three-card poker brings an intriguing twist to the familiar format of its classic counterparts. Whatever your preferred table game, this casino resort has something for everyone.
The minimum bet varies from table to table. Generally, you can expect a $5 minimum in most table games. However, there may be some tables with lower minimums or higher maximums, depending on the game and time of day.
Slots
At this casino resort, you'll find a wide selection of slot machines ranging from classic 3-reel and 5-reel games to the latest video slots. Some of the most popular games include:
5 Dragons
Colossal Wizards
88 Fortunes
Li'l Red
American Original
Spartacus Gladiator of Rome
Forbidden Dragons
Michael Jackson-King Of Pop
Queen of the Wild II
Pharaohs Fortune
Timberwolf
Triple Fortune Dragon
As per Washington state gaming regulations, slot machines at this casino should have a minimum payback percentage of 75%. So while this casino does not publish the actual payback percentage of its slots, you can at least be sure that they are fair.
Hotel/Resort
The casino resort offers guests comfortable and luxurious lodging. Their four-diamond hotel has over 200 rooms and suites, each designed with modern décor and amenities.
Room types include:
Standard Rooms – features one king or two queen beds
Standard Rooms Mountain View – features one king or two queen beds with a view of the mountains
Deluxe Suite – features one bed and one king bedroom, one and a half bathrooms, a living room, a small kitchen, and a dining area
Corner Suite – features one bed and one king bedroom, a living room, a bar, one and a half bathrooms and a soaking tub
Additionally, the casino resort offers guests a variety of amenities. You can take advantage of the following amenities offered to guests:
Wifi access
Parking onsite
24-hour front desk
24/7 room service
Concierge services
A sportsbook
Onsite restaurants and bars
Live entertainment and shows
Retail stores
Swimming pools
Banquet facilities
Rates for a room at this casino resort vary depending on the time of year and day of the week when you book. Rates typically start at $200 per night, excluding taxes and fees. You may also find discounted rates or packages for special occasions.
Check-in time at ilani is 3:00 pm
Check-out time at ilani is 11:00 am
Restaurants & Buffets
If you're looking for an incredible dining experience, this casino resort is the place to be. With a variety of restaurants, they have something to satisfy everyone. 360 Bar elevates your traditional sports bar with food, drinks and more.
Bamboo 8 offers award-winning cuisine with Asian influences. Chef Jet, i.talia Pizzeria and Longhouse provide tantalizing flavors from different cuisines. Michael Jordan's Steak House combines fine steaks with great wining, dining and entertainment.
Proudly Serving Starbucks isn't just a coffee shop—you can get snacks there too. Rose & Thorn serves wine-centric dishes with garden-fresh ingredients, while Taco Cantina provides Mexican flavors that will keep you coming back for more.
Smashburger and Tom's Urban will delight burger fans. But the show's star has to be Line & Lure Restaurant, where adults can enjoy a delicious all-you-can-eat seafood buffet for only $56—kids under 12 are just $20.
Pools
This casino resort in Washington offers a unique pool experience. Their indoor/outdoor design allows guests to take a dip and still be able to enjoy the gorgeous outdoors.
Whether you're looking for a fun swimming experience or just want to relax in the sun, this casino has you covered. They even offer poolside cabanas for guests who want added privacy or luxury. With all these amenities, it's no wonder their pool is such a popular spot.
Ilani Casino Resort, WA FAQ
Does Ilani Casino Resort Have A Sportsbook?
This casino offers its sportsbook and is conveniently located in the Stadium Sports Bar & Grill. It offers many sports betting options to bet on everything from professional football to the latest golf tournament.
On top of that, the friendly staff at The Stadium stocks an impressive selection of beverages and light fare for when you need a bite or refreshment throughout your experience. Why not take a trip and check out this casino to see what all the excitement is about?
Is Poker Available At Ilani Casino?
Yes, you can find a selection of poker tables at this casino resort. The professional dealers are experienced and friendly, and the atmosphere is comfortable and inviting. They offer up to 10 tables with games like Texas Hold'em, Pai Gow and more.
What Are The Age Requirements For Gambling At Ilani Casino Resort?
The age requirement for gambling at this casino resort is 21 years old. This applies to all forms of gaming, including sports betting and poker. Any guests under the legal age will not be allowed to participate in any casino activities.
Does Ilani Have An Online Casino?
No, this casino does not yet have an online gaming platform. You'll need to visit the physical location in Ridgefield to enjoy its games and amenities. However, they do offer a variety of promotions and bonuses on their website that can be redeemed at the resort.
Is There An Ilani Casino Resort App?
No, this casino does not currently have an app. However, they offer a mobile version of their website that can be accessed through your phone's browser. This lets you stay up-to-date with all the latest news, promotions and offers from this casino.
What Is The Dress Code At Ilani Casino?
The dress code at this casino resort is casual. This means you can wear anything from jeans and a t-shirt to a sundress or even shorts, as long as it is neat, clean and presentable. Remember: no open-toed shoes or ripped clothing allowed.
Is There An Airport Shuttle Available From Ilani?
No, this casino resort does not provide airport shuttle services. However, they do have a wide range of transportation options available for guests who need to get from the airport to their hotel or the casino. You can choose from taxi, limo and Uber services for your convenience.
What Is The Smoking Policy At Ilani Casino Resort?
This casino resort has a strict no-smoking policy. Smoking is prohibited in all public areas, including gaming floors and restaurants. Guests are allowed to smoke outside designated smoking areas. Electronic cigarettes are also not allowed at this casino resort.
What Is The Pet Policy At Ilani Casino?
Sadly, pets are not allowed at this casino resort. However, service animals are welcome and must be properly identified with appropriate documentation. Note that all other animals are strictly prohibited on the premises.
Is Wifi Available At Ilani?
Yes, there is free wifi available throughout the casino resort. Guests can enjoy fast and reliable internet access anywhere in the hotel or casino. Plus, you don't have to worry about any data caps or limits – so you can stream your favorite shows and movies without interruption.
What Is The Cancellation Policy For Ilani Casino Resort?
The cancellation policy for this casino resort is 48 hours before arrival. Guests who cancel their reservations after the deadline will be charged a cancellation fee equal to one night's stay. Additionally, any fees or deposits made during booking are non-refundable.
Conclusion
This casino resort is a great place to visit for an exciting gambling experience. With its wide selection of games, comfortable atmosphere and helpful staff, it's easy to see why so many people head here to try their luck.
Plus, there are plenty of other amenities like restaurants, bars and entertainment options available for guests who want to have a good time. So if you're looking for a fun and memorable night out, Ilani Casino Resort is worth checking out.