Emerald Downs Racetrack Auburn
Address: 2300 Ron Crockett Dr, Auburn, WA 98001
Phone Number: +1 253-288-7000
Website: www.emeralddowns.com
Hours: Emerald Downs Racetrack is open Monday 9:30 am – 5 pm, Tuesday 9 am – 5 pm, Wednesday 9 am – 5:30 pm, Thursday 9 am – 5:30 pm, Friday 9 am – 8 pm, Saturday 9 am – 8 pm, Sunday 9 am – 6 pm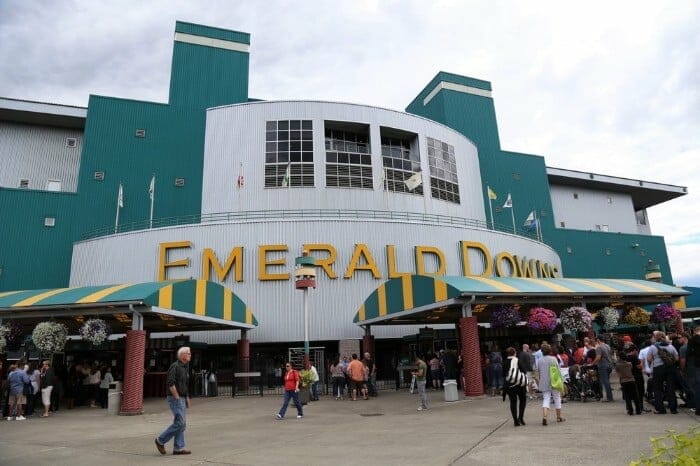 Emerald Downs opened in 1996, replacing the long-standing Longacres Racecourse. It is located near Auburn, Washington, 20 miles south of Seattle. The racino is owned and operated by the Muckleshoot Indian Tribe.
This thoroughbred horse racing track mainly offers live racing from April through September. However, they also have a cardroom open year-round and offer multiple blackjack and poker tables.
In addition, to live racing, it offers simulcast wagering on horse races from around the country and is home to several tournaments throughout the year. They even offer off-track betting machines with limited hours.
It also houses several restaurants and bars offering various food and beverage options. From casual pub fare to upscale dining, there's something for everyone. Plus, they also host live entertainment and concerts throughout the year.
So, whether you want to have a night out playing table games or just experience the thrill of live horse racing, this casino is the perfect place. With its proximity to Seattle, it's the perfect destination for a day or night out.
On TripAdvisor, this racino has a rating of 4.5/5 stars from 145 reviews. According to one guest, "Emerald Downs offers a unique and exciting experience with horse racing, off-track betting, poker, blackjack, plus some excellent dining options."
Another guest commented, "The atmosphere is awesome, and the staff was knowledgeable and friendly. I definitely recommend trying it out at least once."
(Related reading: Washington casinos)
Gaming
Their cardroom offers multiple blackjack and poker tables which are open year-round. They also offer promotions such as daily bad beat jackpots and high-hand bonuses.
Table Games
At this casino in Washington, there are a variety of exciting table games available that you can play. First, there's Lucky Ladies (Black Jack), played with six decks of cards and challenges you in more ways than the traditional Black Jack game.
Then there's High Card Flush, based on obtaining three or more matching cards of the same suit. If you're feeling brave, try Double Deck Blackjack offering higher payouts with fewer decks of cards.
Three Card Poker Prime adds to the challenge and a bonus element, while Heads Up Hold'Em offers a different betting strategy and potential bonus combinations. Lastly, Emperor's Challenge Pai Gow and Players Edge 21 offer players winning opportunities.
The minimum bets for table games at this casino range from $5 to $25, depending on the game. For a more accurate idea of the minimum bets offered, visitors are encouraged to contact the casino directly.
Slots
If you're a fan of horse racing and looking for a fantastic venue to spend a great day at the races, then look no further than this casino. This popular racetrack is home to some incredible horse races throughout the year and also features live table games like blackjack and poker.
While you may not find any slot machines onsite, the exciting contests of skill and luck make it an entertaining outing for all experiences. From beginner to expert, everyone can enjoy the thrill of casino games and live horse racing here.
Hotel/Resort
Enjoying all that this casino has to offer doesn't have to mean sacrificing comfort and convenience. While there may not be a hotel directly on site, there is an array of nearby options for guests looking for convenient stays.
Hotels such as the Red Lion Inn & Suites and the Comfort Inn Auburn – Seattle are just minutes away, while Days Inn by Wyndham Auburn provides another more budget-friendly option right down the road.
So even if you're looking for a day trip or to spend some time exploring the racino experience, there is an array of nearby accommodations available for your stay.
Restaurants & Buffets
While they do not offer buffet-style dining, there are still plenty of great food options to enjoy during your visit. From the Paddock Grill offering classic American-style cuisine to Rico's Pizza with all your favorite Italian favorites, there's something to satisfy every appetite.
If comfort food is more your thing, check out Trackside Deli, Classics or The Meltdown. If you're looking for something a little more exciting, then check out Tastyville or Longshot Taco, serving Mexican specialties.
And if it's snacking on the go, you want to head over to Quick Pix Cafe for quick bites and drinks. Whatever you choose, great food and service await at this racino's restaurants.
Pools
This racetrack in Washington is the perfect place to spend time with friends and family. Visitors can enjoy thrilling horse racing events, exciting gambling activities, delicious food and drinks, and much more.
While there are no swimming pools onsite, those looking to cool off can dip in nearby lakes or public pools. Whether you're a casual visitor or a dedicated gambler, this racino will surely have something for everyone.
Emerald Downs Racetrack, Auburn, WA FAQ
Does Emerald Downs Racetrack Have A Sportsbook?
The sportsbook at this racino only offers horse racing wagers. Unlike other sportsbook locations, no other sports wagering options are available at this location. However, they do offer players simulcast and live horse racing action to bet on, so you can still enjoy a day at the races here.
They also offer mobile betting through BetEmerald.com, where you can place wagers on all their races via an online platform only when you're on the premises of the racino.
Is Poker Available At Emerald Downs?
Yes, poker is available at this racino. Players can enjoy a variety of different poker games like Three Card Poker Prime, Heads Up Hold'Em and Emperor's Challenge Pai Gow, as well as classic card games such as blackjack.
What Are The Age Requirements For Gambling At Emerald Downs Racetrack?
The minimum age requirement for gambling at this racino is 18. All guests must show proof of age (such as a valid driver's license) before playing games. Failure to do so may result in ejection from the premises or other disciplinary action.
Does Emerald Downs Have An Online Casino?
No, they do not offer an online casino at this time. All gaming activities must be done in person at the racino itself. You can also purchase and redeem tickets for horse racing events directly from the website. But unfortunately, all other gambling activities must be done on-site.
Is There An Emerald Downs Racetrack App?
No, there is no official app for this racino. However, you can visit the website to view live horse racing events, purchase tickets and participate in special promotions. Additionally, their social media pages are updated with the latest news and offers.
What Is The Dress Code At Emerald Downs?
The dress code at this racino is pretty casual; visitors are encouraged to dress comfortably. However, it is important to wear appropriate clothing and refrain from wearing any items considered offensive or inappropriate.
Is There An Airport Shuttle Available From Emerald Downs Racetrack?
Unfortunately, no airport shuttle is available from the racino itself. However, visitors can utilize public transportation or local taxi services to get to and from the airport. There are also several rental car companies located nearby for those looking for a more convenient option.
What Is The Smoking Policy At Emerald Downs?
The smoking policy at this casino is pretty strict. Smoking is prohibited anywhere inside the facility; visitors may only smoke in designated outdoor areas. Additionally, vaping and using e-cigarettes are prohibited in any area of the property.
What Is The Pet Policy At Emerald Downs Racetrack?
Sadly, pets are not allowed at this racino. Only service animals are permitted within the premises. All visitors must keep their service animals on a leash or in a carrier inside the building. Visitors should also clean up after their animals and properly dispose of waste.
Is Wifi Available At Emerald Downs?
Yes, free wifi is available at this casino. This is mainly for guests' convenience and provides access to the facility's online betting platform and other resources. However, visitors should note that network speed and reliability vary depending on the day.
What Is The Cancellation Policy For Emerald Downs Racetrack, WA?
No hotel is attached to this racino, so the cancellation policy does not apply. If you have a reservation for a special event, please get in touch with the ticket office for more information. And for any other questions or inquiries, please get in touch with the facility directly.
Conclusion
Emerald Downs Racetrack and Casino is a great place for those looking to experience the thrill of casino games and live horse racing. With its convenient location, wide range of gaming options and relaxing atmosphere, it is no surprise that this racino has become a popular destination.
Whether you are looking to bet on races or simply enjoy watching them, this racino will provide an entertaining and enjoyable experience for all.