Quinault Beach Resort & Casino Ocean Shores
Address: 78 WA-115, Ocean Shores, WA 98569
Phone Number: +1 888-461-2214
Website: www.quinaultbeachresort.com
Hours: Quinault Beach Resort & Casino is open Monday 10 AM – 2 AM, Tuesday 10 AM – 2 AM, Wednesday 10 AM – 2 AM, Thursday 10 AM – 2 AM, Friday 10 AM – 2 AM, Saturday 10 AM – 2 AM, Sunday 10 AM – 2 AM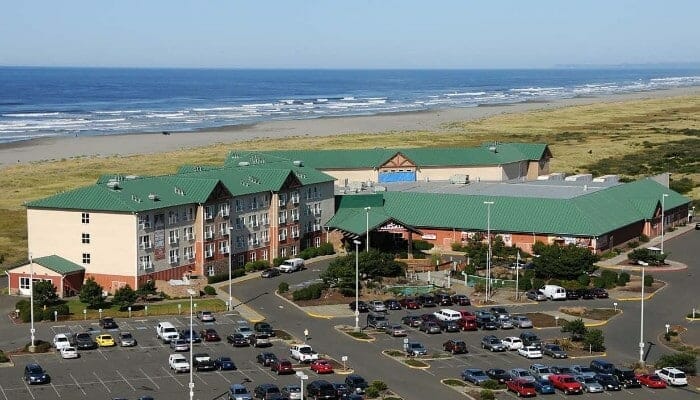 Situated on the shores of Grays Harbor, Quinault Beach Resort & Casino was established in 2000. The property is owned and operated by the Quinault Indian Nation and provides its guests with a unique gaming experience.
The casino floor includes over 700 slot machines, table games such as blackjack, roulette, craps, and live poker tournaments. In addition to the gaming action, the resort offers accommodations in its hotel, where guests can enjoy the spa and fitness center, pool and hot tub.
The casino also hosts various entertainment events throughout the year, such as concerts, comedy shows, and more. In addition to its gaming activities and entertainment options, the property is home to several restaurants offering delicious seafood dishes.
This is a great destination for guests looking to get away from it all and enjoy the beauty of Ocean Shores. With its gaming action, accommodations, entertainment options and delicious food choices, this casino has something for everyone to enjoy.
On popular review sites, such as TripAdvisor, this casino is rated 4.5 stars out of 5, with many guests complimenting the friendly staff and great gaming experience. One guest said, "The atmosphere was great, we had a good time playing slots, and the food was really good too."
Another guest commented, "This place is awesome! The casino is a lot of fun, and the rooms are comfortable. Plus, there's a great view of the beach from our room. I highly recommend this place for anyone looking for a great weekend getaway."
(Related reading: Washington casinos)
Gaming
Their gaming space offers over 700 slot machines and table games such as blackjack, roulette, craps and live poker tournaments.
Table Games
Looking to spice up your next trip to this casino in Washington? With an array of exciting casino table games, you will find something fun. Try your luck at classic blackjack with the Lucky Ladies bet, or put your skills to the test with Emperor's Challenge Pai Gow.
If you prefer card games, try 3-card Prime or Players Edge 21 – you won't be disappointed. Craps, Roulette, and Let It Ride are also available for those who enjoy rolling the dice or placing bets. For poker players, there is Limit Holdem and No Limit Holdem to choose from.
The minimum bet for most table games is $5. But depending on the game, you can find higher minimums at certain tables.
Slots
If you want to hit the jackpot, this casino has various slot machines. Popular machines include:
Beverly Hillbillies Millionaire Mile
Colossal Wizards
Lion Dance Multiplay
Li'l Red
Lotus Land
Spartacus Gladiator of Rome
Carnival In Rio
Forbidden Dragons
Lotus Flower
Queen of the Wild II
Tiki Torch
Lazer Lock Ice Sapphire
Even if this casino does not offer any information related to the slot machine payback percentage, the state of Washington requires that all slots have a minimum return of 75%. This means that, on average, you can expect to get back at least 75% of your money when playing these machines.
Hotel/Resort
For guests who would like to stay overnight, the casino provides a hotel on-site. The rooms are modern and comfortable, with complimentary Wi-Fi, flat-screen TVs, mini-fridges and more.
Room types include:
Standard Rooms – features one king or two queen beds
Studio – features one king bed and a jacuzzi
Parlor – features two queen beds, a living space, a jetted tub, and a walk-in shower.
Grande – features one king bed, a jetted tub, living space and a view of the ocean
Additionally, this casino offers a variety of amenities to enhance your stay. Some of them include the following:
Wifi access
Free parking onsite
RV parking
24-hour front desk
Concierge services
Onsite restaurants and bars
Spa and salon services
Fitness center
An indoor swimming pool
Live entertainment and shows
Banquet facilities
Rates vary depending on the room type and time of year. Generally, you may book a room for as low as $119 per night. For special events or holidays, prices may go up due to higher demand.
Check-in time at Quinault Beach Resort is 4:00 pm
Check-out time at Quinault Beach Resort is 11:00 am
Restaurants & Buffets
The casino may not have any buffet, but the on-site eateries will satisfy your appetites. With a variety of menus ranging from classic American fare to Asian dishes, you won't go hungry.
Fuel up with a selection of beverages, pastries, paninis and more at Fireside Espresso before heading out to explore the resort. For those who want something a bit heartier, Big Eats is the right spot for burgers, sandwiches and salads cooked to perfection.
If you're looking for a classic casino lounge, head to Ocean Lounge, where you can find snacks, drinks and good times. If you're after something more formal, then Emily's offers fine dining options without having to step far from the casino.
Pools
This casino offers more than just easy beach access. Along with the private beach, there is an indoor crystal-clear pool for guests to enjoy.
The pool area features a hot tub, lounge chairs and tables with umbrellas for added comfort. The grounds also provide plenty of lush greenery and landscaping while dipping. So if you're looking for a relaxing place, you'll find it here.
Quinault Beach Resort & Casino, Ocean Shores, WA FAQ
Does Quinault Beach Resort & Casino Have A Sportsbook?
Unfortunately, this casino does not have a sportsbook. However, the casino does offer a variety of table games and slot machines for visitors to enjoy. Guests can also find on-site restaurants and bars, an indoor pool, concierge services, banquet facilities and more.
Is Poker Available At Quinault Beach Resort & Casino?
Yes, this casino offers poker tables where guests can play Texas Hold'em and any other variety of poker. Whether you're a beginner or an experienced card shark, the tables are always ready for action.
What Are The Age Requirements For Gambling At Quinault Beach Resort & Casino?
To gamble at this casino, guests must be 21 or older. Those under 21 may be present in the casino if they are accompanied by an adult. However, minors cannot participate in gaming activities, even if supervised by an adult.
Does Quinault Beach Resort & Casino Have An Online Casino?
No, they do not currently offer an online casino. However, guests can visit the resort to enjoy its amenities and participate in table games or slots. Whether you want to stay in a luxurious room, dine on-site or just have fun at the tables, this casino has something for everyone.
Is There An Quinault Beach Resort & Casino App?
No, there is no app currently available for this casino. However, guests can find more information about the resort and amenities by visiting their website. Plus, you can check in from anywhere and take advantage of exclusive offers and promotions.
What Is The Dress Code At Quinault Beach Resort & Casino?
Casual attire is acceptable throughout the resort. However, it is recommended that guests dress smartly when visiting restaurants or bars. They also ask that all visitors wear modest clothing and avoid bringing inappropriate items such as swimsuits or tank tops.
Is There An Airport Shuttle Available From Quinault Beach Resort & Casino?
No, they do not currently offer an airport shuttle service. However, there are several alternatives for getting to the resort. Guests can take a taxi, arrange a rental car or book an airport shuttle service through a third-party provider.
What Is The Smoking Policy At Quinault Beach Resort & Casino?
Smoking is allowed in designated areas. These sections are usually separated from non-smoking areas and feature clear signage indicating that smoking is permitted. For guests who prefer to visit a smoke-free area, there are also several restaurants and bars where smoking is prohibited.
What Is The Pet Policy At Quinault Beach Resort & Casino?
Unfortunately, the resort does not allow pets on its premises. However, service animals are welcome in all areas of the casino and hotel. Guests who arrive with a pet must find alternative transportation or lodging for their animal.
Is Wifi Available At Quinault Beach Resort & Casino?
Yes, free wifi is available throughout the resort. Guests can connect to the network with their personal devices and enjoy high-speed internet access from any location. The network is password protected for added security and reliability.
What Is The Cancellation Policy For Quinault Beach Resort & Casino?
Cancellations must be made at least 48 hours before receiving a full refund. Guests who cancel within 48 hours will only receive a partial refund, and those who fail to show up for their reservation are not eligible for any kind of refund.
Conclusion
This casino resort is the perfect getaway for those looking to enjoy a luxurious stay with plenty of gaming options. Whether playing Texas Hold'em or enjoying some time at the slots, guests can find something to do here.
If you happen to be in the area and are looking for a place to stay and a fun night, Quinault Beach Resort & Casino is the place to go. With its wide array of amenities and activities, you will have a great time here.