Nob Hill Bowl And Casino Yakima
Address: 3807 W Nob Hill Blvd, Yakima, WA 98902
Phone Number: +1 509-966-1070
Website: www.nobhillbowl.com
Hours: Nob Hill Bowl And Casino is open Monday 5 – 10 pm, Tuesday 9 am – 2 pm, Friday 11 am –2 pm, 10 pm–12 am, Saturday 12 – 9 pm, 10 pm – 12 am, Sunday 12 – 10 pm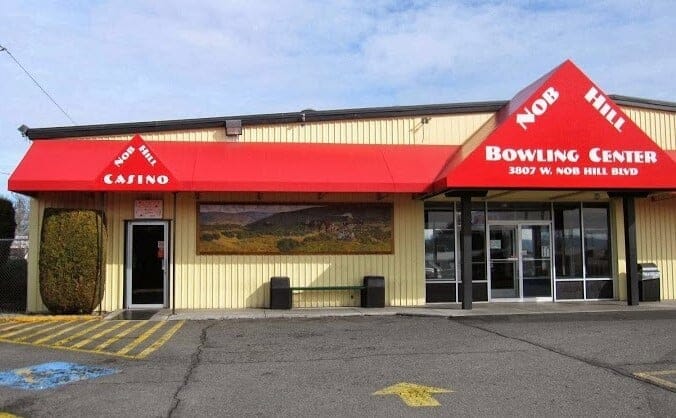 Nob Hill Bowl And Casino is a casino and a bowling alley in Yakima, Washington. It has provided entertainment and gaming options for residents and visitors since 1967.
The gaming floor comprises several live card tables, ranging from blackjack and poker to bingo. There is a bowling alley for anyone wanting to get a few rounds in after a long day.
In addition to the gaming tables, it has a full-service restaurant and bar that serves classic American fare. From burgers and fries to sandwiches, salads, and more, this casino will surely satisfy you.
They also host live entertainment occasionally, ranging from local bands to DJs spinning the latest in hip-hop and dance. This casino is family-friendly, and they have a variety of specials and promotions that are sure to appeal to all players.
So if you find yourself in Yakima, stop by this casino for a night of fun and gaming. With its great atmosphere and family-friendly environment, you will surely have an enjoyable experience.
This casino has a rating of 4.3 out of 5 stars on Google Reviews, with most people providing positive feedback about the gaming options and atmosphere. One guest said, "The staff was very friendly and accommodating, and the gaming tables were clean and well-maintained."
Another guest said, "Overall, it was a great experience. The staff was helpful, and the atmosphere was nice and inviting."
(Related reading: Washington casinos)
Gaming
This casino offers a variety of live table games, including blackjack, poker, and more. They also offer promotions and specials on select days.
Table Games
If you're looking for a great assortment of table games to play in this casino, you won't be disappointed. Try your luck on Player's Edge 21, an exciting alternative form of Blackjack with three different bonus wagers.
Fortune Pai Gow adds the traditional Chinese game of dominoes to the mix and carries a seven-card straight flush bonus. Or take on Heads Up Hold'em for competitive heads-up play against the dealer – be sure to check for any bonus hands.
High Card Flush also features bonus payouts depending on your five-card hand composition. Double Action Blackjack provides two ways to win when you place one bet, with either Blackjack or a Flush winning on the first two cards.
Match the Dealer Blackjack gives you even more chances to win by extra payouts if your last two cards match the dealers.
This casino has a range of minimum bets you can make on all of its table games. For most tables, the minimum bet is set at $5. However, in some cases, it might be higher depending on the type of game and how busy the casino is at any given time.
Slots
This casino is a special spot for those who enjoy live table games like poker and blackjack. Unlike other casinos that offer slot machines, this establishment only features exciting table games.
Whether you're a seasoned veteran or just starting, the atmosphere of this casino is perfect for players of all levels. The friendly staff can help you get acclimated to the games and even provide helpful tips on improving your play.
Hotel/Resort
If you're looking for a place to play live table games and enjoy scrumptious food, this casino is your best bet. However, if you're looking for a hotel or resort option, then you should know that they do not offer accommodations on-site.
If you're looking for a place to rest your head during your stay at this unique and exciting casino, you'll definitely want to check out some great nearby hotels.
Home2 Suites by Hilton Yakima Airport, Hilton Garden Inn Yakima Downtown, and Comfort Suites in Yakima are great nearby options with comfortable accommodations, amenities, and friendly staff.
You won't have to worry about compromising convenience or quality when deciding which hotel is right for you. All of these hotels are located close to the casino, so you can enjoy the gaming and dining experience at this casino while still having a comfortable place to stay.
Restaurants & Buffets
While it is true that this casino does not have any buffet options, they do have an on-site restaurant that features delicious food.
The Nob Hill Restaurant serves various delicious dishes, from appetizers to entrées. Their menu includes everything from steaks to seafood, burgers, and more.
Plus, their bar is always stocked with a full selection of spirits and beers, as well as some great specialty cocktails. So you can enjoy some drinks while playing table games or take a break between rounds to grab something to eat.
Pools
This casino in Washington is a great destination for a night on the town. Whether you're looking for gaming, good food, or just a change of pace, you'll find it all here. While there are no swimming pools onsite, visitors can still enjoy various other amenities.
Inside the casino, patrons can enjoy live entertainment and exciting table games. There's also a fully stocked bar with cocktails and mocktails to suit all tastes. With so much to do under one roof, this casino is a great spot for an evening filled with fun.
Nob Hill Bowl And Casino, Yakima, WA FAQ
Does Nob Hill Bowl And Casino Have A Sportsbook?
No, this casino does not have a sportsbook. However, the casino does feature some exciting live table games and entertainment for players to enjoy. Additionally, there are plenty of nearby restaurants and hotels for visitors to explore during their visit.
Is Poker Available At Nob Hill?
Yes, poker is available at this casino. Players can enjoy various live table games, including Texas Hold'em, High Card Flush, and more. The casino also holds regular tournaments to keep things interesting.
What Are The Age Requirements For Gambling At Nob Hill Bowl And Casino?
At this casino, patrons must be at least 18 years old to gamble. All guests under the age of 21 must also be accompanied by an adult while on the premises. Identification may be required upon entry for verification purposes.
Does Nob Hill Have An Online Casino?
No, this casino does not have an online casino. All gaming activities must be conducted in person on the premises of this casino. With their selection of live table games and entertainment, you're sure to have an enjoyable experience when visiting this unique Washington casino.
Is There An Nob Hill Bowl And Casino App?
No, this casino does not have an app. However, visitors can find all the information about this casino on their website. Plus, they have a Facebook page to post updated information about upcoming events and promotions.
What Is The Dress Code At Nob Hill?
Guests don't need to worry about dressing up when visiting this casino. The dress code is casual, so visitors can feel comfortable wearing everyday clothes. However, visitors should avoid wearing any clothing that contains offensive language or images.
Is There An Airport Shuttle Available From Nob Hill Bowl And Casino?
No, there is not an airport shuttle available from this casino. However, visitors can use public transportation or arrange a private taxi or ride-share to get to the casino. There are also plenty of nearby hotels that offer shuttle services for their guests.
What Is The Smoking Policy At Nob Hill?
At this casino, smoking is not permitted in any of the gaming areas. There are designated smoking areas around the property for patrons who wish to smoke. All visitors must also abide by local and state laws regarding smoking at all times.
What Is The Pet Policy At Nob Hill Bowl And Casino?
No pets are allowed inside the premises of this casino. Service animals are permitted; however, all other animals must remain outside. Make sure to provide valid documentation for service animals upon entry.
Is Wifi Available At Nob Hill?
Unfortunately, guests of this casino might need to bring their own wifi connection. There might be no free wifi on the premises, so visitors should plan accordingly to remain connected during their visit.
What Is The Cancellation Policy For Nob Hill Bowl And Casino?
Currently, there is no cancellation policy for this casino since there is no hotel associated with the property. For special events and entertainment, you may need to call in advance to check their cancellation policies.
Conclusion
This gaming facility is a great place for those looking for gaming, entertainment, and some fun in Yakima. With plenty of live table games, this casino offers something for everyone.
From their dress code to the pet policy, take a few minutes to familiarize yourself with their rules and regulations before visiting. With everything taken care of beforehand, you can enjoy your time at Nob Hill Bowl and Casino in peace!