New Phoenix Casino La Center
Address: 225 W 4th St, La Center, WA 98629
Phone Number: +1 503-281-0932
Website: www.newphoenixcasino.com
Hours: New Phoenix Casino is open 24 hours a day, 7 days a week.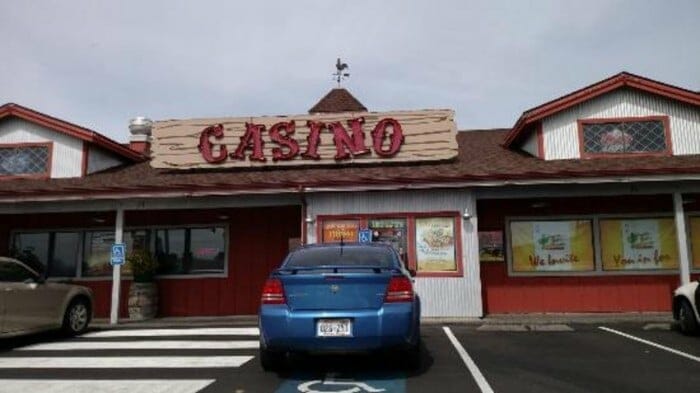 New Phoenix Casino was founded in 1991 and has been a La Center staple ever since. The property is managed and owned by local business owners and has provided jobs and entertainment for the community.
The casino features various live table games, ranging from blackjack and poker to baccarat. They also offer promotions, special events and live entertainment. There is also a full-service restaurant and bar for guests to enjoy.
They are committed to providing customers with a pleasant and safe gaming experience. The casino also offers various responsible gaming programs, including self-exclusion, limit setting and monitoring.
So if you want to have an exciting and enjoyable experience, head over to this casino in La Center, Washington and enjoy the wide range of gaming options available. Whether you are a first-time visitor or a regular in town – they are sure to have something for everyone.
On Google Reviews, the casino currently has a 4.3/5 rating from over 400 reviews. One guest said, "New Phoenix Casino is definitely a great spot. The atmosphere was pleasant, and the staff was friendly. I enjoyed playing in their casino and would visit again."
Another guest wrote, "New Phoenix Casino has a great selection of games and is always well-maintained. The staff is friendly and helpful. I had an enjoyable experience."
(Related reading: Washington casinos)
Gaming
The casino offers many live table games, including promotions and jackpots where players can win big prizes.
Table Games
This casino has many table games, including High Card Flush, Player's Edge 21, Heads Up Hold'Em, Pai Gow Poker, Lucky Ladies, and Baccarat. All these games can provide you with hours of fun and excitement.
There's also High Card Flush, a variation on traditional poker, while Heads Up Hold'Em combines the challenge of Seven Card Stud with the speed of the popular Texas-style game. Pai Gow Poker originated in ancient China and has since been adopted worldwide as a timeless classic.
Generally, table game minimums vary and can be anywhere from $5 to as high as $30. However, these amounts may change depending on the game being played and the time of day.
Slots
This casino offers an array of live table games for poker and blackjack. If you're looking for a place to test your luck, this is the spot. With high stakes, large jackpots, and professional dealers and staff, you can't go wrong.
If playing slots is more your style, however, this casino offers no slot machines. You may need to look elsewhere if you're looking for a place to spin the reels. But if poker and blackjack are more your game, this is the spot.
Hotel/Resort
If you're looking for a place to stay while visiting this casino, there are plenty of great options available nearby. There is no hotel attached to the casino, but there are plenty of nearby hotels and resorts that offer comfortable and luxurious accommodations.
The Best Western Woodland Inn is a great choice – it offers comfortable rooms and helpful staff that make you feel right at home.
For those looking for more affordable accommodations, the OYO Woodland Hotel and Suites or the Lewis River Inn are also excellent options – both provide guests with all the amenities they need during their stay.
With such an abundance of choices close by, visitors can rest assured that their stay at this casino will be one to remember.
Restaurants & Buffets
There is no buffet-style restaurant at the casino. However, they have an onsite bar and a casual restaurant. The menu includes various delicious items – from fresh salads to hearty burgers. There is also a selection of tasty appetizers available as well.
Patrons can enjoy their meals while taking a break from gaming or watching the latest sporting events on their large-screen TVs. Plus, with friendly service and a good atmosphere, it's an ideal spot to relax and enjoy a meal.
Pools
This casino in Washington is a great spot for an evening of entertainment and fun. However, if you're looking to take a dip during your stay, you should know there are no swimming pools onsite.
That doesn't mean there are not plenty of other enjoyable activities—try your luck at their table games, or grab a bite to eat at their onsite restaurant. And, of course, don't forget to take advantage of their live music and other entertainment events.
New Phoenix Casino, La Center, WA FAQ
Does New Phoenix Casino Have A Sportsbook?
Unfortunately, they do not have a sportsbook. Instead, they offer other gaming options, such as live table games. Visitors can also enjoy the onsite bar and restaurant or participate in their entertainment events.
Is Poker Available At New Phoenix Casino?
Yes, they offer a variety of poker games, such as Player's Edge 21 and Heads Up Hold'Em. Visitors can also try their luck at the classic game of Pai Gow Poker. And, of course, they feature various variations on traditional poker as well.
What Are The Age Requirements For Gambling At New Phoenix Casino?
The minimum age for gambling at this casino is 21. Visitors should bring valid photo identification with them to prove that they are of legal age. Failure to comply with this requirement could result in the visitor being asked to leave.
Does New Phoenix Casino Have An Online Casino?
No, they do not have an online casino. All the gaming this casino offers is done in person, on-site at the La Center location. So if you are looking for the thrill of online gaming, you may need to look elsewhere.
Is There An New Phoenix Casino App?
No, they do not have an app. However, they do have a website that visitors can use to find out more information about the casino and their offerings. The website also provides updates on upcoming entertainment events and promotions.
What Is The Dress Code At New Phoenix Casino?
The dress code is generally casual. Visitors should wear appropriate clothing for a night out at the casino, but they do not need to go all out. Avoid wearing overly casual attire, such as ripped jeans or t-shirts.
Is There An Airport Shuttle Available From New Phoenix Casino?
No shuttle is available from the casino to any of the local airports. However, guests can take a taxi or an Uber to their destination. Visitors should plan and book the service to arrive on time for their flight.
What Is The Smoking Policy At New Phoenix Casino?
Smoking is not allowed inside the casino. There are designated smoking areas outside the building for visitors who wish to smoke. Additionally, all guests must be 21 or older to enter the casino and abide by this policy.
What Is The Pet Policy At New Phoenix Casino?
Unfortunately, you may need to leave your furry friends at home when you visit this casino. Pets, except for service animals, are not allowed inside the building. Guests with service animals should contact the front desk ahead of time for more information about their policy.
Is Wifi Available At New Phoenix Casino?
Unfortunately, guests may need to bring their wifi. Free wifi is not available at this casino. However, visitors can purchase a data plan on their device for access to the internet during their stay.
What Is The Cancellation Policy For New Phoenix Casino?
There is no cancellation policy in place for this casino, as there are no accommodations or packages that need to be canceled.
However, any events or shows at the casino may have their own cancellation and refund policies. Guests should check with the event organizers for more information.
Conclusion
This casino offers a wide variety of gaming and entertainment options for visitors. From blackjack and poker to live entertainment, there is something for everyone. However, you must comply with the policies listed above to have an enjoyable time.
With all these policies in mind, visitors can enjoy a night of gaming, dining, and entertainment at New Phoenix Casino. Just make sure to bring your valid ID and plan ahead for any cancellations or refunds so everyone has a great time!