7 Cedars Casino Sequim
Address: 270756 US-101, Sequim, WA 98382
Phone Number: +1 360-683-7777
Website: www.7cedars.com
Hours: 7 Cedars Casino is open Monday 7 am – 3 am, Tuesday 7 am – 3 am, Wednesday 7 am – 3 am, Thursday 7 am – 3 am, Friday 7 am – 3 am, Saturday 7 am – 3 am, Sunday 7 am – 3 am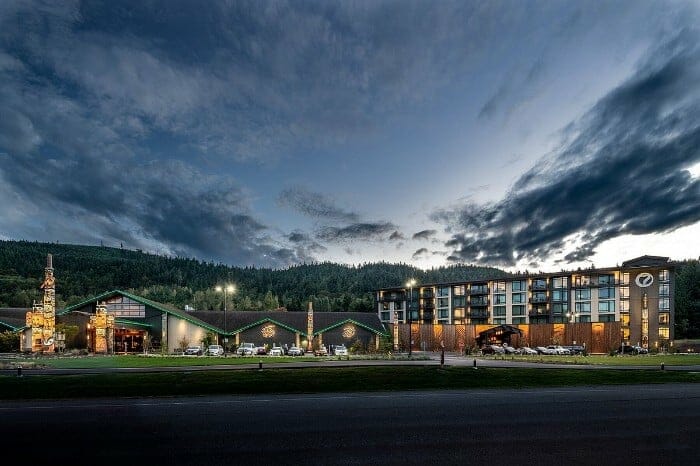 7 Cedars Casino opened its doors to the public in 1995 and has since been a staple of gambling entertainment in the Olympic Peninsula. The casino is owned by Jamestown S'Klallam Tribe, whose ancestors have inhabited and occupied the area for centuries.
The casino offers various forms of gaming, including slots, video poker, and table games like Blackjack and Craps. The casino also features multiple restaurants to choose from and a full-service bar with happy hour specials.
Additionally, special events are held yearly to celebrate holidays and other occasions. And if you want to take a break from gaming, the casino also has live music and comedy nights.
If you want to stay the night, they also have a hotel that offers a variety of suites and amenities. And if you have time to explore the area, nearby Sequim is full of outdoor activities like hiking, fishing, and boating.
This casino is a great place to spend an evening with friends and family. With its wide variety of gaming options, entertainment events, and hotel accommodations, it's sure to provide hours of fun for everyone.
According to guest reviews, this casino is usually rated with 4.5 stars or higher out of a 5-star rating system. According to one guest, "7 Cedars Casino is an amazing place to visit. They have many gaming, entertainment and dining options in one location."
Another review said, "This is a great casino with something for everyone. I found some slots with good payouts, and the staff was very friendly. Highly recommend it."
(Related reading: Washington casinos)
Gaming
Their gaming space features over 600 slot machines, video poker, blackjack, craps, and other table games.
Table Games
Step into the excitement of this casino, where you can test your luck while playing a wide selection of table games. Try your hand at Blackjack and see if you can get 21.
Emperor's Challenge Pai-Gow is another popular choice, and if you're feeling daring, try Craps to double down on the thrill. Feeling competitive? Play Royal Match and prove to yourself that you have the skills to match.
For a unique twist on the classics, go for Bahama Bonus Blackjack or Ultimate Texas Hold'em. And if all else fails, Roulette is always an easy (and fun!) game choice.
Table game minimums vary from game to game. Generally, the minimum bets start at $5 and can go as high as $50 or more.
Slots
This casino has an amazing selection of slot machines. Popular slots include:
Colossal Wizards
Spartacus Gladiator of Rome
Li'l Red
Forbidden Dragons
Lazer Lock Ice Sapphire
Queen of the Wild II
As per the Washington State Gambling Commission, the average slot machine payback percentage for all casinos in Washington state is 75%. This casino's payout percentage is not available, but it is likely to be in line with the state average.
Hotel/Resort
This resort also has a hotel that provides a range of accommodation options, from standard rooms to luxurious suites. All rooms feature HDTVs with cable and wireless internet, as well as mini-fridges and coffeemakers.
Room types include:
Standard Rooms – features one king or two queen beds
King Suites – features one king bed, an oversized shower and a multipurpose table
Executive Suites – features one king bed, an oversized shower, a sitting area, and a work desk
Corner Suites – features one king bed, an oversized shower, a sofa bed, and a sitting area
The Ole' Crabby House – features two bedrooms, two bathrooms, a living room, a kitchen and an outdoor patio
At this hotel, guests have various amenities to make their stay comfortable and enjoyable. These include:
Wifi access
Onsite parking
EV chargers
A golf course
E-bike rentals
Onsite restaurants and bars
Live entertainment
RV parking
Room rates vary depending on the type of room and time of year. Prices start at $179 per night for standard rooms, with suites costing more. Taxes and other fees may also apply.
Check-in time at 7 Cedars is 3:00 pm
Check-out time at 7 Cedars is 11:00 am
Restaurants & Buffets
There is no buffet at this casino. However, there are several onsite restaurants. Start off with The House of Seven Brothers for a flavorful variety of Pacific Northwest favorites. Or head to Napoli's Stone-Fired Cuisine for mouthwatering wood-fired pizza and pasta.
Maybe try something special from Jamestown Java, the perfect spot for coffee or a light snack. For those looking for an upscale evening, be sure to check out The Bear's Bourbon Bar. There, you can indulge in delicious small plates and hand-crafted cocktails.
Pools
This casino resort in Sequim is a great location for a summer getaway. From casino games to fine dining and live entertainment, it has something for everyone. However, it does not have a pool.
If you're looking to cool off and relax, there are several nearby options. Many of the local hotels offer swimming pools or hot tubs, so be sure to check out what they have to offer.
And with the amenities at this casino resort, you can make the most of your stay and enjoy a memorable experience in Sequim. From table games and slots to delicious food and entertainment, you don't want to miss out.
7 Cedars Casino, Sequim, WA FAQ
Does 7 Cedars Casino Have A Sportsbook?
Located on the beautiful Olympic Peninsula in Washington, this casino offers gamers plenty of excitement and entertainment, including their Cedars Sportsbook. Here, you'll find TV screens displaying all the latest sports news and entertainment.
With offerings for both beginner and seasoned sports fans alike, the sportsbook is the perfect place to up the ante. Whether you're an experienced gambler or just getting started, you can bet that they will provide a rewarding experience.
Is Poker Available At 7 Cedars?
Yes, poker is available at this casino. There are numerous live poker tables throughout the gaming floor offering Texas Hold'Em and Pai Gow. Poker tournaments and special events are also held regularly.
What Are The Age Requirements For Gambling At 7 Cedars Casino?
The minimum age for gambling at this casino is 21 years old. Identification will be required upon entering the premises and may be checked at any time while on the property. Minors are not allowed in the gaming or hotel/restaurant areas at any time.
Do 7 Cedars Have An Online Casino?
Unfortunately, this casino does not offer an online gaming platform. However, there is a great selection of games and amenities available onsite for those looking to have a fun time in Sequim. Be sure to check out the table games, slots, sportsbook and more.
Is There An 7 Cedars Casino App?
The 7 Cedars Mobile App is free and available for iOS and Android devices. This app allows you access to the latest promotions, news, rewards and more. Plus, it's a great way to stay connected with what's happening at this casino.
What Is The Dress Code At 7 Cedars?
The dress code is casual at this casino. Shirts, shoes and other appropriate attire must be worn at all times. No swimwear or revealing clothing is permitted in the casino or restaurant areas. Proper footwear must also be worn in the gaming area.
Is There An Airport Shuttle Available From 7 Cedars Casino?
Unfortunately, there is no airport shuttle available from this casino. However, there are several local transportation services that can provide reliable airport transfers. Be sure to plan ahead and book in advance for the most convenient and comfortable travel experience.
What Is The Smoking Policy At 7 Cedars?
The casino floor features both smoking and non-smoking areas. Smoking is not permitted in any of the restaurants or hotel rooms. Electronic cigarettes are also prohibited inside the casino and all other public areas.
What Is The Pet Policy At 7 Cedars Casino?
The entire property does not allow pets. If you need to bring a service animal, you must show proper documentation indicating that the animal is a certified service animal. Failure to do so may result in denial of access to the hotel, restaurant and casino areas.
Is Wifi Available At 7 Cedars?
Yes, complimentary wifi is available throughout the entire property. Guests can easily connect to the network using their devices and will enjoy a fast and reliable connection. The network is accessible 24/7 and has enhanced security measures to ensure your device's safety.
What Is The Cancellation Policy For 7 Cedars Casino?
Reservations at this casino can be canceled up to 48 hours before your scheduled stay. Cancellations made after that time will incur a fee and may not be refundable depending on the circumstances. Be sure to read through their cancellation policy for more information.
Conclusion
This casino is a great place for those looking for an exciting and rewarding gaming experience. With its wide selection of games, amenities, entertainment options, and convenient location, this casino offers something for everyone.
And don't forget that no matter your choice of games, entertainment or rewards, this casino will provide a fun and exciting experience. So if you're looking for an escape from everyday life, be sure to check out 7 Cedars Casino.