Elwha River Casino Port Angeles
Address: 631 Stratton Rd, Port Angeles, WA 98363
Phone Number: +1 360-452-3005
Website: www.elwharivercasino.com
Hours: Elwha River Casino is open Monday 10 am – 12 am, Tuesday 10 am – 12 am, Wednesday 10 am – 12 am, Thursday 10 am – 12 am, Friday 10 am – 12 am, Saturday 10 am – 12 am, Sunday 10 am – 12 am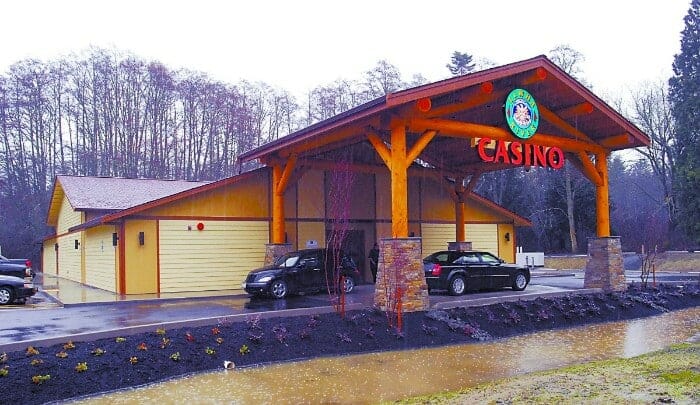 Elwha River Casino was founded in 200 by the Lower Elwha Klallam Tribe. The casino is close to beautiful Port Angeles and offers customers various gaming options. Since its opening, the casino has solely been owned and operated by the Lower Elwha Klallam Tribe.
Their casino floor offers more than 120 of the newest slot machines. From classic slots to progressives and video poker, the casino has something for everyone. Plus, their promotions and special events allow customers to win exciting prizes.
The casino also boasts a restaurant, River's Edge Grill. Open for breakfast, lunch and dinner, the restaurant serves delicious American classics in a relaxed atmosphere. Onsite catering is also available for private events.
Whether you're looking to play slots or enjoy a leisurely meal, this casino has something to offer everyone.
On average, this casino receives a 4.3 out of 5-star rating from its guests. One guest said, "The casino is clean and well-kept. The staff is friendly and helpful. The gaming floor is quite nice with a large selection of slots, video poker, and other games."
Another guest said, "I had a great experience here. The employees were friendly and helpful. I enjoyed the slots and other games on offer. Overall, this is a great place to visit for some fun gaming."
(Related reading: Washington casinos)
Gaming
Their gaming space comprises classic slots, progressive slot machines, video poker and more. Apart from these, the casino also offers various promotions and special events that allow customers to win exciting prizes.
Table Games
If you want a place to enjoy a table game, this casino in Washington may not be the best option. Unfortunately, it does not offer any table games but instead specializes in slot machines.
Therefore, if you are looking for an exciting slot machine experience and do not require the ambiance of a table game, you may want to consider this casino as your gambling destination.
Slots
This casino has some of the most popular slot machines around. The Colossal Wizards game allows players to feel like they have a real wizard by their side with its magical setup, while Li'l Red, packed with fantasy-themed features, will have any players ready to spin the day away.
Spartacus Gladiator of Rome offers a unique gaming experience thanks to its classic Roman theme, and Forbidden Dragons give thrilling wins through multipliers and wilds.
Queen of the Wild II keeps the same captivating adventure going, and with Lazer Lock Ice Sapphire, you could get your hands on one incredible jackpot.
As per the Washington State Gambling Commission, this casino offers its players a minimum payback percentage of 75% on slot machines. This means the casino keeps 25% of all slot machine wagers as profits.
Hotel/Resort
Visiting this casino is an enjoyable experience with so much to explore. While there is no onsite hotel, there are many nearby options. The Emerald Valley Inn is just a few miles away, offering the perfect combination of luxurious accommodations and modern amenities.
The Red Lion Hotel Port Angeles Harbor invites guests to stay in rooms filled with natural sunlight and tranquil ocean settings. Olympic Inn & Suites allows visitors to experience ultimate comfort and convenience within its spacious rooms.
Lastly, the Riviera Inn's cozy atmosphere makes it a great choice for those looking for an affordable yet comfortable stay. Regardless of your preferences, you will find something that suits your needs when staying near this casino.
Restaurants & Buffets
Even though they currently do not have any buffet options, the casino does have a restaurant. River's Edge Grill is open for breakfast, lunch, and dinner and offers classic American dishes in a relaxed atmosphere. Onsite catering is also available for private events upon request.
From burgers to steaks, guests can find something that will satisfy their taste buds when visiting the casino's restaurant. For the ultimate experience, treat yourself to their signature steak and shrimp dinner.
Pools
If a cool dip is what you're after during your visit to this casino in Washington, don't fret – although the resort does not have any pools onsite, there are plenty of nearby swimming spots to choose from.
Whether you'd like to stay close or travel further away, the Olympic National Park has many crystal-clear lakes and rivers perfect for an afternoon spent splashing around with family and friends.
The nearest ocean beaches –Hollywood Beach and Second Beach – also offer miles of stunning coastline for beachcombers, adventurers, and swimmers alike. So even if you're here for some gaming action, don't miss out on the chance to explore the natural beauty of Washington State.
Elwha River Casino, WA FAQ
Does Elwha River Casino Have A Sportsbook?
Unfortunately, this casino does not have any sportsbooks at this time. But if you want to focus on slots and table games, this is the place to be. Whether you are looking for a thrilling time or something to while away the hours, this casino has plenty of options.
Is Poker Available At Elwha River?
No, they do not offer poker games at this time. However, they do have a wide selection of slots and table games that you can enjoy instead. You may also find video poker machines in their casino.
What Are The Age Requirements For Gambling At Elwha River Casino?
To gamble at this casino, you must be at least 18 years old. This is consistent with gambling laws in Washington State. Therefore, all guests must show a valid government-issued ID to enter the casino.
Does Elwha River Have An Online Casino?
No, they do not currently have an online casino. You may only play at the casino in person. But with the titles they offer, you should be sure to have a great time when visiting this casino in Washington State.
Is There An Elwha River Casino App?
No, there is currently no Elwha River Casino app. But you can stay updated with their promotions and other offerings through their website or social media accounts. Plus, with their newsletter, you can easily stay updated as they release new information.
What Is The Dress Code At Elwha River?
For the most part, the dress code at this casino is casual. You may wear jeans, T-shirts, and other casual clothing. However, guests are asked to avoid wearing workout clothes or any clothing with offensive graphics. Decent footwear is required at all times.
Is There An Airport Shuttle Available From Elwha River Casino?
No, there is not an airport shuttle available from this casino. However, you can easily find transportation services for getting to and from the airport when planning your trip. You can also rely on public transportation or look into ride-sharing services to get around in the area.
What Is The Smoking Policy At Elwha River?
This casino maintains a strict smoking policy. Smoking is only allowed in designated areas on the casino floor and outside the building. For your comfort, there are also non-smoking sections available for all guests to enjoy.
What Is The Pet Policy At Elwha River Casino?
Sadly, this casino does not allow any pets on the premises. They maintain a strict pet policy for all guests to ensure a safe and comfortable environment for everyone. Service animals are the only exception to this rule, and they must remain on their leash at all times.
Is Wifi Available At Elwha River?
Unfortunately, you may need to bring a portable WiFi hotspot with you if you wish to connect while at the casino. This is because they do not currently offer free WiFi on their premises, and they do not have any hotspots available.
What Is The Cancellation Policy For Elwha River Casino?
As there is no hotel or lodgings attached to this casino, there is no cancellation policy in place. However, you may want to check their events page for any updates on upcoming events that may be canceled due to inclement weather or other circumstances.
Conclusion
Elwha River Casino in Washington State offers a wide selection of slots and table games for all guests to enjoy. From classic games to video poker machines, there is something for everyone here.
If you plan on visiting this casino, make sure you take note of all their policies, including their age requirements, dress code, and smoking policy. So pack your bags and prepare for a great time at this casino.