Clearwater Casino Resort Suquamish
Address: 15347 Suquamish Way NE, Suquamish, WA 98392
Phone Number: +1 360-598-8700
Website: www.clearwatercasino.com
Hours: Clearwater Casino Resort is open Monday 8 am – 5 am, Tuesday 8 am – 5 am, Wednesday 8 am – 5 am, Thursday 8 am – 5 am, Friday 8 am – 12 am, Saturday Open 24 hours, Sunday Open 24 hours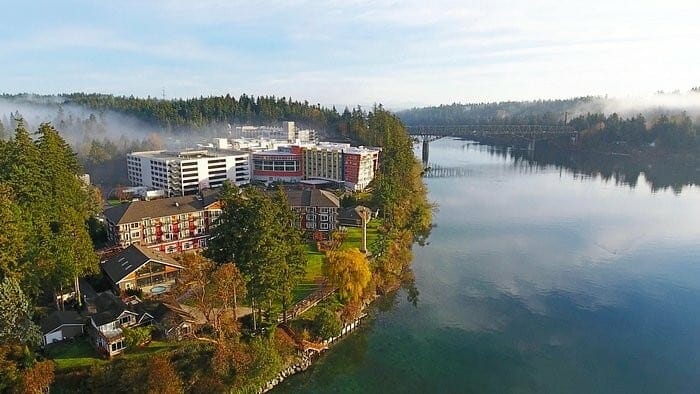 Clearwater Casino Resort is located in Suquamish on the beautiful Kitsap Peninsula. It was established in 1995 as a gaming facility for the Suquamish Tribe under an agreement with the state of Washington.
Since then, it has continued to expand and grow, offering over 1,200 slots and table games such as blackjack, baccarat, and poker. They also offer a Player's Club for regular guests where they can win prizes and rewards.
For gamers who would like to rest, the resort also offers a variety of amenities. The hotel onsite offers accommodations ranging from standard rooms to luxury suites. They also have an RV park, a spa and salon, and five onsite restaurants.
For entertainment, they offer different events and activities throughout the year. The casino hosts a variety of live concerts, entertainment shows, and tournaments. They also hold special holiday and seasonal events.
This casino resort has something for everyone, from gamers to music and sports enthusiasts. It's a great way to enjoy the area while playing slots or table games and enjoying all of the other amenities that it has to offer.
According to guest reviews, this casino has a rating of 4.5 stars out of 5. One guest commented, "This casino has something for everyone. The staff was friendly and helpful. I enjoyed playing the slots, eating at the restaurants, and seeing a show."
Another guest said, "Clearwater Casino Resort is the perfect place to get away and enjoy gaming. The atmosphere was friendly and inviting, with a great selection of games and amenities."
(Related reading: Washington casinos)
Gaming
Their casino floor comprises 1,200 slots and table games like blackjack, baccarat, and poker. On special occasions, they host tournaments as well.
Table Games
This casino resort is the perfect destination for your next gaming adventure. With a variety of table games to choose from, there's something for everyone.
You can keep it simple with a game of Blackjack or challenge yourself with Emperor's Challenge Pai Gow. Fancy yourself a risk-taker? Try your luck on Craps or Roulette.
If you're feeling particularly adventurous, High Card Flush, Three Card Poker, and Double Deck Blackjack are available too.
This casino offers table game minimums from $10 to $20. The exact amount depends on the game you'd like to play, so it is best to check with them for more information.
Slots
This casino resort has a wide selection of slots that range from classic 3-reelers to the latest video slots. Popular machines include:
A Night Of Mystery
Colossal Wizards
Queen of the Wild II
Spartacus Gladiator of Rome
Forbidden Dragons
Queen of the Wild II
100 Wolves
La Loteria Mexicana
Lazer Lock Ice Sapphire
Li'l Red
As per Washington state gaming regulations, all tribal casinos must maintain a minimum payback percentage of 75% across all machines. The exact percentage for each game may vary based on the number of machines and the total amount wagered.
Hotel/Resort
The hotel at this casino resort offers a variety of accommodations, from standard rooms to luxury suites. All rooms come with plush furnishings, HD televisions, and complimentary Wi-Fi.
Room types include:
Value Rooms – features one single king bed or two queen beds
Premium Rooms – features one single king bed or two queen beds with modern décor
Value Suite – features a single king bed and a jetted tub
Premium Suite – features a single king bed, a jetted tub and a view of the waters
Carver Suites – features a single king bed, a sitting area and a walk-in shower
Additionally, the casino resort offers a variety of amenities to make your stay more enjoyable. This includes:
Wifi access
Parking on site
Front desk
Concierge services
Onsite restaurants and bars
Live entertainment
Fitness center
Full-service spa and salon
Meeting rooms
Swimming pool
Gift shop
RV park
A sportsbook
The cost of staying at this casino will vary depending on what type of room you choose and when you are visiting. Generally, you may be able to book a room for as low as $169 per night plus fees and taxes. Be sure to check their website for the most up-to-date prices and special offers.
Check-in time at Clearwater is 4:00 pm
Check-out time at Clearwater is 11:00 am
Restaurants & Buffets
They do not offer a buffet at the moment. However, they have multiple onsite restaurants that serve a variety of delicious dishes. From casual to more upscale, you will find something to please everyone.
The Agate Pass Deli provides quick, classic meals for those who are on the go. For a seafood experience, visit the Seafood Bar for delectable seafood dishes.
If you'd rather have something lighter and healthier, Beach Bru Coffee and Beach Glass Café offer fantastic smoothies, sandwiches, salads and more. Finally, the Clearwater Restaurant serves tasty steak and prime rib dishes in an intimate atmosphere.
Pools
Located in Suquamish, this casino resort is known for its luxurious amenities and breathtaking views. In addition to its state-of-the-art gaming area, the resort boasts two pool areas that are perfect for relaxation and fun.
The resort offers an indoor lap pool with carefully maintained temperatures and a large hot tub perfect for soaking. Whether you plan on using them for relaxation or exercise, either will give you a refreshing reprieve from your hectic life.
On top of that, the pool area also offers picturesque ocean views, meaning you can float around in peaceful surroundings without ever having to leave the property.
Clearwater Casino Resort Suquamish, WA FAQ
Does Clearwater Casino Resort Suquamish Have A Sportsbook?
If you're looking for a great place to watch sports and potentially win some money, then look no further than this casino resort. It's home to Fanduel Sportsbook, one of the best betting facilities in the country.
From weekly matchups to total points to various prop bets, Fanduel Sportsbook has something wonderfully exciting for everyone. Plus, its beautiful atmosphere and knowledgeable staff will ensure your experience is top-notch every time you visit.
Is Poker Available At Clearwater Casino Resort?
Yes, this casino offers poker games to its guests. Whether you're a beginner looking for some fun or an experienced player wanting to test your skills, you'll find the perfect game for you at this casino resort. They offer a variety of stakes, so everyone's welcome regardless of skill level.
What Are The Age Requirements For Gambling At Clearwater Casino Resort Suquamish?
To gamble at this casino resort, you must be 18 years of age or older. You must show a valid form of ID to prove your age before gambling. Additionally, minors are not allowed in the gaming area and must stay with an adult at all times.
Does Clearwater Have An Online Casino?
Unfortunately, this casino resort does not currently have an online casino. To play your favorite casino games, you'll need to visit the physical location.
However, they do offer a variety of promotions and special offers that can be found on their website or social media, so make sure to check those out.
Is There An Clearwater Casino Resort Suquamish App?
Yes, you can download the Clearwater Casino Resort app for both Android and iOS devices. The app allows you to stay up-to-date on all of their upcoming events, promotions, and offers. Plus, it lets you book a room or make restaurant reservations straight from your phone.
What Is The Dress Code At Clearwater Casino Resort?
This casino resort has a relaxed dress code. Shirts and shoes must be worn, but you can dress casually for most areas of the casino and dining facilities. However, if you plan on attending any special events or high-end restaurants, it is recommended to wear semi-formal attire.
Is There An Airport Shuttle Available From Clearwater?
Unfortunately, this casino resort does not currently offer an airport shuttle service. However, you can always take a taxi or ride-sharing service to and from the SeaTac Airport. Additionally, there are several nearby attractions that provide shuttles or other transportation services to the casino.
Also, this casino offers a courtesy shuttle going to and from Bainbridge Island Ferry Terminal and Kingston Ferry Terminal. The shuttle operates on a designated schedule, so make sure to check their website for more details.
What Is The Smoking Policy At Clearwater Casino Resort Suquamish?
If you are visiting this casino and you are a smoker, you are in luck. The casino allows smoking in the gaming area from the East Garage entrance. This means that you can stay comfortable while still enjoying your favorite games.
However, if you prefer a smoke-free environment when gambling or sitting at the table games area, that option is also available. This casino offers smokers and non-smokers alike the opportunity to enjoy their stay.
What Is The Pet Policy At Clearwater Casino Resort?
Sadly, this casino resort does not allow pets of any kind on the premises. This includes all types of animals, from cats and dogs to birds and reptiles. Service animals are allowed; however, guests must provide valid documentation that verifies their need for a service animal.
Is Wifi Available At Clearwater?
Yes, wifi is available at this casino. Guests can access the wifi with their device for free during their stay. You can find the wifi network in the lobby and other common resort areas, such as the pool and fitness center.
What Is The Cancellation Policy For Clearwater Casino Resort Suquamish?
You can cancel your reservation up to 24 hours before arrival without any penalty or charges. If you need to cancel within 24 hours of your arrival date, then a one-night charge will be incurred. Additionally, if you fail to show up for your reservation, a one-night charge will be applied.
Conclusion
This casino resort is a great place to stay for those looking to have some fun and relax. With its relaxed dress code, pet policy, and wifi availability, you can be sure your stay with them will be comfortable and enjoyable. Don't forget to take advantage of their promotions and events.
With their convenient location, you can explore the area and visit nearby attractions with ease. So if you're looking for a great casino experience, head to Clearwater Casino Resort Suquamish!