Emerald Queen Casino Fife
Address: 5700 Pacific Hwy E, Fife, WA 98424
Phone Number: +1 253-594-7777
Website: www.emeraldqueen.com/fife-casino
Hours: Emerald Queen Casino is open 24 hours a day, 7 days a week.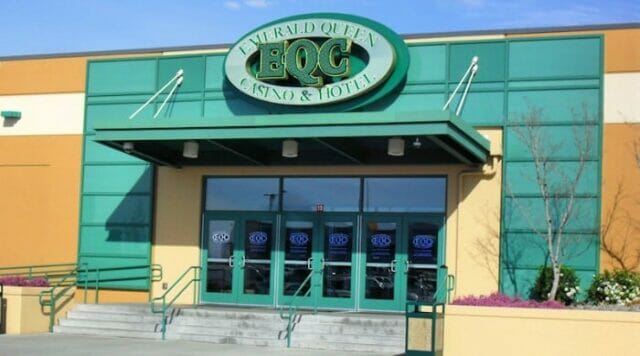 The Emerald Queen Casino has been in Fife since 2005. It is owned and operated by the Puyallup Tribe of Indians, who are dedicated to providing a unique entertainment experience for their guests.
The casino floor features over 2,300 slot machines, ranging from progressive jackpots to the latest video titles. And with so many promotions and tournaments offering thousands in cash prizes, it's easy to see why they're so popular.
The hotel on site is the perfect place to rest after a long day of exploring the area's many attractions. Guests can choose from 103 comfortable rooms and suites, all with amenities like free Wi-Fi and flat-screen TVs.
And with a wide array of amenities, such as a fitness center, and a swimming pool, there's something for everyone to enjoy. The casino offers exciting live entertainment, including music acts and sporting events.
Whether you're looking for a place to party or for peace and quiet, this casino has something for everyone. From great gaming and dining options to live entertainment, you'll find exactly what you want at this casino.
On Tripadvisor, this casino has a rating of 3.5 out of 5 stars, with over 500 reviews. One guest said, "I have been to this casino many times, and I must say that the staff and services provided at the Emerald Queen Casino are great."
Another guest said, "This was my first time visiting the Emerald Queen Casino in Fife, WA. It was very clean and well-maintained, with plenty of gaming options. The staff was friendly and helpful, and I had an enjoyable experience overall."
(Related reading: Washington casinos)
Gaming
Their casino floor features over 2,300 slot machines, ranging from progressive jackpots to the latest video titles. You may also join their Player's Club, where you can take part in their promotions and tournaments for the chance to win thousands of dollars.
Table Games
This casino is a great place to have a fun time and enjoy yourself. However, it does not offer traditional table games like poker or blackjack. Instead, the casino consists exclusively of slot machines meant to provide hours of entertainment for those looking for an exciting experience.
With such a wide variety of slots available, there will surely be something for everyone at this casino, making it difficult to get bored.
Slots
Looking to try your luck at a slot machine at this casino? Make sure to check out some of the casino's most popular machines. Colossal Wizards and Li'l Red offer classic 5-reel games with engaging features.
Spartacus Gladiator of Rome is an intricate game featuring a Reel Ways system for eye-catching displays. Forbidden Dragons add an extra thrill with Fire Ball Action setting up multiple ways to win exciting prizes.
Queen of the Wild II provides big jackpots for gamblers with more boldness than modesty before taking a cool break on the Lazer Lock Ice Sapphire game, where players must lock symbols in place for guaranteed payoffs.
Unfortunately, this casino does not release its slot machine payout percentage. But according to Washington State law, all slot machines must pay at least 75%.
Hotel/Resort
The property also features a hotel onsite. Guests can choose from 103 comfortable rooms and suites, all with amenities like free Wi-Fi and flat-screen TVs. If you want to know more about their room types, contact the hotel directly.
Additionally, the property provides visitors various amenities to enjoy during their stay. These include:
Wifi access
Parking on site
24-hour front desk
24-hour gym
Dry Cleaning And Laundry Services
Luggage Storage
Swimming pool
Business center and meeting rooms
Banquet facilities
Onsite restaurants and bars
The cost of staying at this hotel varies depending on the room type and availability. Prices can range from $144 per night plus taxes and fees. To get a more accurate estimate, please visit the property's website or contact them directly.
Check-in time at Emerald Queen is 3:00 pm
Check-out time at Emerald Queen is 11:00 am
Restaurants & Buffets
Whether you're looking for a quick snack or full-on fine dining, there's something for every appetite at this casino. Paradise Deli is the perfect spot to grab a bite on the go with delicious sandwiches and wraps made from freshly baked bread from their bakery.
For a more upscale experience, Tatoosh Grill features freshly prepared Northwest and indigenous menu options, including great steaks, seafood and burgers.
If you're in the mood for an international buffet feast, Pacific Rim Buffet offers some of the most scrumptious dishes around for just $25 for lunch or $30 for dinner. Whatever your tastes are, there's something special waiting at this casino.
Pools
Looking for a place to take a refreshing dip? This casino has an outdoor swimming pool for guests to enjoy. The pool offers plenty of space to swim around and relax with friends, complete with amenities you'd expect from any nice hot summer day.
The pool deck is lined with lounge chairs and umbrellas so guests can relax and soak up some sunshine at the casino. Towels and sunscreen are also provided upon request.
Whether it's time to cool off while playing slots or just some time alone to bask in the sun, the pool at this casino is the perfect spot.
Emerald Queen Casino, Fife, WA FAQ
Does Emerald Queen Casino Fife Have A Sportsbook?
Currently, this casino offers BetEQC, an online sportsbook. This lets you bet on games and matches worldwide using your mobile devices. With its convenient app, you can access the sportsbook anytime and place bets on your favorite teams.
Is Poker Available At Emerald Queen Casino Fife?
Unfortunately, there is no poker room at this property. However, they do offer video poker machines in their casino. This is a great way to enjoy some of the same games without worrying about opponents or table etiquette.
What Are The Age Requirements For Gambling At Emerald Queen Casino Fife?
At this casino, players must be at least 21 to enter and participate in any casino-related activities, including gambling. Additionally, all minors must be accompanied by a parent or legal guardian at all times.
Does Emerald Queen Casino Fife Have An Online Casino?
No, they do not currently have an online casino. You may only access their games and services by visiting the casino. With so many amenities and entertainment options, you won't have to worry about missing out on any of the fun.
Is There An Emerald Queen Casino Fife App?
Yes, there is an official mobile app for the property. The Emerald Queen Casino Fife App allows guests to stay up to date with all of the casino's upcoming events and promotions, as well as access exclusive offers, discounts and rewards.
What Is The Dress Code At Emerald Queen Casino Fife?
The dress code at this casino is casual yet polite. Guests must wear clothing free of offensive material and suitable for a family environment. Shorts, tank tops, muscle shirts and flip-flops are not permitted.
Is There An Airport Shuttle Available From Emerald Queen Casino Fife?
Yes, there is an airport shuttle available from the casino. You must contact the casino directly for more information about scheduling and pricing. They are available to answer any questions you may have and help to arrange transportation.
What Is The Smoking Policy At Emerald Queen Casino Fife?
They offer both smoke-free and smoking sections throughout the property. This allows guests to choose their preferred experience without compromising the comfort of other visitors. Additionally, all areas have ventilation systems for a more enjoyable atmosphere.
What Is The Pet Policy At Emerald Queen Casino Fife?
The casino is a pet-friendly establishment with designated pet-friendly areas. If your dog is under 25 pounds, you can bring them for a fee of $25. However, cats and other animals are not allowed on the property.
Is Wifi Available At Emerald Queen Casino Fife?
Yes, free wifi is available at the casino. Guests can connect to their secure network and enjoy unlimited access while they explore all that this casino has to offer. The wifi is accessible throughout the casino, including the pool area.
What Is The Cancellation Policy For Emerald Queen Casino Fife?
If you need to cancel your stay, do so at least 24 hours in advance. Any cancellations made after this time will result in a one-night fee. And if you don't show up for your reservation, you will be charged the full amount.
Conclusion
This casino is a great destination for anyone looking to get away and enjoy some of the best gaming, entertainment and dining in Washington. With all of the amenities they offer, it's no wonder why this casino is such a popular spot.
Whether coming for a day or looking to book an extended stay, Emerald Queen Casino Fife has everything you need for a truly memorable experience.