Little Creek Casino & Resort Shelton
Address: 91 WA-108, Shelton, WA 98584
Phone Number: +1 360-427-7711
Website: www.little-creek.com
Hours: Little Creek Casino & Resort is open Monday 9 am – 3 am, Tuesday 9 am – 3 am, Wednesday 9 am – 3 am, Thursday 9 am – 3 am, Friday 9 am – 4 am, Saturday 8 am – 4 am, Sunday 8 am – 3 am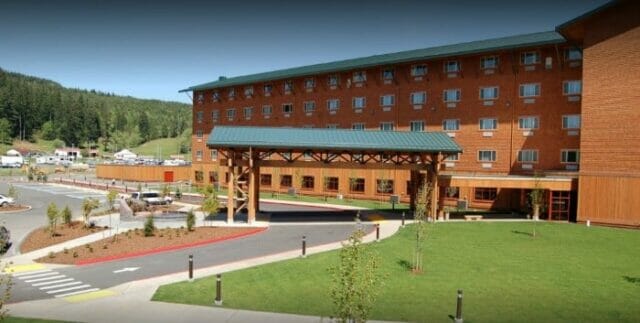 Little Creek Casino opened in 1995 and has become one of Washington's premier entertainment destinations. The casino is opened and owned by the Squaxin Island Tribe and is located on the beautiful 70 acres of their ancestral homeland in Shelton, Washington.
Their casino features over 750 slot machines, table games, poker bingo and keno. So no matter your preference, you can find it at this casino. They also offer promotions, giveaways and other events throughout the year to keep guests entertained.
In addition to the gaming floor, the casino also offers accommodations in its resort-style hotel. The rooms are spacious and comfortable and have all the amenities you need for a relaxing weekend.
The casino resort also offers various delicious dining options ranging from casual to fine dining. Whether your tastes call for steak, seafood, international flavors or a quick snack, they have something to satisfy them.
If you are looking for a place to relax and unwind, then the resort also has a spa with a variety of treatments, including massages, facials, manicures and pedicures. They also have an outdoor pool, hot tub and fitness center for guests who want to stay active during their stay.
So if you're looking for a unique gaming experience and luxurious accommodations, this casino could be the perfect choice for your next getaway. It has something for everyone and is sure to provide a memorable experience.
According to multiple reviews, this casino has a rating of 4.3 out of 5 stars on various review sites. One guest said, "I had a great time at Little Creek Casino & Resort. The staff were friendly and helpful, the gaming floor was clean, and the hotel accommodations were comfortable."
Another guest commented, "I was very pleased with my stay at Little Creek Casino & Resort. The room was luxurious, and the staff was incredibly friendly and helpful. I highly recommend it!"
(Related reading: Washington casinos)
Gaming
Their casino floor features over 750 slots and table games, including blackjack, roulette, craps and poker. They also offer tournaments and promotions, as well as bingo and keno games.
Table Games
This casino resort offers fun and exciting table games perfect for any player. If you're looking to add a bit more adrenaline to your gaming experience, popular options include Players Edge 21, Lucky Ladies, Four Card Frenzy, High Card Flush, and WPT Head's Up Hold'em.
Emperor's Challenge and Emperor's Challenge Exposed are enjoyable variations of casino poker that many newcomers are shocked to discover the first time around. Plus, there's the classic Roulette wheel for a guaranteed good time and Craps.
This casino offers a variety of table games with minimums ranging from $5 to $25. The casino also has an array of high-limit tables for those looking to take their gaming experience up a notch.
Slots
This casino resort offers a wide variety of slot machines, ranging from classic to modern. Popular choices include:
88 Fortunes
Fu Bamboo
Devil's Lock
Treasure Hunter
Frogged Up
Cash Falls Huo Zu
Palace Guardians
Triple Fortune Dragon Rising
Rich Little Piggies Hog Wild
Press Your Luck
Genie's Prize
As per Washington State Gaming Commission regulations, this casino resort has set its slot payback percentage to a minimum of 75%. This means that, on average, slot players can expect to get back at least 75 cents for every dollar they put in.
Hotel/Resort
In addition to its gaming floor, this casino resort also offers a resort-style hotel. The rooms are spacious and comfortable and have all the amenities you need for a relaxing weekend stay.
Room types include:
Premium Rooms – features one king or two queen beds with a shower
Deluxe Rooms – features one king or two queen beds with a tub and shower
Spa Rooms – features one king bed and a walk-in shower
Two-Room Suites – features one king bed, one and a half bathrooms, a jetted tub, a walk-in shower, a living room, and a dining space
Premium Family Suites – features two queen beds, a walk-in shower, a living room, a dining space and a fireplace
Presidential Suites – features one king bed, a walk-in shower, a jetted tub, a living room and a dining space
This casino resort offers a variety of amenities for guests to enjoy. In addition to the gaming floor, there are:
Wifi access
Parking on site
24-hour front desk
Concierge services
Daily housekeeping
Full-service spa and salon
A fitness center
Swimming pools and hot tubs
Business center and meeting rooms
Banquet facilities
Onsite restaurants and bars
Live entertainment and shows
A sportsbook
An RV park
Arcade games
A golf course
The cost of staying at this casino resort depends on the amenities and room type you want. Prices may vary depending on the time of year, but rooms typically cost around $140 per night. For a more accurate price estimate, you can visit their website or contact the hotel directly.
Check-in time at Little Creek is 4:00 pm
Check-out time at Little Creek is 11:00 am
Restaurants & Buffets
Although they do not have any buffet-style restaurants, they have some excellent restaurant options. You can find various international cuisine and comfort food in their onsite eateries.
If seafood is your thing, head to their Seafood Bar for an array of delicious dishes you won't forget. Prefer something more casual? The Island Grille is the place to be with sandwiches and American classics like juicy burgers and golden brown fries.
The Starlight Lounge offers romantic views while sipping specialty cocktails overlooking the gorgeous Olympic Mountain range. Let's not forget their Salish Cliffs Grille, where guests can enjoy cuisine with regionally inspired dishes made with locally-sourced ingredients.
The Boardwalk has something for everyone in your family, including appetizers, soups and salads, and main courses featuring classic and modern takes on traditional comfort food favorites.
Last but certainly not least is the Water's Edge Cafe – boasting all your breakfast favorites, from omelets to Belgian Waffles.
Pools
This casino offers much more than just gaming fun. For swimming enthusiasts, the resort also features an indoor heated saltwater pool.
Perfect for year-round swimming, the pool's temperature is always inviting, and it's sure to provide a relaxing experience after hours of playing your favorite casino games.
Furthermore, there are pool lounge chairs and daybeds where you can soak up some rays while taking in amazing views of Kamilche Valley. So no matter your chosen activities, you will have an unforgettable time at this casino.
Little Creek Casino & Resort, Shelton, WA FAQ
Does Little Creek Casino & Resort Have A Sportsbook?
Yes, this casino offers a sportsbook. From the latest sports news to wagering on major sporting events, you'll find everything you need in their dedicated sportsbook. Plus, you can join their VIP Club and enjoy exclusive benefits like discounts and special offers.
Is Poker Available At Little Creek Casino?
Yes, this casino resort offers poker games. You can enjoy Texas Hold'em and various tournaments in their poker room. Additionally, you can take advantage of their promotions and jackpots and win big while having fun competing against other players.
What Are The Age Requirements For Gambling At Little Creek Casino & Resort?
The minimum age for gambling at this casino is 21. All visitors must show valid identification when entering the premises, so it's best to bring a government-issued ID such as a driver's license or passport.
Does Little Creek Have An Online Casino?
Unfortunately, this casino does not have an online casino. However, you can enjoy a variety of gaming options on their property in Shelton. There are also plenty of other activities to enjoy at the resort, such as spa services and entertainment.
Is There An Little Creek Casino & Resort App?
Yes, there is an official Little Creek App which you can use for easy access to all the latest information about the casino. From hotel bookings and room reservations to finding restaurants and promotions, this app has everything you need.
What Is The Dress Code At Little Creek Casino?
This casino resort has a casual dress code. Most visitors tend to sport fashionable jeans, khakis, and polo shirts. However, if you plan to visit the casino's nightclubs or high-end restaurants, it's best to go with something more formal, like a dress shirt and slacks combination.
Is An Airport Shuttle Available From Little Creek Casino & Resort?
No, they do not offer an airport shuttle service. However, guests may arrange their transportation if they would prefer. There are several local taxi companies, as well as car rental services, available for those who wish to drive themselves.
What Is The Smoking Policy At Little Creek Casino?
Smoking is only permitted in designated areas, such as the casino's outdoor patio. All indoor areas are non-smoking, and guests must abide by this policy. There are also designated smoking areas outside of the hotel and casino premises.
What Is The Pet Policy At Little Creek?
Pets are not allowed in the hotel or casino at this casino resort. However, if you plan to visit with a service animal, please inform the staff before arrival so they can make the necessary arrangements. Furthermore, there is a pet-friendly RV park nearby where you can book your stay.
Is Wifi Available At Little Creek Casino & Resort?
Yes, free wifi is available at this casino resort. Guests can access the internet using their personal devices and enjoy a reliable connection throughout the property. Additionally, guests can also utilize public computers located in the business center for their convenience.
What Is The Cancellation Policy For Little Creek?
Guests can cancel their reservation up to 48 hours before arrival and receive a refund with no penalty. If the booking is canceled after that, guests will be charged one night's stay plus taxes. For more information about the cancellation policy, please contact the casino directly.
Conclusion
This casino resort offers plenty of gaming and entertainment options for visitors. From poker tournaments to VIP clubs, there is something for everyone. The casino has all the amenities you need for a comfortable stay – from free wifi and public computers to pet-friendly RV parks nearby.
With such accommodating policies and services, Little Creek Casino & Resort is the perfect destination for your next gambling adventure. So if you find yourself looking for a great casino experience, be sure to check out this casino resort.