Cardrooms in California – List, Map, and the Largest Cardrooms in the State
By Steve Beauregard
According to the most recent reports from the California Gaming Control Commission published in January 2018, there are 88 licensed card rooms in the state of California. However only 70 of these are active and currently open.
Unlike their Indian casino cousins, these cardrooms are privately owned, and do not have to be on Native American-owned land. They're legal because under California law, they are considered "games of skill" rather than "games of luck."
Among these 70 cardrooms, there are a variety of sizes, game offerings and styles.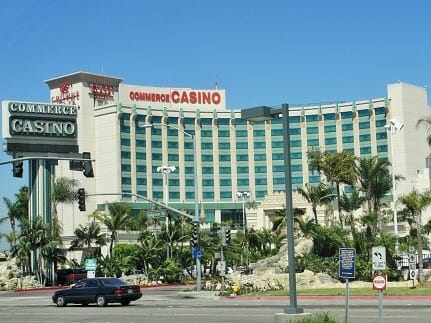 They range from small pub-type places to sprawling, spacious, action-packed floors filled with over 200 tables and thousands of gamblers, (Commerce Casino in Los Angeles).
In addition to these 70 cardrooms there are 62 different casinos in the state, and they shouldn't be confused.
Unlike the cardrooms, these casinos, (all of which are Indian casinos situated on tribal land), can have slot machines, craps and roulette.
Adding to the confusion are the fact that many (if not most) of the cardrooms, have "casino" in their name. For the purposes of this article however, we're only talking about California's card rooms.
California Cardroom Games Offered
California cardrooms are exactly as the name implies: rooms with card games them.
While you may think of a "cardroom" as being just another word for a poker room, California cardrooms spread a variety of table games.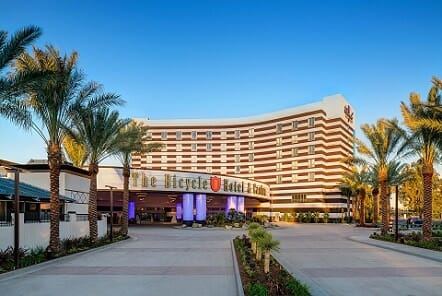 In addition to the usual selection of Texas Hold'em, Omaha games, the bigger cardrooms offer games such as: Caribbean stud, Let it Ride, baccarat, pai gow poker, and the like. They also spread a version of blackjack called "California blackjack" in which there are 53 cards in the deck. The 53rd card is a joker, and it's value, (along with other specific rules), can vary from casino to casino.
An even stranger quirk to these table games is the fact that you can be "the house."
Due to California gaming regulations, players do not play against the house, but rather, against each other. As a result, each cardroom charges a player's fee. That's how they make their money, rather than the traditional Las Vegas casino style, in which the house doesn't charge a fee, and relies instead on their mathematical edge in each game.
Before the start of each hand, one player is designated as the "dealer or banker" for that hand. He or she will have the option of being the designated banker for up to two hands, whereupon the deal will rotate to the next player.
The rules get complicated, and are not the focus of this article, however we'll say that as banker, you decide how much you wish to risk. Any shortfall above that is made up by "The Corporation" which is a person at every table who works for a company associated with the house, but which is not the house, since California rules prohibit betting against the house. Confused yet?
Now you know why most people play poker.
Largest Cardroom in California
The biggest cardroom in California, as measured by the number of tables in play, is the Commerce Casino. It calls itself the "Largest poker casino in the world," and they're probably right.
Situated 7 miles southeast of downtown Los Angeles, the Commerce has 270 tables. It's host to an annual stop on the nationally televised World Poker Tour.
The Commerce has a 200 room, nine-story hotel, spa, and restaurants.
The massive cardroom spreads Texas Hold'em of course, along with Omaha and poker variants you hardly find anywhere else these days, including 7-Card Stud, Razz, and even Low-Ball. You can also bet on the ponies in the Commerce's Racebook.
Top 5 Biggest Cardrooms in California
Here are the state's biggest cardrooms, (followed by their table count) as determined by table count figures from the California Gaming Control Commission:
Commerce Casino (Commerce, CA): 270 tables
Hawaiian Gardens Casino (Hawaiian Gardens, CA): 225 tables
The Bicycle Hotel & Casino, (Inglewood, CA.): 185 tables
Hollywood Park Casino (Inglewood): 120 tables
Hustler Casino (Gardena): 91 tables
California Cardroom Map
California Cardroom List
Here's a list of all of California's Cardrooms, along with their respective towns.
There are a few other cardrooms that have licenses to operate, but which aren't opened. They are not included in the list below:
Artichoke Joe's Casino – San Bruno
Bankers Casino – Salinas
Bay 101 – San Jose
California Grand Casino – Pacheco
Cameo Club – Stockton
Capitol Casino – Sacramento
Casino 99 – Chico
Casino Club – Redding
Casino M8trix – San Jose
Casino Marysville – Marysville
Casino Merced – Merced
Casino Real – Manteca
Central Coast Casino – Grover Beach
Clovis 500 Club – Clovis
Club One Casino, Inc. – Fresno
Club San Rafael – San Rafael
Commerce Casino – Commerce
Crystal Casino – Compton
Delta Casino – Stockton
Diamond Jim's Casino – Rosamond
Empire Sportsmen's Association – Modesto
Garlic City Club – Gilroy
Golden State Casino – Marysville
Golden West Casino- Bakersfield
Hawaiian Gardens Casino – Hawaiian Gardens
Hollywood Park Casino – Inglewood
Hustler Casino – Gardena
Kings Card Club – Stockton
La Fuerza – Woodlake
Lake Bowl Cardroom – Folsom
Lake Elsinore Hotel and Casino – Lake Elsinore
Larry Flynt's Lucky Lady Casino – Gardena
Limelight Card Room – Sacramento
Livermore Casino – Livermore
Lucky Chances Casino – Colma
Lucky Lady Card Room – San Diego
Marina Club – Marina
Merced Poker Room – Merced
Mike's Card Casino – Oakdale
Napa Valley Casino – American Canyon
Nineteenth Hole – Antioch
Oaks Card Club – Emeryville
Ocean's Eleven Casino – Oceanside
Oceanview Casino – Santa Cruz
Old Cayucos Tavern – Cayucos
Outlaws Card Parlour – Atascadero
Palace Poker Casino – Hayward
Palomar Card Club – San Diego
Parkwest Casino 580 – Livermore
Parkwest Casino Cordova – Rancho Cordova
Parkwest Casino Lodi (aka Lodi Casino) – Lodi
Parkwest Casino Lotus – Sacramento
Parkwest Casino Sonoma – Petaluma
Paso Robles Central Coast Casino – Paso Robles
Pinnacle Casino (formerly known as Ven-A-Mexico) – Soledad
Player's Casino – Ventura
Poker Flats Casino – Merced
Rancho's Club – Rancho Cordova
Rogelio's – Isleton
Seven Mile Casino – Chula Vista
Star's Casino – Tracy
Sundowner Cardroom – Visalia
The Aviator Casino – Delano
The Bicycle Hotel & Casino – Bell Gardens
The Deuce Lounge & Casino – Visalia
The Saloon at Stones Gambling Hall – Citrus Heights
The Tavern at Stones – Citrus Heights
Tommy's Casino & Saloon – El Centro
Towers Casino – Grass Valley
Turlock Poker Room – Turlock
California Card Rooms that have closed
Below are card rooms shown as "not operating" according to the California Gaming Commission. Some of these still have active licenses and may re-open.
BlackSheep Casino – Cameron Park
Bruce's Bar and Casino – Blythe
Casino Royale – Sacramento
Club Caribe Casino – Cudahy
Hotel Del Rio & Casino – Isleton
Oasis Card Room – Ridgecrest
Oceana Cardroom – Oceano
The Mint – Porterville
Tres Lounge and Casino -Watsonville
(Top photo courtesy of By Justefrain – Own work, CC BY 3.0, Bicycle photo courtesy of their website press gallery).