Casinos in Jacksonville, FL. – Closest Land Casino, Gambling Cruises, & Poker Rooms
Between an on again-off again casino cruise and poker rooms, there are some legal gambling options in and around Jacksonville, Florida, however there aren't any traditional, Las Vegas-style casinos in the immediate area.
For that, you'll have to go all the way south to Tampa Bay.
One hundred and ninety-seven miles to be exact, as the closest casino to Jacksonville is the Seminole Hard Rock Hotel & Casino Tampa.
During normal traffic conditions, it would take you around 3 ½ hours to drive there, when going south on Highway 301 then Interstate 75.
It's a long drive to be sure, however should you decide to go, you'll find yourself at one of the top ten largest casinos in the United States.
The Seminole Hard Rock Tampa is a beautiful, newly remodeled hotel and spa resort that boasts over 200,000 square feet of gaming space filled with over 4,000 slot machines/video poker machines, and over 100 table games, not including their fancy new 47 seat poker room.
(Here's a map showing you the fastest driving route from Jacksonville to the Seminole Hard Rock Tampa)
Jacksonville Poker Rooms & Racing
While the region lacks a regular casino, Jacksonville is blessed with two solid, popular poker rooms, both under the name "Bestbet," and both have simulcast betting on horses.
The Bestbet Jacksonville is just seven miles directly east of downtown Jacksonville, while the Bestbet Orange Park is 14 miles south. Both have restaurants and bars. You only have to be 18 to play, however you still do have to be 21 to drink.
(The two poker rooms in Jacksonville. The black star is the BestBet Jacksonville. The orange star is the BestBet Orange Park).
Bestbet Jacksonville
This is the larger of the two Jacksonville area card rooms. In fact, it's the largest poker room in the state of Florida.
Their website boasts of a 20,000 square foot room with "88 table games" however I don't believe all of those are poker tables. Many other poker sites put Bestbet Jacksonville's poker table count at 70, so we'll go with that. Either way, it's good sized. They also run a variety of fun high hand promotions daily.
Games spread include the usual no-limit Texas Hold'em, along with a Pot Limit Omaha Hi-Lo games, both of which range from $1/$2 games, up to $5/$10.
In addition, there are some very low-limit Limit Texas Hold'em games, along with Limit Omaha 8 or better, and even a $1/$3 Stud game. Promotions can change, however at the time of this writing, they still offered a bad-beat jackpot in the $30,000 range.
Tournaments run nearly every day of the week, with some starting at just a $60 buy-in. The Bestbet Jacksonville has regularly hosted a main event stop on the World Poker Tour.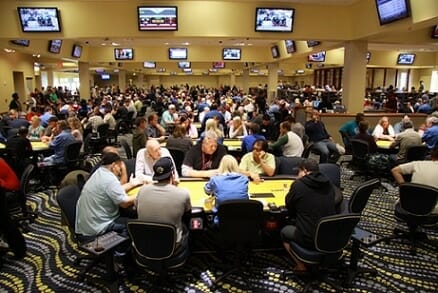 In addition to the 70-odd poker tables, the remaining 18 or so of the room's 88 tables are casino table games like Ultimate Texas Hold'em, Pai Gow, High Card Flush, and both 1, 2, and 3 card poker games. Unlike table games you find at the Hard Rock in Tampa, or in Vegas-style casinos, players at these table games play against a designated "banker," and all players get the opportunity to be a banker, should they wish.
There's no live racing here, however there is simulcast wagering on horses, greyhounds, and on Jai Alai too. Should you get hungry, the BestBet Jacksonville has a Sushi Bar, and the Poker Room Deli.
Bestbet Jacksonville opens at 10 AM on weekdays (closing at 4 AM), but is open 24 hours a day on weekends.
Address:

201 Monument Road
Jacksonville, FL. 32225

Phone (904) 646-0001
Bestbet Orange Park
Located 14 miles south of Jacksonville in Orange Park, Florida, this cardroom offers wagering on horse races and dog races in other areas via simulcast betting.
With 37 tables (including carnival games), this poker room is smaller than the Bestbet Jacksonville.
Like its cousin to the north, the Bestbet Orange Park opens at 10 AM on weekdays (closing at 4 AM), but is open 24 hours a day on weekends. Dining options include the Poker Room Deli and the Paddock Dining Room
Address & Phone

455 Park Avenue
Orange Park, FL. 32073

Phone: (904) 646-0001
How Old Do You Have to Be to Gamble in Jacksonville?
You have to be 18 years or older to play poker at either bestbet poker room.
Boat Casinos Near Jacksonville
Those of you wanting to scratch your slot machine itch who don't want to drive that far to Tampa Bay have a closer option in the form of a daily casino cruise. However with regards to the continuity of casino cruises in the Jacksonville area, it's most certainly been hit or miss.
Three different casino boat operators have opened, then closed their doors since 2010, including the most recent: the Jacks or Better Casino Boat line – a ship with room for 500 passengers, but which no longer sails.
Victory Casino Cruises
The only active casino cruise ship line in the area is Victory Casino Cruises down at Port Canaveral. They previously sailed out of Jacksonville, out of Mayport Village, 18 miles east of downtown Jacksonville, but relocated a few years back to Port Canaveral.
Casino boats operate legally by sailing out 3 miles offshore, into international waters, before turning on the slot machines and opening up the table games. Another twist is that unlike most land-based casinos in the United States, you only have to be 18 years or older to gamble on a casino cruise ship.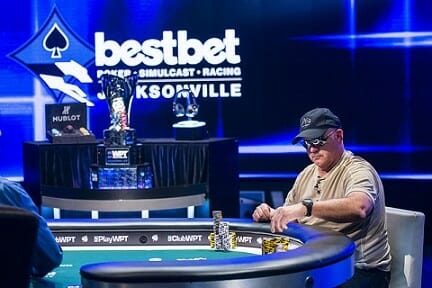 The Victory Casino Cruise boat is 229 feet long and has 300 slot machines, and 17 table games, including blackjack, roulette, and craps. There's also a sports book, a café, and three bars onboard.
Victory Casino Cruises has a "cover charge" (so-to-speak), to board the ship. As of this writing, it was $13.
You can find out their departure schedule by going to their website here: www.victoryjax.com
Other Casinos Near Jacksonville, Florida
The headline says "near" but these casinos are actually quite a drive away. With the growth of casino gambling in the United States, (particularly with the influx or Indian casinos), most metropolitan areas in the country are close to numerous casinos. Jacksonville, however, is not one of them.
Besides the Seminole Hard Rock Tampa, the next closest casino to Jacksonville is the Seminole Hard Rock Hotel and Casino in Hollywood, Florida, 326 miles south.
After that, you're talking about casinos spread out in Alabama towns of Montgomery, Shorter, Wetumpka, and Atmore – all which are over 350 miles away.
The popular busy casinos in the Biolixi, Mississippi area are 463 miles away, while the closest casino to Atlanta, Harrah's Cherokee Valley River Casino in Murphy, North Carolina, is a good 467 miles from downtown Jacksonville.
Greyhound Racing Near Jacksonville?
Although it was home to a couple of Greyhound racing options including live Greyhound racing at Orange Park, the sport was eliminated in Florida in 2020, after voters passed a measure (in 2018), outlawing dog racing in the Sunshine State.
The two bestbet locations however, still offer simulcast wagering on some greyhound races that take place out of state.
(By Steve Beauregard. Photos courtesy of Jacksonville's tourism website, bestbet, and World Poker Tour via Flickr.)