Casinos in Miami Oklahoma – List, Map and Addresses
By Steve Beauregard
Although just a town of around 14,000, there are six casinos in Miami, Oklahoma. Within a 30 mile drive of downtown Miami, there are a total of 13 casinos.
For those of you unfamiliar with the area, Miami is located in the far northeastern part of Oklahoma. All of the casinos are Native American-run joints. Most are basic casinos, with plenty of slots, and even more smoke. Many now offer table games. And since there has been a change in Oklahoma gaming rules, there are now ball roulette and dice craps games avaialable.
The six casinos in Miami are all located within a six mile drive of downtown. Here's a list of the casinos and their addresses: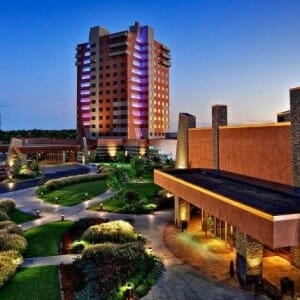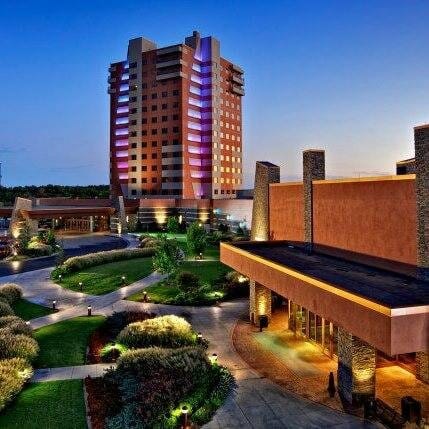 Buffalo Run Casino Resort – 3.6 miles north east of town
1000 Buffalo Run Boulevard
Phone: (918) 542.7140
This casino has 70,000 square feet of gaming space and a 1,500 seat events center. You have to be 18 or older to play. You'll find blackjack tables here, along with craps, roulette, and some carnival games.
High Winds Casino – Located 5.7 miles east of town
61475 East 100 Road
Miami, OK 74354
Phone: (918) 541-9463
There are 450 slots here.
Prairie Moon Casino – 1.9 miles east of town
202 S Eight Tribes Trail
Miami, OK 74354
Phone: (918) 542-8670
Only slots here at the Prairie Moon.
(Each red dot represents one of the six casinos in Miami)
Prairie Sun Casino – A building that looks like a red barn, the Prairie Sun is located 4 miles north of town.
3411 P Street NW
Miami, OK. 74354
(918) 541-2101
Just as with its cousin, the Prairie Moon, there are only electronic games here.
The Stables Casino – Located in town.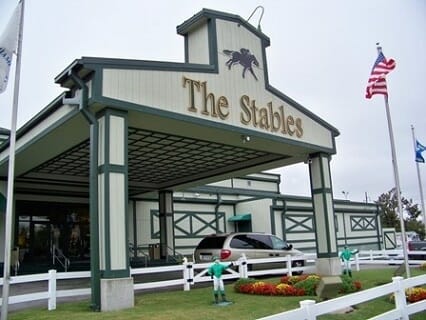 530 H Street SE
Miami, OK 74354
(877) 774-7884
Quapaw Casino – 5.5 miles north east of town
58100 E 64th Rd
Miami, OK 74354
(918) 540-9100
There are 500 slots here.
(Related: How many Casinos are there in Oklahoma?)
Miami, OK Area Casinos
(Miami is the green dot. The other seven red points represent the other seven casinos within 30 miles of Miami.)
In addition to the six listed above, there are another seven casinos located within 30 miles of Miami. Four of these are in Wyandotte, Oklahoma, a small town 14 miles to the south and east of Miami.
Wyandotte Area Casinos
Indigo Sky Casino
Twenty miles southeast of Miami. Also less than a ½ mile from the Missouri border. A modern-looking resort that just underwent an $34 million dollar expansion, the Indigo Sky has 224 hotel rooms, and a beautiful pool area with waterfall.
In addition to an ultra-lounge, the resort has a food court and two other restaurants.
The casino offers 1,200 slots, table games, bingo, an 8 table poker room, and even off-track betting.
Address:
70220 East Highway 60
Wyandotte, OK 74370
(918) 666-9200
Lucky Turtle Casino
Just a few hundred feet down from the Wyandotte Nation Casino, the Lucy Turtle is not a casino so much as it is 111 slot machines in a gas station.
64499 East Highway 60
Wyandotte, OK 74370
(918) 678-3767
Outpost Casino
This casino is 14 miles directly east of Miami on State Highway 10. It's about a half mile west of the Missouri border.
Nothing fancy, just 280 slot machines and one restaurant.
69701 East 100 Road
Wyandotte, OK 74370
(918) 666-6770
River Bend Casino Hotel
Previously called the Wyandotte Nation Casino, this revamped casino is situated 13 miles south east of Miami. This casino has 800 slots and video poker, along with blackjack, three-card poker and other table games.
The resort has 92 hotel rooms, and two restaurants, along with a deli and a bar.
100 Jackpot Place
Wyandotte, OK 74370
(918) 678-4946
Other area casinos:
Downstream Casino Resort
Tucked in the furthest northeast corner of the state, you get a geography lesson with a visit to Downstream. The casino is in Oklahoma, however to get to it, you drive through parts of Missouri, then you park your car in Kansas.
Located 20 miles north east of Miami, the entrance to Downstream is 150 feet from the Kansas border.
It's the queen of northeast Oklahoma casinos in terms of modern appeal and design. Attached is a 374 room hotel, and the resort has three traditional sit-down restaurants, along with another snack bar, sports bar with some food, and Starbucks-style coffee shop.
Unlike the small casinos in Miami, the Downstream offers table games like blackjack, mini-baccarat, three card poker, etc.
In addition, they have a non-smoking poker room with 14 tables. Three miles away, in nearby Joplin, Missouri, the Downstream offers guests the chance to play at their Eagle Creek Golf Course.
Address:
69300 East Nee Road
Quapaw, OK 74363
Phone: (918) 919-6000
Cherokee Casino Grove
Located at "Tom Cat Corner" in Grove, the Cherokee Casino Grove is just under 20 miles south of Miami.
The $23 million dollar structure opened in December 2016, and has 39,000 square feet of space, with 400 electronic games and a restaurant. There aren't any table games here.
Address:
24979 US-59
Grove, OK. 74344
Phone (918) 786-1300
Grand Lake Casino
This 45,000 square foot casino is located in Grove, 26.5 miles south and east of Miami. It has 600 slots. This also has a small 30 room lodge, but oddly, the lodge is 2 miles away from the casino.
24701 South 655 Road
Grove, OK 74344
(918) 786-8528
Other
Lastly, there is the Kansas Crossing Casino Hotel, in southeast Kansas, just outside Pittsburgh. Opened on March 31, 2017, the resort has 625 slot machines, and 16 table games, including blackjack and roulette. It's attached to a 123 room hotel.
Kansas Crossing Casino is 39.4 miles from downtown Miami.
Photos courtesy of the Oklahoma Travel Commission