Club San Rafael
Address: 721 Lincoln Ave, San Rafael, CA 94901
Phone Number: 415-453-5888
Website: N/A
Hours: Club San Rafael is open Monday 10 AM – 2 AM, Tuesday 10 AM – 2 AM, Wednesday 10 AM – 2 AM, Thursday 10 AM – 2 AM, Friday 10 AM – 2 AM, Saturday 10 AM – 2 AM, Sunday 10 AM – 2 AM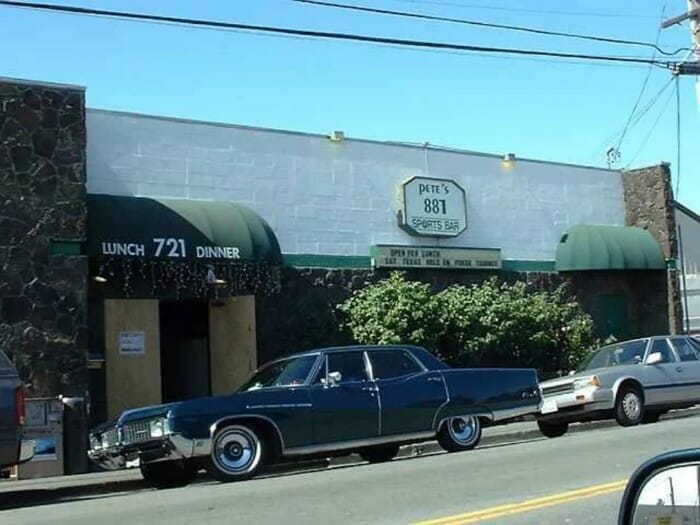 Club San Rafael is a small casino located in San Rafael, California. It is located inside Pete's 881 Sports Bar. Since its opening, the casino spot has been a popular spot for locals and visitors alike.
The casino offers many gaming options, mainly different variations of poker ranging from Texas Hold 'em to Omaha and more. The casino also offers the opportunity for patrons to win more with their daily jackpots and promotions.
If you want to grab a bite, Pete's 881 has a sports bar menu including burgers, wings and ribs. There's also a full bar available for all your beverage needs.
This place is a well-known spot for its lively atmosphere and friendly staff. It has been known to host themed parties throughout the year, especially during special occasions like New Year's Eve and Mardi Gras.
So if you want to have some fun and enjoy a great night out, make sure to check out this place for an unforgettable experience. It may not be as big or flashy as other casinos, but it's a great spot for any gambler looking to have a good time.
This casino has an overall rating of 4 stars, according to customers on Google reviews. One guest noted, "The atmosphere was great, and the staff was helpful. The tables were clean, and everyone had a good time."
Another guest said, "I've been to Pete's 881 Sports Bar many times, and I always have a great time. Club San Rafael is no exception."
(Related reading: California casinos)
Gaming
Their gaming space includes multiple poker tables and a few other game variations. There are Texas Hold'em, Omaha, and more.
Table Games
If you are looking for exciting table games to play, look no further than this casino. This popular entertainment destination offers a variety of thrilling options, including Texas Hold'Em, Limit Hold'Em, No-Limit Hold'Em, and Omaha.
The minimum bet for table games such as Texas Hold'em can range from $5 to $20, depending on the game and day. The casino also has promotions and daily jackpots, so make sure to check them out if you are lucky enough to win.
Slots
If you're a slot machine enthusiast looking to spend time at this casino, you may want to note that they don't offer any slot machines. Instead, they are known for their variety of exciting poker games that cater to all skill levels.
Along with the casino floor accommodating a range of players, they also offer tournaments throughout the week. So, if you're in the mood for an entertaining poker game at a bustling casino, this is the place to be.
Hotel/Resort
While there may not be an on-site hotel at this casino in California, visitors have a variety of nearby options to choose from.
The Four Points by Sheraton offers modern accommodations and an outdoor pool, while Embassy Suites by Hilton boasts a complimentary breakfast and evening reception. The Panama Hotel, with its historic charm, is a great choice for those seeking a unique experience.
SureStay Hotel By Best Western and Marin Lodge provides comfortable accommodations at an affordable price, and for those on a budget, Motel 6 offers straightforward rooms and convenient amenities. With so many options, guests will find the perfect place to stay.
Restaurants & Buffets
If you're in San Rafael and looking for a place to catch the game with great food and drinks, be sure to check out Pete's 881 Sports Bar. This local spot offers a lively atmosphere and a menu of classic American fare, with favorites like burgers, wings, and pizza.
Make the most of your visit by taking advantage of their daily happy hour specials, or pop in on a game day to really feel the energy of the crowd. Whether you're a sports fan or just in the mood for a casual night out, Pete's 881 is definitely worth a visit.
Pools
Although this casino in California has no swimming pools onsite, there are still plenty of aquatic opportunities nearby for those looking to cool off on a hot day. Just a few miles away is the Terra Linda Community Center, which offers indoor and outdoor pools for public use.
Also nearby is the Marinwood Community Center, which has a seasonal outdoor pool open during the summer months. With some research, visitors to this casino can easily find the perfect spot to splash around and beat the heat.
Club San Rafael, CA FAQ
Does Club San Rafael Have A Sportsbook?
Unfortunately, they do not have a sportsbook on the premises. However, they have a sports bar where guests can watch their favorite teams and enjoy classic American fare. Additionally, they offer daily happy hour specials for those who want a more affordable way to catch the game.
Is Poker Available At Club San Rafael?
Yes, poker is their main game of choice, and they offer a variety of exciting poker tables. This includes Texas Hold'em, Omaha, and more, with minimum bets ranging from $5 to $20, depending on the game and day.
What Are The Age Requirements For Gambling At Club San Rafael?
The minimum age requirement for gambling at this casino is 21 years old. All guests must present valid identification to be admitted, and anyone under the age of 21 will not be allowed to enter the casino floor.
Does Club San Rafael Have An Online Casino?
Unfortunately, it does not have an online casino. However, they do offer a variety of exciting poker games on the casino floor. Players may also participate in weekly tournaments for a chance to win prizes and rewards.
Is There An Club San Rafael App?
Unfortunately, they do not have an app at this time. However, you may contact the casino directly for more information about upcoming promotions and events. Additionally, you can check their social media accounts for further updates.
What Is The Dress Code At Club San Rafael?
The dress code at this casino is pretty casual. Guests are encouraged to wear a shirt and shoes at all times, but otherwise, there is no strict dress code enforced. However, clothing deemed too revealing or offensive may not be allowed.
Is There An Airport Shuttle Available From Club San Rafael?
No, it does not offer an airport shuttle service. However, they offer free parking for all guests who wish to park at the casino. Furthermore, nearby hotels often provide airport shuttle services for their guests.
What Is The Smoking Policy At Club San Rafael?
All areas of the casino are non-smoking except for designated outdoor smoking areas. Additionally, all electronic cigarettes and vapes must also be used in designated smoking areas outside of the main casino floor.
What Is The Pet Policy At Club San Rafael?
Sadly, pets are not allowed on the premises, with the exception of service animals with proper documentation. All other animals must remain outside at all times. Furthermore, guests should ensure that their service animals are well-behaved and do not cause disruption in any way.
Is Wifi Available At Club San Rafael?
Unfortunately, it does not offer wifi at this time. However, guests may still use their cell phones and other mobile devices throughout the casino floor. Additionally, many of the nearby hotels offer free wifi for their guests.
What Is The Cancellation Policy For Club San Rafael?
There is no cancellation policy in place at this time. All reservations must be honored on the booked date and time. However, if guests need to cancel their reservation, they may contact the casino directly for assistance.
Conclusion
This casino is a great place to gamble, eat, and relax. Whether you're a casual player or an experienced gambler, this casino has something for everyone. With its variety of poker games and other activities, it is the perfect place to enjoy fun and excitement in beautiful San Rafael.
Plus, guests can also take advantage of the many amenities like free parking and nearby hotel shuttles that make the experience even more enjoyable. So, don't wait any longer – visit Club San Rafael and get in on the action!