Eagle Mountain Casino Porterville
Address: 681 S Reservation Rd, Porterville, CA 93257
Phone Number: +1 800-903-3353
Website: www.eaglemtncasino.com
Hours: Eagle Mountain Casino is open 24 hours a day, 7 days a week.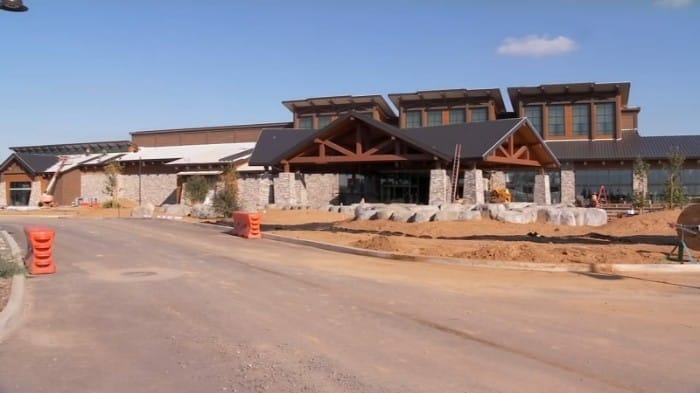 Eagle Mountain Casino is located in Porterville and opened its doors to the public in 1990. The casino is owned and operated by the Tule River Indian Tribe of California, and the state of California issued its gaming license.
The casino floor comprises over 1,200 gaming machines, including slots, video poker and other electronic games. The casino also offers a variety of table games, such as blackjack, Spanish 21 and Texas Hold 'Em.
The complex also houses several restaurants and bars that cater to all kinds of tastes. From casual dining to upscale restaurants and lounges, this casino has something for everyone.
The casino features live entertainment regularly, including musical performances by well-known artists. The venue also hosts a variety of special events throughout the year.
So if you're looking for a great night out or an exciting weekend getaway, this casino in Porterville is the perfect destination. With its close proximity to Los Angeles and Bakersfield, you will surely have an unforgettable experience at this popular casino destination.
On the review site TripAdvisor, this casino has earned a rating of 4.5 out of 5 stars based on over 200 reviews. According to one review, "This is one of the nicest casinos I've ever been to. The staff was friendly, and there were plenty of great games and activities to participate in."
Another review states, "This casino is really nice with a good selection of games. The staff was friendly and helpful, and the food was delicious."
(Related reading: California casinos)
Gaming
Their gaming space features a variety of electronic games and slot machines, along with table games like blackjack and Texas Hold 'em.
Table Games
Are you looking for some exciting table games at this casino? Look no further — with a wide range of games to choose from; you'll always have something new to try. Try your luck with Pai Gow Poker or BlackJack, and test your strategy with Spanish 21.
Or up the ante with Down Under Texas Hold'em and King's Bounty. If a special twist is what you're after, make sure to check out Royal Match, where you can potentially double your wins.
The minimum bets for table games vary depending on the game and time of day. Generally, the limit is between $5 and $25.
Slots
The casino offers over 1,200 slot machines with various themes and denominations. Popular games include:
Colossal Wizards
Spartacus Gladiator of Rome
Li'l Red
Forbidden Dragons
Lazer Lock Ice Sapphire
Queen of the Wild II
Unfortunately, this casino does not release detailed information regarding slot machine payback percentages. However, guests may check this information with the casino staff and dealers.
Hotel/Resort
At this casino, there isn't a hotel onsite, but that doesn't mean you can't enjoy the area and its amenities. Within close proximity to the casino, there are some great choices for lodging. The Springville Inn is just 12 miles away, offering spacious rooms with full access to all their amenities.
Indeed, if you need an affordable choice, the Motel 6 in Lost Hills is just 18 miles away, conveniently off Highway 46.
And if you're looking for something more upscale, you won't need to go far; Holiday Inn Express & Suites Frazier Park is a mere 20 miles away, providing beautiful guestrooms and excellent customer service.
Lastly, the Days Inn by Wyndham offers complimentary breakfast and close proximity to this casino at only 25 miles out.
Restaurants & Buffets
The casino and its surrounding area have some delicious restaurants to explore. The River Steakhouse is the perfect spot for a romantic, candlelit dinner or a night out with friends celebrating that long-awaited promotion.
For those on the go, look no further than Grizzly's Food Court. There are so many options to choose from–whether you're in the mood for a juicy burger, sandwich, or even something sweet, they've got it all.
And, of course, saving the best for last: Yokuts Coffee House. Here you can savor cups of freshly brewed coffee with abounding flavor and heart-warming aroma while reading your favorite book. Unfortunately, they do not have a casino buffet at this time.
Pools
This casino, located in Porterville, offers plenty of exciting gaming activities for visitors to enjoy. From the exciting selection of games and restaurants to live entertainment, this casino has everything you need to have a great time.
Unfortunately, it does not offer pools onsite, but there are many nearby spots to relax while soaking up the warm California sun. From luxury resorts with full-service spas to smaller community pool systems, you're bound to find something that fits your preferences in the area.
Eagle Mountain Casino, Porterville, CA FAQ
Does Eagle Mountain Casino Have A Sportsbook?
Unfortunately, this casino does not have a sportsbook. However, there are several other casinos in the area that do offer sports betting for guests. And with so many offerings in the area, you can find something that suits your needs.
Is Poker Available At Eagle Mountain?
Yes, this casino offers poker games such as Pai Gow Poker and Texas Hold'em. Whether you are new to the game or a veteran, there is something for everyone. Plus, the casino runs tournaments and other special events regularly, so make sure to check out the schedule.
What Are The Age Requirements For Gambling At Eagle Mountain Casino?
You must be 18 years of age or older to gamble at this casino. Guests may be asked to present a valid form of identification for proof before entering the gaming floor. Failure to present the required identification may result in being refused entry.
Does Eagle Mountain Have An Online Casino?
Unfortunately, this casino does not have an online gaming platform. You may only gamble at the Porterville location. From slots and table games to live entertainment, there is something for everyone at this casino.
Is There An Eagle Mountain Casino App?
Unfortunately, there is not currently an app for this casino. However, you can keep up to date with the latest announcements and promotions by visiting the official website or following them on social media.
What Is The Dress Code At Eagle Mountain?
The dress code at this casino is casual, relaxed attire. Visitors are discouraged from wearing overly revealing clothing and anything that could be considered offensive. Remember to wear comfortable and appropriate clothing when visiting the casino.
Is There An Airport Shuttle Available From Eagle Mountain Casino?
No, this casino does not offer a shuttle service to the airport. However, there are several car rental agencies in the area that can provide transportation for visitors as well as local taxi and rideshare services.
What Is The Smoking Policy At Eagle Mountain?
This casino has a strict no-smoking policy. This includes electronic cigarettes and all other smoking devices. Designated outdoor areas are available for those who wish to smoke, but smoking is prohibited inside the casino or restaurant areas.
What Is The Pet Policy At Eagle Mountain Casino?
Only service animals are allowed at this casino. All other pets must stay at home or in a kennel. Guests should be aware that service animals must remain leashed and under their owner's control at all times while on the property.
Is Wifi Available At Eagle Mountain?
Yes, this casino offers free wifi to its guests. The wifi is accessible throughout the entire property, from the gaming floor to the restaurant areas. Guests will be asked to accept the terms and conditions before using the wifi service.
What Is The Cancellation Policy For Eagle Mountain Casino?
As there is no hotel on site, there is no cancellation policy for this casino. However, if you are staying at a nearby hotel, check with the hotel for their individual cancellation policies.
And if you have a reservation for a special event or show, you will need to check the cancellation policy of that event before making any changes.
Conclusion
This casino is a great destination for those looking to enjoy gaming, entertainment, and dining. With an array of slots, table games, and poker offerings, there is something for everyone.
So if you're looking for a fun night out or a relaxed getaway, Eagle Mountain Casino is the place to be. Be sure to check their age requirements, dress code, and pet policy before visiting. With all that this casino has to offer, it's sure to provide a memorable and enjoyable experience.