Hollywood Park Casino Inglewood
Address: 3883 W Century Blvd, Inglewood, CA 90303
Phone Number: +1 310-330-2800
Website: www.playhpc.com
Hours: Hollywood Park Casino is open 24 hours a day, 7 days a week.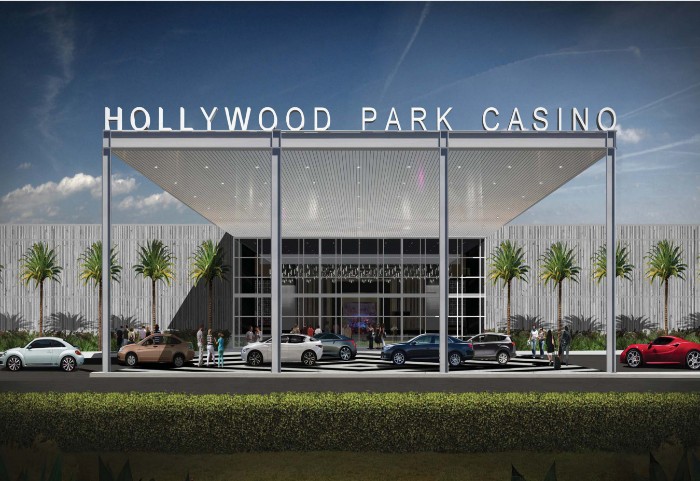 Hollywood Park Casino is a casino in Inglewood, California. It was established in 1994 by Hollywood Park Racetrack, an iconic horse racing track that has operated in the city since 1938.
The casino offers live table games such as blackjack, baccarat, and poker. They don't have slots or electronic gaming machines, but they offer simulcast and off-track betting for horseracing.
It also has an extensive live music and entertainment lineup featuring big-name DJs and performances from popular bands. They also house several restaurants and bars, including the Century Bar & Grill serving different food fares.
So if you're looking for a fun and unique experience in Inglewood, this casino is the place to be. Whether you are there to enjoy the casino games or to have a good time, you will find something that suits your taste.
On Trip Advisor, this casino is rated 4 out of 5 stars with 227 reviews. According to one guest, "The casino is great. The staff is friendly and accommodating. I had a wonderful time at the poker table."
Another guest commented, "Hollywood Park Casino was enjoyable and exciting. There were many tables, games, slot machines, restaurants and entertainment options to choose from."
(Related reading: California casinos)
Gaming
Their casino floor features various table games, including blackjack, baccarat, poker and more. There are no slot machines or other electronic gaming machines. However, they provide simulcast and off-track betting for horseracing throughout the facility.
Table Games
At this casino in California, table games enthusiasts have a wealth of options to choose from. Some of the most popular games on offer include classics like Blackjack and Baccarat, as well as more niche options such as Chinese Poker and Omaha Hi-Lo.
Additionally, there is a range of exciting variations of games like Pai Gow Poker and 3 Card Poker. For those looking for even more variety, this casino offers Ultimate Texas Hold'em, Pan-9, and 2-Way Winner, among others.
Table game minimums at this casino in California vary from game to game. Most games require players to wager a minimum bet of $10 or more on each hand, but some games may have higher minimum bets.
Slots
While this casino in California doesn't offer slot machines, it does provide a wide range of thrilling live table games for casino enthusiasts to enjoy. Slot machines can be found at other casinos in the area.
But if card games such as blackjack and baccarat are more your style, this casino is a great place to get in on the action. With plenty of tables and gaming options available, there's something for everyone.
Hotel/Resort
While there may not be a hotel attached to this casino property, there are several great options just a stone's throw away. The Hollywood Inn Express LAX offers comfortable rooms at an affordable price, while the Sonder Lüm is perfect for those seeking a more luxurious experience.
If you're in town for a sporting event or concert, the LAX Stadium Inn is conveniently located near the famous SoFi Stadium. Rest assured, no matter which nearby hotel you choose, you're in for an enjoyable stay just minutes away from all the excitement of this casino.
Restaurants & Buffets
If you're looking for great dining options in this casino, look no further than the Century Bar & Grill and the Raise Lounge. Both restaurants offer delicious food and drinks, with various options to satisfy your palate.
If you're in the mood for classic American fare, head to Century Bar & Grill for burgers, sandwiches, and salads. Raise Lounge, on the other hand, offers a more upscale dining experience with a focus on Asian fusion cuisine.
No matter which restaurant you choose, you will surely enjoy a fantastic meal in a welcoming atmosphere.
Pools
While this casino is undoubtedly a popular entertainment hub among those who love gambling, it is important to note that the establishment has no swimming pools.
However, the good news is that there are several hotels conveniently located nearby that offer beautiful pool facilities for guests to enjoy.
Whether you are looking for a refreshing dip after a long day of gaming or just a place to soak up some sun and relax, the pool options in the area are sure to meet your needs.
Hollywood Park Casino, Inglewood, CA FAQ
Does Hollywood Park Casino Have A Sportsbook?
No, they do not have a full-service sportsbook. While they do offer simulcast and off-track betting for horseracing, there are no traditional betting options available. There are also no slot machines available at this casino in California.
Is Poker Available At Hollywood Park?
Yes, it is one of their most popular attractions. Poker enthusiasts can choose from various games, such as Texas Hold'em, Omaha Hi-Lo, Chinese Poker and more. Tables are available every day with varying minimum bets.
What Are The Age Requirements For Gambling At Hollywood Park Casino?
The minimum age for gambling at this casino is 21. Guests must be able to present a valid form of identification to enter. Minors are allowed on the premises if accompanied by an adult supervisor over 21.
Does Hollywood Park Have An Online Casino?
No, there is no online casino associated with them. You must visit the physical location in Inglewood to enjoy their casino gaming experiences. However, you can bet on horse races and other events through the simulcast betting section of the property.
Is There An Hollywood Park Casino App?
No, they do not have an app associated with the casino. However, they do offer a loyalty program available through their website where players can earn rewards and exclusive offers. This allows customers to stay connected with news and updates from Hollywood.
What Is The Dress Code At Hollywood Park?
The dress code at this casino is casual, with guests encouraged to dress comfortably. Shorts and flip-flops are allowed in the casino, and there is no specific requirement for formal attire.
Is There An Airport Shuttle Available From Hollywood Park Casino?
No, there is no airport shuttle associated with this casino. However, there are several hotels nearby that offer shuttle services to and from the LAX Airport. Plus, there are other ground transportation options, such as taxis and Uber, available.
What Is The Smoking Policy At Hollywood Park?
The casino is smoke-free inside, with designated outdoor areas available for smokers. The outdoor smoking areas have tables, chairs and ashtrays to make it comfortable for guests who wish to use them.
What Is The Pet Policy At Hollywood Park Casino?
Unfortunately, pets are not allowed in the casino. The only exception is for certified service animals, which must be accompanied by their owners at all times. If you plan on bringing a pet to this establishment, it is best to check with the management beforehand.
Is Wifi Available At Hollywood Park?
Yes, there is free wifi available throughout the property. This includes both the casino floor and the restaurant areas for added convenience. Wifi is available 24 hours a day, seven days a week.
What Is The Cancellation Policy For Hollywood Park Casino?
Reservations are not needed for general admission at this casino. However, if you have booked a special event or package, you can contact the casino directly to inquire about their cancellation policy.
Conclusion
This casino in California offers a wide range of gaming options, from poker to horse racing. They also have a variety of amenities, such as free wifi and smoke-free areas for guests' comfort.
Before visiting, check their dress code, pet policy and other important details. With so much to offer, Hollywood Park Casino is a great place to check out. So pack your bags and get ready for some exciting gaming action!