Lucky Bear Casino Hoopa
Address: 12510 CA-96, Hoopa, CA 95546
Phone Number: +1 530-625-5198
Website: N/A
Hours: Lucky Bear Casino is open Monday 12 – 9 PM, Tuesday 12 – 9 PM, Wednesday 12 – 9 PM, Thursday 12 – 9 PM, Friday 12 – 9 PM, Saturday 12 – 9 PM, Sunday 12 – 9 PM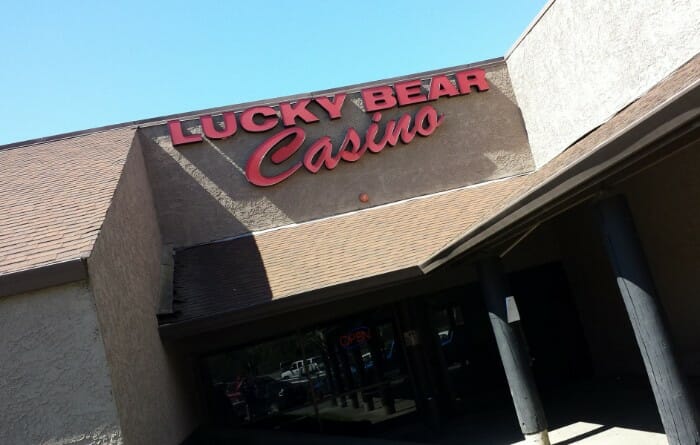 Lucky Bear Casino in Hoopa, California, has been the favorite destination for gaming enthusiasts since it opened its doors. It is a tribal casino operated as part of the Hoopa Valley Tribe.
It offers a variety of gaming options, from traditional to modern table games and slots. The casino also offers bingo games where players can win cash prizes and other rewards. In addition to gaming, the casino has an entertainment venue, a restaurant, and a bar.
Whether you're a local or a visitor, this casino is the perfect destination for an evening of entertainment and fun. With its wide range of games, tasty food, and great entertainment lineup, it's no wonder people come from near and far to experience all that Hoopa has to offer.
This casino has many positive reviews, with guests giving the casino an average rating of 4.3 out of 5 stars. One guest said, "Lucky Bear Casino has great gaming options, good food, and an awesome atmosphere. Highly recommended for a night out."
Another guest said, "The staff here is really friendly and helpful. The games are always in good shape, and the restaurant has some amazing dishes."
(Related reading: California casinos)
Gaming
Their gaming space features over 90 quality slots and video poker machines, as well as multiple promotions, bonuses, and tournaments for a chance to win even more prizes.
Table Games
If you're looking for a wide variety of table games to play at this casino, unfortunately, you may come out empty-handed. It solely operates slot machines on its gaming floor. However, that doesn't mean that you should count them out as a potential gaming spot.
The casino offers a friendly atmosphere that will make you feel right at home. If you're a fan of slot machines, you'll be able to find plenty of them here. They offer diverse slots with different themes, jackpots, and prizes, so you can find something that suits your interest.
Slots
This casino in Hoopa is a popular destination for slot machine lovers. The most popular titles include:
Colossal Wizards
Li'l Red
Wheel of Fortune
Spartacus Gladiator of Rome
Quick Hit
Forbidden Dragons
Double Diamonds
Queen of the Wild II
Lazer Lock Ice Sapphire
Triple Red Hot Sevens
Blazing Sevens
Unfortunately, this casino does not disclose the payback percentage of its slot machines. However, most California tribal casinos follow the minimum state requirement of 70-80%.
Hotel/Resort
If you're planning a trip to this casino in California, you'll be pleased to know that while there isn't a hotel attached to the property, there are plenty of options nearby.
Guests can check out accommodations such as the Tsewenaldin Inn, the Bigfoot Motel, or the LA Crystal Hotel in the Los Angeles-Long Beach area. Each one offers its own unique charm and amenities to make your stay comfortable and enjoyable.
Whether traveling solo or with a group, you can find something that fits your needs. Rest easy knowing you have options for lodging that are just a short distance from all the exciting action at this casino.
Restaurants & Buffets
If you're looking for a delicious meal at this casino, you won't want to miss out on the Grizzly Grill. With a menu featuring everything from juicy burgers to fresh salads, there's something for everyone to enjoy.
And don't forget to try their loaded fries piled high with all your favorite toppings. The friendly and helpful staff will ensure your dining experience is top-notch, and you can even take advantage of their outdoor patio for a lovely al fresco meal.
Pools
While this casino in California does not have any swimming pools onsite, there are still plenty of activities and amenities to take advantage of. From exciting gaming opportunities to delicious dining options, the casino offers a unique and entertaining experience for all visitors.
And if you're looking to cool off on a hot day, there are several nearby options for outdoor swimming, including public pools and water parks. The friendly staff at the casino are always available to offer suggestions and recommendations for enjoying your stay to the fullest.
Lucky Bear Casino, Hoopa, CA FAQ
Does Lucky Bear Casino Have A Sportsbook?
Unfortunately, there is no sportsbook currently available at this casino. However, it does offer a variety of slot machines to play on its gaming floor. Additionally, the casino provides plenty of other amenities, such as a restaurant and outdoor seating, so guests can still enjoy their time.
Is Poker Available At Lucky Bear?
No, they do not offer poker at this casino. Instead, you may find video poker and a variety of slot machines on the gaming floor. The casino has an inviting atmosphere that is perfect for enjoying some leisure time.
What Are The Age Requirements For Gambling At Lucky Bear Casino?
The minimum age to enter this casino is 18 years old. All patrons must present a valid government-issued ID before entering the casino floor, and only those of legal age are allowed to gamble.
Does Lucky Bear Have An Online Casino?
No, they do not have an online casino. Guests must visit the property in person to enjoy the gaming, dining, and other amenities available at this casino.
However, they do run regular promotions and tournaments with exciting prizes so you can find something that suits your interest.
Is There An Lucky Bear Casino App?
No, they do not have a mobile app. You may contact the casino directly to find out about any promotions, tournaments, or other events that may be available. Additionally, some third-party apps provide reviews and recommendations for casinos in California.
What Is The Dress Code At Lucky Bear?
The dress code is casual at this casino. However, guests should still remember to show respect for the property and other patrons by refraining from wearing clothing that may be offensive or disruptive. Guests must also follow California smoking laws when on the property's premises.
Is There An Airport Shuttle Available From Lucky Bear Casino?
No, they do not offer an airport shuttle service. However, guests can arrange transportation to and from the casino through private car services or rental cars. Additionally, some local hotels may provide a complimentary shuttle to this casino.
What Is The Smoking Policy At Lucky Bear?
This casino follows California's strict smoking laws and prohibits smoking throughout the property. Designated outdoor areas are available for guests who wish to smoke, but they must remain at least twenty feet away from the entrance of the building.
What Is The Pet Policy At Lucky Bear Casino?
Unfortunately, pets are not allowed on the property. Service animals are the only exception, and they must be registered with the casino upon arrival. Additionally, all guests must follow all posted pet policies when visiting this casino.
Is Wifi Available At Lucky Bear?
Unfortunately, there is no wifi available at the casino. However, customers may access their own data plans or use public wifi services from nearby businesses when visiting the casino. The friendly staff at the casino are always happy to help with any questions about internet access.
What Is The Cancellation Policy For Lucky Bear Casino?
Since they do not have a hotel on the property, they do not have a specific cancellation policy for their customers. However, all guests should contact the casino directly to learn more about any possible fees and policies that may apply.
Conclusion
Lucky Bear Casino offers a wide range of gaming options, amenities, and other entertainment for its guests. Whether you're looking to play slots or enjoy a night out, this casino provides an enjoyable experience for all its customers.
Before visiting, be sure to check the age requirements, dress code policy, pet policy, and any cancellation fees that may apply. With the right preparation, you can have a great time at this casino!