River Rock Casino Geyserville
Address: 3250 CA-128, Geyserville, CA 95441
Phone Number: +1 877-883-7777
Website: www.riverrockcasino.com
Hours: River Rock Casino is open 24 hours a day, 7 days a week.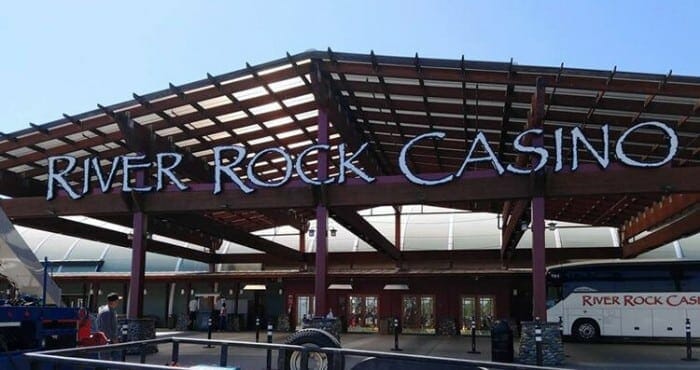 River Rock Casino opened in 2002 and is owned and operated by the Dry Creek Rancheria Band of Pomo Indians. The casino is located in Geyserville, California and is one of the premier gaming destinations in Northern California.
Their casino offers various slot machines and table games, including blackjack and poker. They also have an action-packed high-limit room and video poker. Plus, with promotions and tournaments, there's always something new and exciting happening at this casino.
The casino is also home to three restaurants and a bar, with live entertainment often featured in the bar and grill. The casino is also located nearby several local attractions, perfect for a weekend getaway.
So whether you're looking for a night of entertainment, a chance to win big or just some family fun, this casino has it all. If you find yourself in Northern California, don't miss out on a visit to this casino.
On several review sites, such as Tripadvisor and Google, this casino has been given an average of 4.5 stars out of 5. One guest said, "This is a great casino. The staff are helpful and friendly, the restaurant has excellent food, and you can't beat the atmosphere."
Another said, "River Rock is a great casino. The games are fun, the people are friendly, and it's an enjoyable experience. I highly recommend this place for anyone looking to have some fun."
(Related reading: California casinos)
Gaming
Their gaming space features over 1,000 slot machines and multiple live table games. They also have a high-limit room for a more intense gaming experience.
Table Games
At this casino, you can experience the thrill of playing various table games. Whether you prefer the excitement of blackjack or the sophistication of mini-baccarat, there is a game for everyone. If you want something different, try Ultimate Texas Hold'em or Spanish 21.
River Rock Roulette is another popular option that offers a unique twist on the classic game. For the more adventurous players, they also offer Progressive Pai Gow Poker and Three Card Poker with a 6-card bonus.
Table game minimums vary by day of the week and time. Generally, they range from $5 to $25. The high-limit room has higher minimums, ranging from $50 to $100.
Slots
At this casino, they offer a wide selection of slot machines. Some of their more popular slots include:
Devils & Pitchforks
Smokin Hot Stuff Wicked Wheel
Tiki Fire
Dragon Link Golden Century
Dragon Link Happy & Prosperous
Monopoly Money Grab
Lucky Empress
Quick Spin
Mammoth Legend
Waves of Fortune
Money Link
This casino adheres to the guidelines set by the California Gaming Control Commission and offers a minimum payback of 75 percent on all slot machines.
Hotel/Resort
Looking for a place to stay near this casino? While there isn't a hotel directly attached to the property, there are plenty of nearby options. Consider the Win-River Resort & Casino, California Hotel & Casino, or Best Western Dry Creek Inn for your accommodations.
Each offers its own unique amenities and style, so you're sure to find a perfect fit for your travel needs. Plus, staying nearby means you'll be just a short trip away from all the excitement of this casino.
Restaurants & Buffets
If you're planning a trip to this casino in California and searching for delicious dining options, then you're in luck.
The Quail Run restaurant is a must-visit for those who love buffet-style dining. Although the restaurant does not always offer buffet dining, it's best to contact the casino directly to inquire about pricing and availability.
Another great spot to check out is the Center Stage Bar & Grill, perfect for those who crave classic pub fare and a relaxed atmosphere.
And if you're in the mood for some Asian cuisine, be sure to stop by the Fortune Café, where you can enjoy a variety of dishes that will tantalize your taste buds. With so many options to choose from, you're sure to find a culinary experience that you'll never forget at this casino.
Pools
If you're headed to this casino in California and hoping to dip in the pool, unfortunately, there are no swimming pools onsite. However, there are still plenty of great ways to enjoy your visit.
Take advantage of the many restaurants and bars the casino offers, or try your luck at slot machines and table games. Don't let the lack of a pool keep you from having a great time at this casino. With so much to do and see, you will surely have a memorable experience.
River Rock Casino, Geyserville, CA FAQ
Does River Rock Casino Have A Sportsbook?
No, there is no sportsbook onsite at this casino. However, with so many other forms of gambling available, you're sure to find entertainment and excitement regardless. For sports betting, try one of the many nearby casinos or visit a legal online sportsbook in California.
Is Poker Available At River Rock Casino?
Yes, this casino offers poker. Regular tournaments are held in the high-limit room, and guests can also try their luck at Progressive Pai Gow Poker or Three Card Poker with a 6-card bonus. For the most up-to-date information on game availability, contact the casino directly.
What Are The Age Requirements For Gambling At River Rock Casino?
To legally gamble at this casino, guests must be 21 or older. Appropriate identification must be presented upon request to ensure proper age verification. Minors are not allowed in the casino area and can only enter if accompanied by a parent or legal guardian.
Does River Rock Casino Have An Online Casino?
No, there is no online casino associated with this casino. However, many legal online casinos in California offer a variety of games and betting options.
For more information on these sites, visit the California Gambling Control Commission's website for full details on licensing, regulations, and compliance.
Is There An River Rock Casino App?
No, they do not have an app associated with the casino. However, you may find information about the property on their official website. You can also look up online reviews to get a better understanding of what this casino has to offer.
What Is The Dress Code At River Rock Casino?
The dress code at this casino is casual and comfortable. Shirts must have sleeves, no hats are allowed, and footwear must be worn at all times. Guests should avoid jeans with holes, overly revealing clothing or offensive graphics.
Is There An Airport Shuttle Available From River Rock Casino?
Unfortunately, they do not offer an airport shuttle. Guests may need to find alternate transportation, such as taking a taxi or renting a car. There are also ridesharing services available, such as Uber and Lyft, that may be able to take you from the airport.
What Is The Smoking Policy At River Rock Casino?
This is a smoke-free casino. Smoking and vaping are only allowed in designated areas outside the building, where ashtrays and receptacles are provided for the disposal of cigarettes. Failure to comply with the smoke-free policy may result in removal from the premises.
What Is The Pet Policy At River Rock Casino?
Only service animals are allowed on the property. No other type of pet is permitted, including emotional support animals. Service animals must remain leashed or harnessed and under the control of their handler at all times.
Is Wifi Available At River Rock Casino?
Guests might need to find alternate ways to access the internet, as there might be no wifi on site. Alternatively, guests may use their mobile phones or tablets to connect to the internet via a cellular service provider.
What Is The Cancellation Policy For River Rock Casino?
Reservations are not required for gambling at this casino. However, if you have reserved a special event or show, the cancellation policy may vary. Be sure to check with the casino in advance for more information.
Conclusion
This casino in California offers a wide variety of gambling options for all types of players. From live table gaming to progressive poker and slots, there's something for everyone at this casino.
Remember to take note of all their policies, such as age requirements, dress code, and pet policy, to ensure that you have an enjoyable experience. With all these consideration factors, guests can plan a fun and safe trip to River Rock Casino.