Star's Casino Tracy
Address: 3170 Naglee Rd, Tracy, CA 95304
Phone Number: +1 209-777-7777
Website: www.starscasinotracy.com
Hours: Star's Casino is open 24 hours a day, 7 days a week.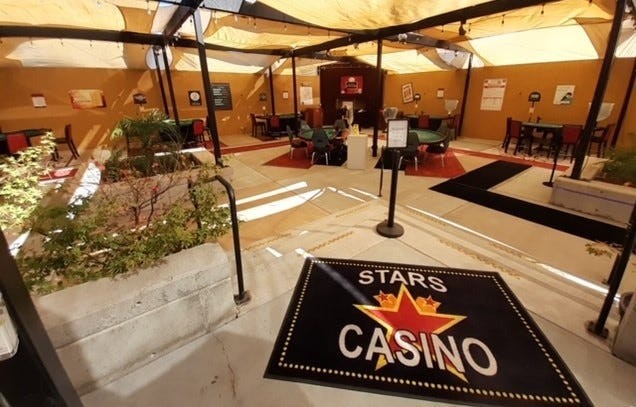 Star's Casino Tracy has been providing quality gaming entertainment since its opening. Located in the heart of Tracy, this casino is owned by a private investment group with a long history of successful casino operations.
Their casino offerings only focus on live table games such as blackjack, poker, baccarat and other specialty games. There are no slot machines at this location, but they have promotions, special events and tournaments to entertain guests.
They also have an onsite restaurant that serves delicious food and drinks. With a full bar and state-of-the-art audio-visual capabilities, they can provide a unique casino experience for their guests.
So if you are the type of person who enjoys table games and doesn't want too many distractions, then this casino is the place for you. Try your luck today and experience why it has become a favorite spot amongst local residents and tourists alike.
On Yelp, this casino currently holds a 4.5/5 star rating based on over 70 reviews from guests. One guest said, "I'm new to the area, and this casino was a great surprise. The staff is very friendly and helpful, and the tables were busy with fun people."
Another guest said, "The food at the restaurant was delicious; I loved playing blackjack here; it's a place I will be returning to soon."
(Related reading: California casinos)
Gaming
Their casino floor offers a variety of live table games such as blackjack, poker, baccarat and other specialty games. They also offer promotions, special events and tournaments for their guests.
Table Games
Whether you're a seasoned gambler or just looking to try your luck, this casino has something for everyone.
If you're a poker fan, you won't want to miss out on the excitement of No Limit Texas Hold'em. For blackjack enthusiasts, Buster Blackjack is a popular choice that adds an extra twist to the classic card game.
And if you're looking for something a bit different, give Three Card Poker 6-Card Bonus a try. For an even more relaxed pace, EZ Baccarat is a great option for players of all skill levels.
The table minimums at this casino vary depending on the game, but most games have a minimum of $5 per bet. Higher-limit tables may also be available with a $100 or more minimum bet.
Slots
While this casino does not offer any slot machines, there are still plenty of options to keep you entertained. The casino features a variety of live table games, including blackjack, poker, and baccarat.
Whether you're a seasoned pro or a casual player, there's a game for you. And if you're unsure where to start, the friendly and knowledgeable staff are always willing to help you learn the ropes.
Hotel/Resort
When visiting this casino in California, you might wonder where to stay for the night. While there isn't a hotel attached to the casino property, there are several nearby options that offer comfortable accommodations.
One option is the Econo Lodge, which provides affordable rates and a convenient location. For those who prefer a more upscale experience, the Holiday Inn Express & Suites offers amenities such as a pool and fitness center.
Another choice is the Microtel Inn & Suites by Wyndham, which has modern rooms and complimentary breakfast. Whichever hotel you choose, you can rest easy knowing that you'll be close to all the exciting action at this casino.
Restaurants & Buffets
Although there is no buffet on the property, there is a restaurant where you can grab a bite. Their restaurant offers various delicious dishes, perfect for any appetite. From classic American favorites to international cuisine, they have something for everyone.
Our skilled chefs use only the freshest ingredients to create mouth-watering meals that satisfy your taste buds. Whether you're in the mood for a juicy steak or a refreshing salad, they have you covered.
Pools
While this casino may not have any swimming pools onsite, there are plenty of nearby options for those looking to cool off and relax.
The casino staff is more than happy to recommend some fantastic public pools and water parks in the area that are easily accessible and affordable. Plus, with all the entertainment and activities at this casino, guests will still have an unforgettable vacation without the need for a pool onsite.
Star's Casino, Tracy, CA FAQ
Does Star's Casino Have A Sportsbook?
No, they do not have a sportsbook. However, they offer other gaming options like table games and live poker rooms. Guests can also enjoy a variety of promotions and tournaments on the casino floor.
Is Poker Available At Star's Casino?
Yes, they have multiple poker tables available for guests. Guests can also participate in special events, tournaments, and promotions in the casino's poker room. Check their website for updates on all the ongoing tournaments and events.
What Are The Age Requirements For Gambling At Star's Casino?
The legal age for gambling at this casino is 21 years old. Guests must be able to provide valid government-issued identification upon request to enter the casino floor and participate in any gaming activities.
Does Star's Casino Have An Online Casino?
No, they do not have an online casino. However, you can enjoy the gaming options available at the casino in person.
Additionally, other online casinos provide a similar experience to this casino, so you can still experience the same great gaming action from the comfort of your home.
Is There An Star's Casino App?
No, they do not have an app. However, they do have a website that provides information about their gaming options, promotions, and tournaments. Additionally, you can sign up for emails to stay informed about all the exciting events happening at the casino.
What Is The Dress Code At Star's Casino?
The dress code at the casino is casual. Shirts and shoes must be worn at all times, and hats should be removed upon entering the casino. Guests cannot wear anything offensive or disrespectful while on the casino floor.
Is There An Airport Shuttle Available From Star's Casino?
No, there is no airport shuttle available from the casino. However, there are plenty of public transportation options and taxi services that can take you to the airport. Additionally, many hotels in the area offer complimentary shuttle services to and from nearby airports.
What Is The Smoking Policy At Star's Casino?
The smoking policy at this casino is that all areas are non-smoking. Guests are prohibited from smoking in gaming areas or restaurants except in designated outdoor smoking areas. Additionally, electronic cigarettes and vaporizers are also not permitted inside the casino.
What Is The Pet Policy At Star's Casino?
Only service animals are allowed inside the casino. All other types of pets must remain outside the casino and cannot be brought inside the facility. Additionally, any service animal on the premises must be housebroken and under its owner's control at all times.
Is Wifi Available At Star's Casino?
Unfortunately, guests might need to bring their own wifi connection as there is no wifi available onsite. However, many of the restaurants in the area have free wifi that can be used while visiting the casino.
What Is The Cancellation Policy For Star's Casino?
They don't offer any accommodations, so there is no cancellation policy for the casino itself. However, you can check with nearby hotels and restaurants regarding their cancellation policies if you need to cancel your visit.
Conclusion
This casino offers a wide range of gaming options and promotions for guests to enjoy. Guests can also participate in tournaments, live poker rooms, and special events. The age requirement for entry into the casino is 21 years old, and the dress code is casual.
Take note of all their other policies, such as their pet, smoking, and wifi policies, so you can be aware of them before visiting. So now that you know what to expect, check out Star's Casino and enjoy all the exciting gaming options they have in store for you!