The Heights Casino Trinidad
Address: 27 Scenic Dr, Trinidad, CA 95570
Phone Number: +1 707-677-3611
Website: www.funattheheights.com
Hours: The Heights Casino is open Monday 8 AM – 3 AM, Tuesday 8 AM – 3 AM, Wednesday 8 AM – 3 AM, Thursday 8 AM – 3 AM, Friday 8 AM – 3 AM, Saturday 8 AM – 3 AM, Sunday 8 AM – 3 AM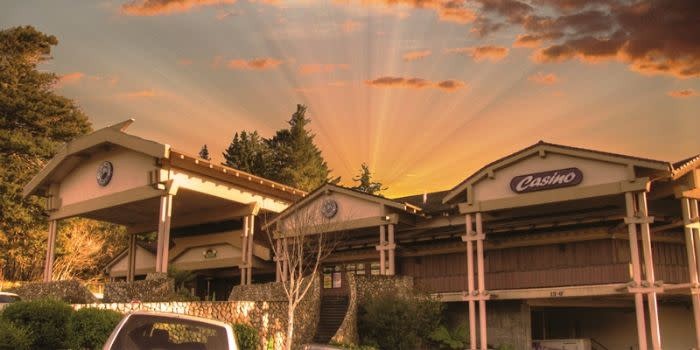 The Heights Casino was built in 1995 and originally operated as Cher-Ae Heights Casino. It is owned and operated by the Cher-Ae Heights Indian Community of the Trinidad Rancheria. Since its opening, it has grown to become one of the premier entertainment destinations.
The casino offers a variety of gaming options, including slots, table games, keno, bingo and live poker tournaments. The casino also features three restaurants that serve up delicious meals and refreshments.
For entertainment, the casino offers live music and shows on select nights throughout the year. Moreover, they host various special events such as comedy nights, trivia nights, karaoke parties and more.
So even if you're not a gambler, this casino offers something for everyone. From gaming to entertainment and dining, it is the perfect place to have fun in Trinidad.
On average, this casino has a 4.5/5 star rating from guests. One guest said, "The Heights Casino is such a great place to visit. The staff is friendly and professional, the atmosphere is warm and inviting, the food is delicious, and the entertainment is top-notch."
Another guest said, "I had a wonderful time at The Heights Casino. The staff was very helpful and accommodating. There were plenty of gaming options available, and the atmosphere was very enjoyable."
(Related reading: California casinos)
Gaming
The gaming floor features over 300 slot machines with many denominations, including penny, nickel and quarter slots. Table games include craps, blackjack, roulette and more.
Table Games
If you're looking for a night of fun and excitement, head to this casino in California. Whether a seasoned pro or a newcomer, you'll find something to suit your taste. Try your luck with classic games like Blackjack, Roulette, or Craps.
Or, if you're feeling adventurous, take a chance on 3-Card Poker or Let it Ride Poker. For a more intriguing experience, why not try playing Crazy 4 Poker or Fortune Pai Gow? With so many options available, there's never a dull moment at this casino.
This casino offers a variety of minimum bets that vary depending on the game. For most table games, the minimums range from $10 – $25. Some games may have higher betting limits; check with an attendant before playing.
Slots
This casino in California has over 300 machines with many denominations. Some of the most popular slots include:
Li'l Red
Colossal Wizards
Spartacus Gladiator of Rome
Queen of the Wild II
Lazer Lock Ice Sapphire
Forbidden Dragons
The slot payback percentage at this casino is 70-80%. This means that the casino has a house edge of 20-30% on their slots. This is slightly higher than what you may find at other casinos in the area, so make sure to read up and understand the payouts before playing.
Hotel/Resort
If you're planning to visit this casino, you might be searching for a place to stay nearby. While there isn't a hotel or resort on the same property, there are a few excellent options within driving distance.
One of those is Turtle Rocks Oceanfront Inn, which offers stunning ocean views from every room. If you're looking to stay a bit closer to the casino, the Blue Lake Casino & Hotel is located just a few miles away.
For a more intimate experience, consider The Lost Whale Inn Oceanfront B&B, which boasts a cozy, welcoming atmosphere. No matter which option you choose, you'll be able to enjoy all that this casino offers without sacrificing comfort or convenience.
Restaurants & Buffets
If you're looking to dine out in this casino, you won't be disappointed with the restaurant options available to you.
For breakfast or brunch, Sunrise Grill offers classic American fare with a friendly atmosphere to start your day off right. If you're in the mood for a scenic ocean view, look no further than Seascape Restaurant, where fresh seafood is always on the menu.
And if you're craving a delicious meal with an incredible sunset view, the aptly-named Sunset Restaurant offers a variety of cuisine options to enjoy as you watch the sun go down. With these three fantastic options, their restaurant scene has something for everyone.
Pools
While this casino may not have swimming pools onsite, fear not, as there are many incredible public pools in the area for you and your family to enjoy.
The options are plentiful and varied, from Olympic-sized pools to more laid-back options for those looking to relax and have some fun in the sun.
Whether you're a serious swimmer looking for a challenging workout or just looking to splash around and cool off on a hot summer day, there's something for everyone.
The Heights Casino, Trinidad, CA FAQ
Does The Heights Casino Have A Sportsbook?
No, they do not have a sportsbook. But with their other gaming options and fantastic restaurants, there are plenty of other ways to have fun at this casino. Those looking for sports betting can find many great options nearby.
Is Poker Available At The Heights Casino?
Yes, they offer a variety of poker games on their casino floor. You can choose to play classics like Texas Hold'em or try out something new with 3-Card Poker, Let it Ride Poker and Crazy 4 Poker. They also offer varying minimum bets depending on the game you choose to play.
What Are The Age Requirements For Gambling At The Heights Casino?
The minimum age required to gamble at this casino is 21. Guests under 21 are not allowed in the gaming area and may be asked to provide valid identification upon entry. Any guest found gambling underage will potentially face legal action and/or removal from the property.
Does The Heights Casino Have An Online Casino?
No, they do not have an online casino. You may only play at the casino in person. This casino offers various gaming options on its physical property, including slots, table games, and poker, so coming in person is worth it.
Is There An The Heights Casino App?
No, they do not have an app. To stay updated on their offerings, you may visit their website or social media pages. You can also contact the customer service team at the casino for further information.
What Is The Dress Code At The Heights Casino?
The dress code at this casino is casual, but guests should be mindful of their attire and still tastefully present themselves. No swimwear, tank tops, or offensive clothing will be allowed in the casino. Proper footwear (such as closed-toe shoes) must be worn at all times.
Is There An Airport Shuttle Available From The Heights Casino?
Yes, there is an airport shuttle service available from this casino. Guests can contact the customer service desk for more information about scheduling and availability. Make sure to plan ahead to ensure a hassle-free experience.
What Is The Smoking Policy At The Heights Casino?
This casino is a non-smoking environment. There are designated smoking areas outside the casino, away from entrances and exits. Guests must adhere to all signage, including no smoking within 25 feet of all entrances and exits.
What Is The Pet Policy At The Heights Casino?
Unfortunately, this casino does not allow pets on the property. All service animals must be registered with the casino before the entrance and must remain properly identified at all times during your visit.
Is Wifi Available At The Heights Casino?
Yes, free wireless internet is available in the casino. Guests may use their devices or one of the many public computers throughout the property for access. Remember to bring your own charging cable for convenience.
What Is The Cancellation Policy For The Heights Casino?
They've yet to have a hotel on their property. Still, for those who have booked an event or activity, you may contact the customer service desk for more information on cancellation policies. Cancellation fees may be applicable depending on when you decide to cancel your reservation.
Conclusion
This casino is a fantastic destination for gaming and entertainment, offering plenty of options to choose from.
From poker games to slots and more, there is something for everyone at this casino in Trinidad. Don't forget to check out their website or social media pages to stay updated on all the exciting offerings they have available.
Always adhere to their policies regarding age requirements, dress code, and smoking to enjoy a safe and enjoyable experience at the casino. With all the necessary information in hand, you are sure to have an unforgettable time at The Heights Casino!