Wanaaha Casino Bishop
Address: 2742 N Sierra Hwy, Bishop, CA 93514
Phone Number: +1 760-873-4150
Website: www.wanaaha.com
Hours: Wanaaha Casino is open 24 hours a day, 7 days a week.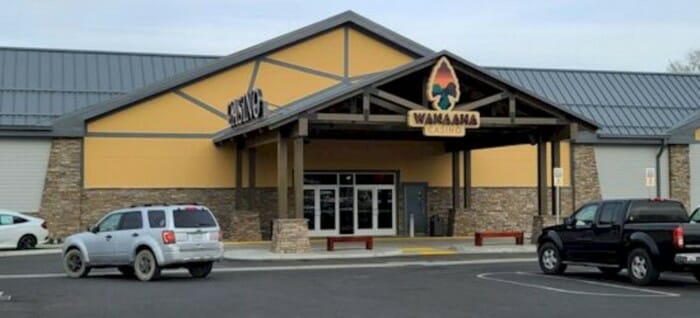 Wanaaha Casino has been in business since 1995. The casino is owned and operated by the Bishop Paiute Tribe, which has a long history of providing gaming entertainment to the people of Northern California.
This casino features the latest gaming technology, from slot machines and video poker to keno and other table games. It also offers live table games, such as blackjack and poker. Plus, with different promotions and specials yearly, there's always something new to look forward to.
If you want to grab a bite to eat, there are three on-site dining options at this casino. From casual to fine dining, every palate is sure to be satisfied. Plus, there's a cocktail lounge where you can relax and unwind after an exciting day of gaming.
So if you're looking for a fun night out in Bishop, this casino should be your first stop. With its welcoming atmosphere and a great selection of games, it's sure to provide you with an amazing experience.
This casino has an average rating of 4.5 stars out of 5 on TripAdvisor and Google reviews. One guest said, "The atmosphere and the staff are friendly. The machines are updated, and I always seem to win something big."
Another guest commented, "Great place for a fun night out with friends. The games are exciting, the staff is friendly and accommodating, and there's always something new to try."
(Related reading: California casinos)
Gaming
Their casino floor features a variety of slots, video poker, keno and other table games. Plus, they have live tables with blackjack and poker.
Table Games
This casino offers a great selection of table games for visitors. The excitement of blackjack is available and played with a standard deck of cards.
3 Card Poker merges the thrills of poker and the fast-paced action of traditional table games all in one, while Poker is played with a 52-card deck. Lastly, Ultimate Texas Hold'em is a game where players can win big and is a great variation of classic Texas Hold'em.
Table games at this casino generally have a minimum bet of $5. However, certain tables may have higher minimums during specific times of the day.
Slots
This casino has a wide selection of slot machines, from classic three-reel slots to the most up-to-date video reels and gaming machines. Some of the popular slot titles here include:
Colossal Wizards
Li'l Red
Wheel of Fortune
Spartacus Gladiator of Rome
Forbidden Dragons
Double Diamonds
Queen of the Wild II
Red Hot 777
Lazer Lock Ice Sapphire
As per California's theoretical slot payback percentage, this casino must maintain a minimum of 70%. This applies to all slots and video poker machines. However, certain machines may have higher returns than the published rate.
Hotel/Resort
Are you planning on visiting this casino in California? Although no hotel is attached to the casino property, nearby hotels can provide a comfortable stay during your trip.
The Best Western Bishop Lodge offers cozy and relaxing accommodations, which are perfect for winding down after a day of excitement. Alternatively, the Holiday Inn Express & Suites and Days Inn by Wyndham provide amenities and comfortable rooms that suit the needs of any traveler.
So whether you're in the mood for a quaint stay or a bit more luxury, nearby hotels are just a short drive away from this casino.
Restaurants & Buffets
This casino in California has some great dining options for those looking for tasty bites during their casino adventures. If you're in the mood for a sit-down dinner, try Tukanovie Restaurant for a delicious meal with top-notch service.
If you want to relax with a drink or two, the Wanaaha Lounge offers a cozy atmosphere and a great selection of beverages. And for those on the go, the Paiute Deli is the perfect spot to grab a quick bite to eat.
No matter your preference, this casino's restaurants will satisfy your appetite and enhance your gaming experience. From fine dining to snacks on the go, you'll find a restaurant that fits your needs.
Pools
While you won't find any swimming pools at this casino in California, don't let that discourage you from visiting. There are still plenty of exciting activities to enjoy throughout your stay. From gaming and entertainment to dining and shopping, you'll never run out of things to do.
Plus, the casino is located in the heart of Northern California's beautiful wine country, so why not take a scenic drive and explore the surrounding area? Whether you're a seasoned traveler or a local looking for a fun getaway, this is the perfect destination for a memorable experience.
Wanaaha Casino, Bishop, CA FAQ
Does Wanaaha Casino Have A Sportsbook?
Unfortunately, this casino does not have a sportsbook. Sports betting is not legal in the state of California. However, if you are looking to place wagers on sporting events, there are many online sportsbooks available where you can do so legally.
Is Poker Available At Wanaaha Casino?
Yes, they offer a variety of poker games. These include Texas Hold'em, Omaha, Stud Poker and more. There are also tournaments available for players looking to test their skills in a fast-paced environment.
What Are The Age Requirements For Gambling At Wanaaha Casino?
Players must be 21 years of age or older to gamble at this casino. All players must present a valid government-issued ID before they are allowed to enter the casino floor. Any minors caught on the premises will be asked to leave immediately.
Does Wanaaha Casino Have An Online Casino?
Unfortunately, this casino does not have an online casino. Players must visit the physical casino in Bishop to enjoy all of the gaming options available. Gambling online is illegal in California, and violators may face criminal charges.
Is There An Wanaaha Casino App?
No, they do not currently have an app available. However, you can visit their website for more information on gaming options, promotions and special events. They also have social media pages where you can stay updated on the latest happenings at the casino.
What Is The Dress Code At Wanaaha Casino?
The dress code at this casino is casual. Shorts, jeans and T-shirts are allowed as long as they are not offensive or inappropriate in any way. Baseball caps are also allowed but should be worn with the bill facing forward.
Is There An Airport Shuttle Available From Wanaaha Casino?
No, they do not currently offer an airport shuttle service. However, there are several local taxi and ride-sharing services available that can take you to the casino from the nearest airport. You can also arrange for private transportation with a rental car agency or limousine company.
What Is The Smoking Policy At Wanaaha Casino?
Smoking is not allowed in any indoor area of the casino. However, there are designated smoking areas located outside where patrons can enjoy a cigarette or cigar while gaming. All players must be at least 21 years of age to purchase and use tobacco products on the premises.
What Is The Pet Policy At Wanaaha Casino?
Sadly, pets are not allowed in the casino or on its grounds. However, service animals for disability assistance are welcome and must be identified with proper documentation. All other pets should be left at home or in a pet-friendly hotel nearby.
Is Wifi Available At Wanaaha Casino?
Unfortunately, there is no free wifi available at this casino. You can purchase an internet package directly from the casino for a fee or connect to your mobile device's data plan if it has one. Plus, there are many nearby restaurants and cafes that offer free wifi for guests.
What Is The Cancellation Policy For Wanaaha Casino?
Players may come and go as they please. No hotel is attached to the casino, so there is no need for a cancellation policy. If you sign up for any events or promotions at the casino, make sure to check their website or contact the casino for more information on refunds and cancellations.
Conclusion
This casino is a great place for gamers of all levels to enjoy. The casino offers a variety of gaming options, tournaments and promotions, making it an exciting destination for any gambler.
Be sure to check out the age requirements and dress code before visiting, so you can get the full experience at this casino. If you find yourself in the area, Wanaaha Casino is definitely worth a visit!