Grand Z Casino Central City
Address: 321 Gregory St, Central City, CO 80427
Phone Number: +1 800-924-6646
Website: www.maverickgaming.com/grand-z-casino-hotel/
Hours: Grand Z Casino is open 24 hours a day, 7 days a week.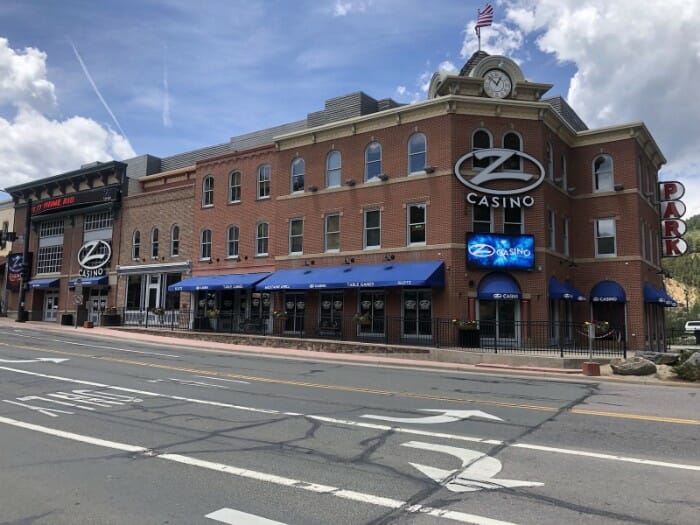 Grand Z Casino, located in Central City, Colorado, is a subsidiary of Maverick Gaming. It opened in 1994 to bring the best gaming experiences to its customers. And true enough, this casino has become one of the most popular casinos in Colorado.
Featuring hundreds of slots and table games, guests can enjoy gaming classics like blackjack, roulette, craps, and more. The casino also offers a full-service hotel experience with its on-site accommodations.
And if you want to take a break from all the gaming, you can try your luck at the casino's popular restaurants. Get a bite to eat and enjoy the wonderful views of Central City or see if you're lucky enough to win some extra cash.
For entertainment, the casino has live music on select nights in its showroom. From country to classic rock and jazz, you can hear something for everyone. Plus, the casino also offers a variety of promotions throughout the year to keep guests returning for more fun.
So if you find yourself in Central City, Colorado, make sure to visit this casino. From gaming to dining and entertainment, it's the perfect place to enjoy a night out. Experience a little bit of everything at this popular casino.
This casino has received a 4.5-star rating from guests on various travel websites. One guest said, "The casino was really great. We had a blast playing slots and blackjack. The staff was very friendly, and the restaurants were delicious."
Another guest commented, "I loved the atmosphere at Grand Z Casino. From the live music in the showroom to all of the different games, it was a great time. I would definitely recommend this casino to anyone visiting Central City."
(Related reading: Colorado casinos)
Gaming
Their gaming floor boasts over 700 slots and video poker machines. They also offer several table games, such as blackjack, roulette, craps, and more.
Table Games
Are you looking for a fun night out with friends or family? Look no further than this casino in Colorado. With various table games, you're sure to find one that suits your skill level and interests.
Feeling lucky? Why not try your hand at blackjack or roulette? If you're looking for a different challenge, give Three-Card Poker or craps a go. For those who enjoy poker, Texas Hold'Em and Omaha Hi-Lo are also available.
The minimum bet for table games at this casino is $5. So no matter your budget, you can always test your luck and have a fun night out whether you're a beginner or an experienced gambler.
Slots
This casino offers over 700 slot machines, with new games added regularly. Some of the most popular slots include:
Starry Night
Sun and Moon
Money Blast
Double Diamonds
Lock It Link
Jumpin' Jalapenos
Golden Egypt
Emperor Penguin
Lady Luxor
Buffalo
Unfortunately, their slot machine payback percentage is not available to the public. However, Colorado mandates slot machines to have a minimum payback of 80%, with 100% being the maximum. So you can always look forward to fair gaming when playing slots at this casino.
Hotel/Resort
The also offers a luxurious hotel stay. Each room is spacious and comfortable, with various amenities like cable television, free Wi-Fi, and air conditioning.
Room types include:
King Bed – features one king bed
Double Queen Beds – features two queen beds
Deluxe King Bed – features one king bed with upgraded amenities and a more spacious room
Deluxe Double Queen Beds – features two queen beds with upgraded amenities and a more spacious room
Additionally, the casino offers guests several amenities to enhance their stay. These include:
Wifi access
Parking on-site
EV charging stations
24-hour front desk
Housekeeping
Concierge services
Onsite restaurants and bars
Live entertainment
A sportsbook
Banquet facilities
The cost of a room varies depending on the size and amenities. Room rates start at $104 per night plus additional taxes and fees. Additional add-ons may also increase the cost of your stay.
Check-in time at Grand Z is 4:00 pm
Check-out time at Grand Z is 11:00 am
Restaurants & Buffets
If you're looking for a dining experience while at this casino, you'll have a few options to choose from. The Grand Bistro is the perfect spot for a sit-down meal with friends or family. With classic American dishes and a cozy atmosphere, it's hard to go wrong.
The Grill is another go-to option, offering a variety of burgers, sandwiches, and appetizers. If you need a quick bite or a caffeine pick-me-up, Z Cafe has you covered.
From pastries and smoothies to coffee and tea, you'll find just what you need to keep you fueled up for your next round of gaming. No matter which restaurant you choose, the staff at this casino is always eager to help you find the right meal to satisfy your cravings.
Pools
While there are no swimming pools onsite at this casino, fear not, as there are plenty of other exciting activities to enjoy. Take advantage of the many slot machines and table games available, or indulge in a delicious meal at one of the restaurants.
With friendly staff always available to assist you, your visit to this casino is sure to be an enjoyable one. Plus, if you're looking to cool off, the nearby towns of Central City and Black Hawk offer a variety of refreshing outdoor activities, such as rafting, kayaking, and fishing.
Grand Z Casino, Central City, CO FAQ
Does Grand Z Casino Have A Sportsbook?
Yes, they have Maverick Sportsbook at this casino. This sportsbook offers betting on a wide range of sports and events. Guests can also enjoy watching their favorite games on the numerous HDTVs available throughout the casino.
Is Poker Available At Grand Z?
Yes, this casino offers a variety of poker games, including Texas Hold 'Em and Omaha. There are both tournaments and cash games available, with varying buy-ins. Additionally, guests can enjoy watching the action in the high-stakes lounge with a selection of live tables.
What Are The Age Requirements For Gambling At Grand Z Casino?
The legal age for gambling at this casino is 21 years old. Guests must show valid identification upon entry to prove their age before they can begin gaming. Minors are allowed on the property but are not permitted in any areas of the casino that require a minimum age requirement.
Does Grand Z Have An Online Casino?
This casino does not currently have an online casino. However, you may visit them in person to enjoy their selection of gaming options and amenities. There are several other online casinos available that offer similar experiences for those looking to play from the comfort of home.
Is There An Grand Z Casino App?
They do not have an app. However, their website does offer detailed information about the casino and its amenities. You can also learn more about upcoming promotions and events taking place at this casino in Colorado.
What Is The Dress Code At Grand Z Casino?
The dress code at this casino is casual. They suggest that guests wear comfortable clothing, as they will likely spend much time on their feet while gaming or dining. No specific type of clothing is required to gain access to the casino floor.
Is There An Airport Shuttle Available From Grand Z?
No, there is no airport shuttle available from this casino. However, the casino does provide complimentary parking for guests who drive their own vehicles. Additionally, there are several local taxi and ride-share companies available to help transport you to and from the airport.
What Is The Smoking Policy At Grand Z Casino?
This casino has a strict no-smoking policy. Smoking is prohibited in casino areas, including on the gaming floor and all guestrooms. Guests who smoke are asked to do so outdoors in designated smoking areas only.
What Is The Pet Policy At Grand Z?
Sadly, pets are not allowed at this casino. Service animals may be permitted in the hotel rooms and gaming areas with prior approval from management. All other animals must remain offsite for the safety and comfort of all guests.
Is Wifi Available At Grand Z Casino?
Yes, free wifi is available throughout the casino. Guests are welcome to connect their devices to the network and browse the internet during their stay. Additional information about connecting to the network can be found in each guestroom.
What Is The Cancellation Policy For Grand Z?
Cancellations must be made at least 24 hours before arrival. If a guest cancels after this time frame, they will be charged the full amount of their stay. Guests can cancel their reservation by calling or emailing the hotel directly.
Conclusion
This casino hotel is the perfect destination for any gambler looking for a fun and exciting experience. With a wide range of gaming options, amenities, and services available, Grand Z Casino has something for everyone.
The casino also offers various features that make it an ideal spot to enjoy your stay. Additionally, the strict no-smoking policy ensures guests can enjoy a safe and relaxing environment. Whether you're looking to play cards or relax, this is the place to go for an unforgettable experience.