Wildwood Casino Cripple Creek
Address: 119 N Fifth St, Cripple Creek, CO 80813, USA
Phone Number: +1 719-244-9700
Website: https://wildwoodcasino.net/
Hours: Wildwood Casino is open 24 hours, 7 days a week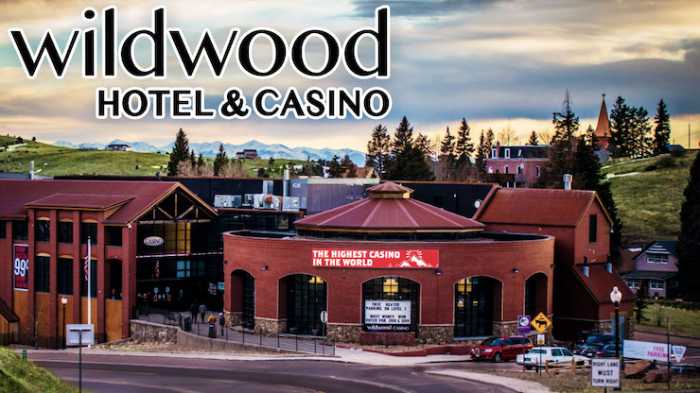 Wildwood Casino has a rich history dating back to 1889, when it first opened as the Baldwin Hotel and Casino. The casino was remodeled in 1912 and became known as the Monarch Casino.
In 1970, the casino was purchased by Jerry and Betty Jarrett and was renamed the Wildwood Casino. The Jarretts made many improvements to the casino, including adding a new 24-hour poker room. The casino continues to be a popular destination for gaming enthusiasts today.
With 9,593 feet above sea level, the casino provides an optimal view and a vast selection of over 500 slots and table games. And now, their higher limits enable you to bet up to $1,000 per hand on select table games.
The casino is located in Cripple Creek, Colorado, just a short drive from Colorado Springs. Cripple Creek is a historic mining town that was once the second largest city in Colorado. Today, it is home to many casinos and other attractions.
The Wildwood is one of the most popular casinos in Cripple Creek. It is known for its generous promotions and contests. The casino also has a wide variety of dining options, including the Wildwood Grille, which offers American cuisine.
Guests rate Wildwood Casino at 3.5 out of 5 stars on TripAdvisor. The casino is praised for its beautiful location, great selection of games, and tasty food. Some guests complain about long wait times for tables, but this seems to be the exception rather than the rule.
Overall, this casino is a favorite among gamers and offers a unique experience in a historical setting.
(Related reading: Colorado casinos)
Gaming
This casino offers slots, blackjack, poker, and live keno. It also offers a variety of promotions, including a $1,000 drawing every hour from 6 pm to 10 pm. They also have weekly blackjack and poker tournaments.
Table Games
Visitors to Wildwood will find a wide selection of table games to choose from. Popular games such as blackjack, craps, and roulette are all available, along with a variety of poker games.
The casino also offers a selection of specialty games, including baccarat and Pai Gow. Whether you're a seasoned gambler or just looking to try your luck, Wildwood has a game for you. Plus, there's always something new to experience with friendly dealers and regular tournaments.
Table game minimums at this casino vary depending on the game and time of day. Blackjack minimums start at $5 during slow times and increase to $25 during peak hours.
Craps minimums are $5 during slow times and $10 during peak hours. Roulette minimums are $2.50 during slow times and $5 during peak hours. Pai Gow and baccarat minimums are $25 at all times.
Slots
With over 500 slots to choose from, this casino is sure to have a game that's perfect for you. Whether you're a fan of classic 3-reel slots or the latest in video slot technology, you'll find it all here.
One of this casino's most popular slot machines is our Wheel of Fortune machine. Guests love spinning the wheel and seeing if they can win big! They also have a number of other popular games, including Buffalo Gold, Quick Hits, and double Diamond.
If you're looking for a progressive jackpot, they have those too. The casino always adds new slots, so check back often to see what's new.
The payback percentage for slot machines at this casino is 92%. This means that for every $100 you spend on slots, you can expect to get back $92 on average. Of course, this is just an average, and your actual results may vary.
Hotel/Resort
This casino offers a variety of amenities to keep guests entertained and comfortable during their stay. The casino floor features over 500 slot machines, video poker machines, and a wide selection of table games such as blackjack, roulette, and craps.
Guests can also enjoy live entertainment at the casino's on-site bar and restaurant. Gold King Mountain Inn and Wildwood Hotel offer two luxurious hotels.
Each hotel offers everything you need for a fun and exciting getaway, including a casino with all your favorite games, a swimming pool and fitness center, and four restaurants.
The property also offers guests a fitness center, business center, and free Wi-Fi access. In addition, Wildwood offers complimentary shuttle service to and from the hotels on offer.
To stay at either of the hotels, prices start at just $69 per night for a standard room. You can upgrade to a suite for $129 per night for a little more luxury. No matter which option you choose, you're sure to have a great time at Wildwood.
Check-in time at Wildwood Casino is 4:00 pm
Check-out time at Wildwood Casino is 11:00 am
Restaurants & Buffets
You don't need to go hungry when visiting Wildwood, Colorado. The casino offers several dining options to suit any taste. If you're looking for a hearty breakfast to start your day, Woody's Breakfast Buffet is a perfect choice.
Joe's Diner offers all-American favorites like burgers and fries for a more casual meal. And if you're in the mood for something a little lighter, 9593 Coffee is the perfect place to grab a quick cup of joe. Whatever you're in the mood for, you're sure to find it at the Wildwood.
The Woody's Breakfast Buffet offers a wide variety of breakfast items at a great price. The buffet is available on Saturday and Sunday from 7 AM to 11 AM and includes items such as eggs, bacon, sausage, pancakes, waffles, french toast, cereal, fruit, and more.
The cost is just $10.95 per person, and no additional discounts apply. This is a great opportunity to enjoy a delicious breakfast while taking advantage of everything this Casino offers.
Pools
The Gold King Mountain Inn in Cripple Creek offers a heated outdoor pool and a hot tub for guests to enjoy. The pool is open from Memorial Day to Labor Day, and the hot tub is available year-round.
Wildwood Casino Cripple Creek, CO FAQ
Does Wildwood Casino Have A Sportsbook?
Yes, this casino does have a sportsbook. This is great news for sports fans who enjoy betting on their favorite teams. The sportsbook offers a variety of betting options, including point spreads, money lines, and parlays.
There is also a wide selection of sporting events to bet on, from basketball to football to hockey. So whether you're a die-hard fan or just looking to add a little excitement to your viewing experience, be sure to check out the Wildwood sportsbook.
Is Poker Available At Wildwood Casino Colorado?
Yes, poker is available at this casino. They have a variety of poker games available, including Texas Hold 'em, Omaha, and Seven-Card Stud. They also offer a variety of tournaments and events, so there's always something going on.
The staff is friendly and knowledgeable, and they're always happy to help you find the right game.
What Are The Age Requirements For Gambling At Wildwood Cripple Creek?
In order to gamble at this casino, patrons must be at least 21 years of age. This casino strictly enforces its age limit, and ID checks are regularly conducted throughout the facility. Those who are found to be under 21 will be asked to leave the premises.
In addition, those who are caught gambling underage may be subject to legal action. So, if you're looking to try your luck at Wildwood, make sure you're of legal age.
Does Wildwood Have An Online Casino?
Unfortunately, at this time, this casino does not have an online casino. However, they are always working to improve their offerings and may add an online casino in the future.
Although they have recently launched a sports betting app that you can download and use to place bets on your favorite teams, so if you're looking for a way to gamble at Wildwood from the comfort of your own home, be sure to check out their sports betting app.
Is There An Wildwood Cripple Creek App?
This casino is excited to offer sports betting on their new app. You can now bet on your favorite sports teams right from your phone. The best part is that you can do it wherever and whenever you want.
Just download the app and create an account. Then, you'll be able to place bets on all your favorite sports.
What Is The Dress Code At Wildwood Casino Colorado?
There is no specific dress code at this casino. However, they ask that the guests refrain from wearing any overly revealing or offensive clothing. They want everyone to feel comfortable and have a good time, so please be respectful of others when choosing your attire.
Is There An Airport Shuttle Available From Wildwood Resort?
Yes, there is an airport shuttle available from Wildwood Resort. The shuttle runs every half hour, and the journey takes about 45 minutes. The shuttle is complimentary for all guests of the casino, so be sure to take advantage of this great service.
What Is The Smoking Policy At Wildwood Cripple Creek?
Smoking is not permitted inside Wildwood. However, they do have a designated smoking area outside the casino for the guests who wish to smoke. They ask that all smokers be respectful of others and refrain from smoking in non-smoking areas.
What Is The Pet Policy At Wildwood?
Pets are not allowed inside this casino. However, they have a designated pet area outside the casino for hotel guests who wish to bring their pets. They ask that all pet owners be respectful of others and refrain from bringing their pets into non-pet areas.
Is Wifi Available At Wildwood Hotel & Casino Cripple Creek?
Yes, WiFi is available at this casino. However, they ask that the guests refrain from using their devices in areas where they may be disruptive to others. They want everyone to have a good time, so please be respectful of others when using your device.
What Is The Cancellation Policy For Wildwood Hotels?
Cancellations for this casino in Cripple Creek must be made at least 24 hours in advance. Guests who do not cancel within this time frame will be charged the full amount of their reservation.
Conclusion
Wildwood Casino in Cripple Creek is a great place to visit if you're looking for a fun and exciting casino experience. They offer a variety of gaming options, as well as an on-site restaurant and bar.
They also have a number of great amenities, including an outdoor smoking area and an airport shuttle. If you're looking for a great casino in Colorado, be sure to check out Wildwood.