Mohegan Sun Casino Montville
Address: 1 Mohegan Sun Blvd, Montville, CT 06382, USA
Phone Number: +1 888-226-7711
Website: https://mohegansun.com/
Hours: Mohegan Sun is open 24 hours, 7 days a week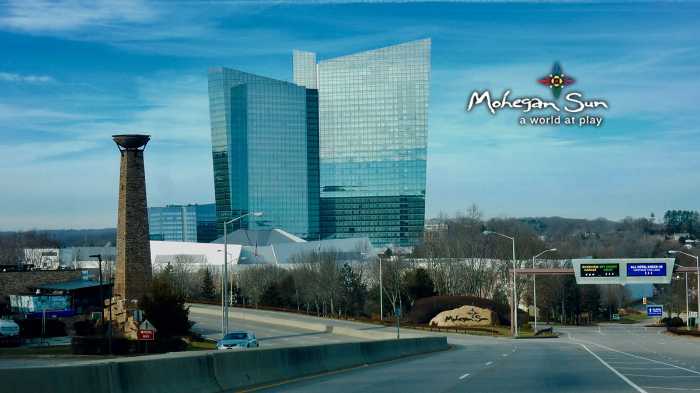 The Mohegan Tribe broke ground on the casino in 1991 with the goal of providing employment for tribe members and revenue for the tribe. The casino opened in 1992 and has since become one of the largest casinos in the United States.
In 2005, the casino underwent a $1 billion expansion, adding a 1,200-room hotel, 43 table games, and an upscale shopping mall. The expansion also added a second casino, called the Mohegan Sun at Pocono Downs, in Wilkes-Barre, Pennsylvania.
It is located on the tribe's reservation in southeastern Connecticut, about halfway between New York City and Boston. The casino complex covers more than 1 million square feet and includes three hotels, a spa, and two golf courses.
The casino offers more than 5,000 slot machines and 300 table games, as well as live entertainment at the Mohegan Sun Arena and the Wolf Den nightclub. Guests can also enjoy dining at one of the casino's many restaurants, including the award-winning Bobby Burger Palace.
The Mohegan Sun is one of the largest and most popular casinos in the United States. If you're looking for a fun and exciting place to gamble, this is the place for you.
Guests who have visited Mohegan Sun Casino generally have positive things to say about their experience. Many guests comment on the property's cleanliness and how friendly and helpful the staff is.
Gamers appreciate the wide variety of table games and slot machines available, while non-gamers enjoy the other amenities that the casino has to offer, such as the theater, bowling alley, and shops.
(Related reading: Connecticut casinos)
Gaming
Guests can choose from 43 different table games, including blackjack, roulette, baccarat, and poker. There is also a separate room for high rollers with higher betting limits.
There are over 5800 slot machines available at this casino, ranging in denomination from pennies to $100.
Table Games
Mohegan Sun in Connecticut has something for everyone, including a wide variety of table games. Blackjack is always a popular choice, and Mohegan Sun offers both traditional blackjack and Spanish 21.
For those who enjoy roulette, there are several different versions to choose from, including American and French roulette. A wide selection of poker games are also available, including Texas Hold 'em, 7-Card Stud, and Omaha.
Craps is another popular option, and Mohegan Sun offers both traditional craps and Pai Gow craps. Whatever your game of choice may be, you're sure to find it at this casino.
Table game minimums at this casino vary depending on the game and time of day. Blackjack minimums start at $5 during the week and increase to $10 on weekends.
Roulette minimums are $2 during the week and $5 on weekends. Craps minimums are $5 during the week and $10 on weekends. Poker minimums are $2 during the week and $5 on weekends.
Slots
At this casino, there is no shortage of ways to win big. With over 5800 slot machines to choose from, guests are sure to find a game that meets their budget and taste.
Some of the most popular slots at Mohegan Sun include Wheel of Fortune, Cleopatra, and Wizard of Oz. In addition to traditional slots, guests can also enjoy a wide selection of video poker and keno machines.
The payback percentage for slot machines at this casino is 92%. This means that for every $100 you spend, you can expect to win back an average of $92. Of course, this is just an average, and your actual results may vary.
However, the overall payout percentage at Mohegan Sun is higher than most other casinos, so you can rest assured that you have a good chance of winning.
Hotel/Resort
The Mohegan Sun hotel comprises 1120 rooms spread out over 34 stories. All rooms are non-smoking and have floor-to-ceiling windows with views of either the Connecticut woods or the skyscrapers of Uncasville.
Amenities offered include free wifi, 24-hour room service, concierge service, valet parking, fitness center, heated indoor pool, and 10 outdoor tennis courts.
Standard rooms start at $199 per night, while suites start at $499 per night. Rates vary depending on the time of year and the day of the week.
For those who want to enjoy the casino without staying overnight, there is a self-parking garage with over 6000 spaces. Parking is free for hotel guests and $10 for non-guests.
Check-in time at Mohegan Sun Hotel is 4:00 pm
Check-out time at Mohegan Sun Hotel is 11:00 am
Restaurants & Buffets
This casino offers a wide variety of dining options to suit every taste. From fine dining to casual fare, there's something for everyone at this popular casino destination.
Some of the most popular restaurants include Ballo Italian Restaurant, Bean and Vine, Bobby's Burger Palace, Bow & Arrow Sports Bar, Carlo's Bakery, Chick-fil-A, and Frank Pepe Pizzeria Napoletana.
Whether you're in the mood for a light bite or a full-fledged feast, you're sure to find something to your liking at Mohegan.
Pools
Looking for a place to cool off and have some fun? Mohegan Sun has you covered with two great pools! The Sun Terrace Pool in Sky Tower is a 10,000-square-foot solarium with an indoor pool and whirlpool.
You can enjoy the 17,500 square-foot sun terrace beyond the pool area in the summer months, complete with a nightly seasonal fire pit. The Pools are located in Earth Tower and feature two heated pools, one hot tub, and cabanas that can be rented for half or full-day use.
So Mohegan Sun has the perfect spot for you if you're looking to take a dip, relax in the sun, or enjoy a poolside cocktail.
Mohegan Sun Casino Montville, CT FAQ
Does Mohegan Sun Casino Have A Sportsbook?
This casino does have a sportsbook. This is great news for sports fans who are looking for a place to place their bets. The sportsbook at Mohegan Sun is operated by DraftKings and offers a wide variety of betting options on all major sporting events.
In addition, the Sportsbook also features a full-service bar and restaurant, making it the perfect place to watch the game and enjoy a few drinks with friends. So if you're looking for a place to bet on your favorite team, make sure to check out Mohegan Sun Sportsbook.
Is Poker Available At Mohegan Sun Casino?
Yes, poker is available at this casino. The casino offers both live and video poker games. There are also a number of poker tournaments held each week. Please visit the casino's website or speak to a customer service representative for more information.
What Are The Age Requirements For Gambling At Mohegan Sun Montville?
At this casino, the age requirement for gambling is 21. This applies to both playing casino games and using slot machines. All guests must present a valid photo ID in order to prove their age. Anyone under the age of 21 will be asked to leave the casino floor.
Does Mohegan Sun Have An Online Casino?
Yes, this casino has an online casino. You can access it through the Mohegan Sun website or through the Mohegan Sun app.
The online casino offers a wide variety of casino games, including slots, table games, and video poker. You can also earn rewards points and take advantage of promotional offers. To get started, simply create an account and make a deposit.
Is There An Mohegan Sun App?
Yes, there is a Mohegan Sun casino app! The app is available for iOS and Android devices, giving users access to all of the casino's features and services.
The app lets you view your account balance, make deposits and withdrawals, check comp points and offers, view upcoming events, and more. The Mohegan Sun app is a convenient way to stay connected to your favorite casino while on the go.
So if you're looking for a way to make the most of your Mohegan Sun experience, be sure to download the app today.
What Is The Dress Code At Mohegan Sun Hotel & Casino?
The dress code at this casino is casual. This means that you can wear whatever you feel comfortable in, as long as it is appropriate.
However, they recommend avoiding items such as tank tops, flip-flops, and shorts. Remember, this is a casino, so you should dress accordingly.
Is There An Airport Shuttle Available From Mohegan Sun?
Yes, there is an airport shuttle available from Mohegan. The shuttle runs daily from 7:00 am to 11:00 pm, and it makes stops at both Bradley International Airport and T.F. Green Airport. The cost of the shuttle is $15 per person, one way.
What Is The Smoking Policy At Mohegan Sun Montville?
The smoking policy at this casino is as follows: smoking is allowed in designated areas only. These areas are clearly marked and located on the casino floor. Guests who smoke in non-designated areas will be asked to leave the casino.
What Is The Pet Policy At Mohegan Sun?
The pet policy at this casino is as follows: only service animals are allowed on the property. Guests who bring pets will be asked to leave the casino.
Is Wifi Available At Mohegan Sun Resort?
Yes, Wi-Fi is available at Mohegan Sun. The casino offers complimentary Wi-Fi to all guests. There are also a number of charging stations located throughout the property. So if you need to stay connected while at the casino, you can do so with ease.
What Is The Cancellation Policy For Mohegan Sun Hotel?
The cancellation policy for this casino is as follows: all reservations must be canceled at least 24 hours before arrival to avoid penalties. If you cancel your reservation less than 24 hours before your arrival date, you will be charged a fee equal to one night's stay.
Conclusion
Mohegan Sun Casino is definitely worth considering whether you're looking to gamble or just enjoy a weekend away from home.
With so many different amenities available all in one place, you're sure to find something to suit your taste.
And with the added bonus of being located in scenic Connecticut, it's the perfect getaway destination. So what are you waiting for? Book your stay today.