Magic City Casino Miami
Address: 450 NW 37th Ave, Miami, FL 33125
Phone Number: +1 305-649-3000
Website: www.magiccitycasino.com
Hours: Magic City Casino is open Monday 10 AM – 2 AM, Tuesday 10 AM – 2 AM, Wednesday 10 AM – 2 AM, Thursday 10 AM–2 AM, Friday 10 AM – 4 AM, Saturday 10 AM – 4 AM, Sunday 10 AM – 2 AM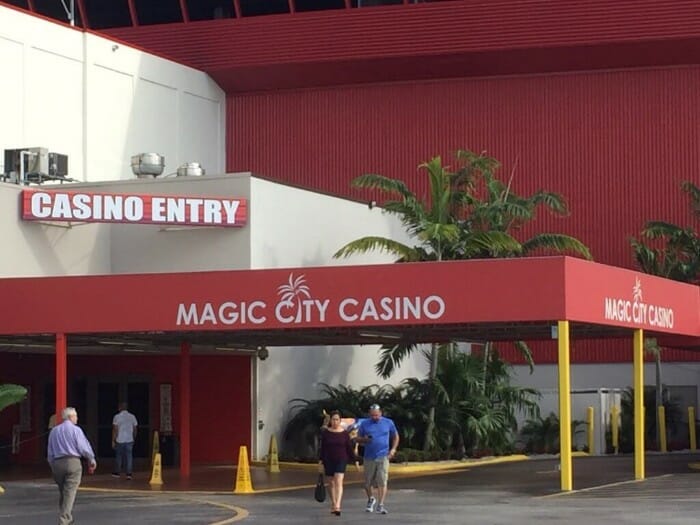 Magic City Casino, located in Miami, Florida, is owned and operated by West Flagler Associates, Ltd. Since its opening, the casino has become a destination for entertainment and gaming. From gambling to live entertainment, this casino provides something for everyone.
Its gaming floor features 800 Las Vegas-style slot machines, live poker and simulcast wagering. The casino offers blackjack and other table games such as roulette, craps and baccarat.
In addition to its gaming action, the casino also features live entertainment on-site, ranging from popular local and national acts to its own in-house bands. The casino's onsite promotions include tournaments, drawings and giveaways throughout the year.
For dining, they serve food and drinks from their sports club, and there's also a concession stand that offers a variety of snacks. So whether you're looking to play, watch or eat, this casino is the place to be.
Recent reviews on Google give the casino an average rating of 4.3 stars out of 5. One guest even said, "Great place to gamble, live music and friendly staff. And the food was awesome!"
Another guest said, "One of the few places in Miami that's open late and has a decent variety of slots. I really had a great night here."
(Related reading: Florida casinos)
Gaming
Their gaming space features 800 Las Vegas-style slot machines, live poker and simulcast wagering. Table games include blackjack, roulette and more.
Table Games
Are you looking for a fun night out and some exciting casino games to play? Look no further than this casino in Florida. With a wide variety of table games, you will surely find something that suits your style.
Try your hand at blackjack, where you can beat the dealer's hand without going over 21. Or maybe roulette is more your speed – try to guess where the ball will land on the spinning wheel. For those feeling lucky, craps is always a thrilling choice.
Baccarat is a classic that's worth trying, or maybe you'll prefer Ultimate Texas Hold'Em or 3-Card Poker. Feeling adventurous? Give High Card Flush or Jackpot Hold'Em a shot. And for a unique gaming experience, try DJ Wild.
The minimums for table games vary from game to game. Generally, though, the minimum bet for most table games is $5. You may also ask your dealer about any special table game promotions when you visit.
Slots
This casino also offers a variety of popular slot machines. Some of the popular machines include:
Ghostbusters
Pharaoh's Fortune
Wheel of Fortune
Shadow Princess
Monopoly
Snow Wizard
Quick Hits
Buffalo
Cleopatra Gold
China Mystery
As per Florida's slot gaming regulations, the minimum return for each machine is 75%. Since this casino does not offer any information regarding its own slot machine payback percentages, it is assumed that they follow the state's standard.
Hotel/Resort
If you're looking for a place to stay near this casino in Florida, don't worry. While there isn't a hotel on-site, there are several great options just a short distance away.
The Best Western Premier Miami Intl Airport Hotel & Suites Coral Gables is a fantastic choice for those seeking comfort and convenience. If you're looking for something a bit more upscale, the Regency Miami Airport by Sonesta offers accommodations along with stunning city views.
And for those who prefer a well-known brand, the Hilton Miami Airport Blue Lagoon is a reliable choice with all the necessary amenities. No matter which one you choose, you will have a comfortable and enjoyable stay during your visit to this casino.
Restaurants & Buffets
Looking for great dining options while you're at this casino in Florida? Look no further than The Sports Club and the casino's concession stand. Whether you're in the mood for a quick bite or a sit-down meal, these restaurants have covered you.
The Sports Club offers a cozy atmosphere with a variety of dishes to choose from, including burgers, sandwiches, and salads. And when you need a quick snack to keep you going, the casino's concession stand has all your traditional favorites like popcorn, hot dogs, and soft drinks.
Pools
Although there are no swimming pools on the grounds of this casino in Florida, fear not — there are plenty of other nearby options for cooling off on a hot day.
The city of Miami offers a plethora of public pools, from the Venetian Pool, a historic swimming hole that was actually created from a coral rock quarry to the Miami Springs Pool, a picturesque oasis boasting a 50-meter swimming pool and serenely landscaped grounds.
So, even though you won't be doing any laps at this casino, you'll certainly have no shortage of options for taking a refreshing dip in the Florida sunshine.
Magic City Casino, Miami, FL FAQ
Does Magic City Casino Have A Sportsbook?
Unfortunately, they do not have a standard sportsbook available. However, they do offer simulcast betting on horse racing, harness racing, and greyhound racing. Additionally, they have a sports bar on-site with plenty of TVs for watching your favorite team live.
Is Poker Available At Magic City?
Yes, they do offer poker. The casino has dedicated poker tables that host Texas Hold'em games and tournaments every day, with different stakes depending on the game. Plus, they have an array of promotions and discounts available for all types of players.
What Are The Age Requirements For Gambling At Magic City Casino?
The legal gambling age in the state of Florida is 21 years old. Therefore, all patrons visiting this casino must be at least 21 to gamble on any games offered within the casino. Those under the age of 21 are also not allowed to access any areas of the casino where gaming takes place.
Does Magic City Have An Online Casino?
No, this casino does not have an online casino. However, guests may come to visit the casino in person to enjoy games such as slots and poker. Additionally, it also offers simulcast betting for horse racing, harness racing, and greyhound racing.
Is There An Magic City Casino App?
No, they do not offer a mobile app at this time. However, they have a website with all the information you need about their casino and promotions. Plus, you can also find directions to get to the casino and contact them for any inquiries.
What Is The Dress Code At Magic City?
The dress code at this casino is casual but neat. This means no flip-flops, tank tops, or ripped jeans are allowed inside the casino. Additionally, guests must wear a shirt and shoes at all times while in the establishment.
Is There An Airport Shuttle Available From Magic City Casino?
No, there is no airport shuttle service available from this casino. However, there are plenty of taxi and transportation services that can take you to and from the casino with ease. There are also ridesharing services, such as Uber and Lyft, that you can use to get to the casino from the airport.
What Is The Smoking Policy At Magic City?
This casino does not allow smoking inside the gaming floor. However, there is a designated outdoor area for smokers to enjoy their cigarettes and cigars away from other guests. Additionally, all vape pens are prohibited on the premises.
What Is The Pet Policy At Magic City Casino?
Sadly, no pets are allowed at this casino. However, there are plenty of pet-friendly hotels nearby where you can drop off your furry friends for the duration of your stay. Additionally, service animals are always welcome in the casino.
Is Wifi Available At Magic City?
Unfortunately, the casino does not offer free wifi for guests at this time. However, there is plenty of mobile data coverage in the area to stay connected on your personal device. Additionally, the sports bar within the casino has a couple of computers available for guests to use if needed.
What Is The Cancellation Policy For Magic City Casino?
As they do not offer any accommodation, they do not have a specific cancellation policy. However, if you have made any reservations for the casino's restaurants or special events, it is best to contact them in advance if you need to cancel or reschedule your reservation.
Conclusion
This casino is a great place to visit for all kinds of gamers and sports fans. Whether you are looking for a night out on the town playing poker or watching some live sports, Magic City Casino has something for everyone.
Plus, they offer various services such as free wifi and shuttle services that make your stay even more enjoyable. So, if you are ever in Miami, be sure to check it out.