Pensacola Greyhound Track Pensacola
Address: 951 Dog Track Rd, Pensacola, FL 32506, USA
Phone Number: +1 850-456-9800
Website: https://www.pensacolagreyhoundtrack.com/
Hours: Sunday 12–3 am Monday 9 am–3 am Tuesday 9 am–3 am Wednesday 9 am–3 am Thursday 9 am–12 am Friday Open 24 hours Saturday Open 24 hours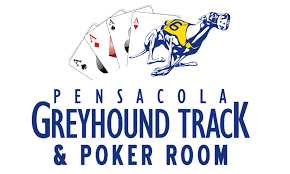 The Pensacola Greyhound Track was opened in 1985. It is the only greyhound track in the Florida panhandle. The track is open for live racing from Wednesday to Sunday. It also offers simulcast wagering on greyhounds and horse races from around the country.
It features a snack bar and a gift shop. The track is located just off of I-10, about 15 minutes east of downtown Pensacola. If you're looking for a fun night out at the races, the Pensacola Track is the place to be.
Guests rate Pensacola Greyhound Track 3.5 out of 5 stars. Guests recommend Pensacola for its friendly staff and convenient location.
(Related reading: Florida casinos)
Gaming
This casino offers poker, live greyhound racing and simulcast wagering on greyhounds and horse races from around the country.
Table Games
There's nothing quite like the thrill of playing a table game at the Pensacola. With so many different games to choose from, you're sure to find one that's perfect for you.
Texas Hold'em, Big O, Omaha High, Omaha High-Low, Seven Card Stud High, Seven Card Stud High-Low Split, Seven Card Stud Low, Open-Face Pai Gow, and Crazy Pineapple are all available.
Whether you're a seasoned pro or just starting out, you'll be able to enjoy the excitement of the game and hopefully walk away with some extra winnings.
This casino features a variety of table games with different minimums. Pai Gow Poker has a $5 minimum. Big O and Omaha High have a $10 minimum. Seven Card Stud has a $2-$4 limit with a $20 maximum buy-in.
Slots
Unfortunately, there are no slot machines at this casino.
Hotel/Resort
The Pensacola Greyhound Track in Florida is a state-of-the-art facility offering a wide range of amenities for racing fans and dog lovers alike.
For those interested in watching the races, the track features indoor and outdoor seating and a large television screen that broadcasts the races live. In addition, the track offers a variety of dining options, including a full-service restaurant and bar.
For those who want to get closer to the action, the track also offers tours of the kennels, where visitors can meet the dogs and learn about their training regimen. Whether you're a racing fan or a dog lover, this casino has something to offer everyone.
Restaurants & Buffets
The Center Bar at Pensacola is the perfect place to enjoy various delicious food and drinks while watching all the live racing action. The menu features burgers, hot dogs, sandwiches, salads, wings, and more.
There is also a full bar with a wide selection of beer, wine, and spirits. Whether you are looking for a quick bite or a leisurely meal, the Center Bar has something for everyone. And don't forget to try one of their signature greyhound cocktails.
Pools
Unfortunately, this casino does not have a pool on site. However, there are many hotels in the area that do have pools.
Pensacola Greyhound Track Pensacola, FL FAQ
Does Pensacola Casino Have A Sportsbook?
This casino does not have a sportsbook. However, they do offer simulcast wagering on horse and dog races from around the country.
Track officials say that they have no plans to add a sportsbook in the future. This is likely because several casinos and racetracks in the area already offer sports betting.
Is Poker Available At Pensacola Casino?
Yes, there is poker available at this casino. They have various games to choose from, including Texas Hold'em, Omaha, and Seven Card Stud. The buy-ins start at $2-$4 and go up to $20.
What Are The Age Requirements For Gambling At Pensacola Greyhound Track?
Visitors must be at least 21 years old in order to place bets on the races. This age requirement is in place in order to comply with state law. Additionally, the track offers a variety of other gaming options, such as poker and slots.
However, these games also have an age requirement of 21. So, if you want to try your luck at this casino, make sure you meet the age requirements first.
Does Pensacola Greyhound Track Have An Online Casino?
Pensacola Greyhound Track does not have an online casino. There are plenty of other places to gamble online, but Pensacola is not one of them. That said, there is still plenty of fun to be had at the track.
You can watch the greyhound's race live, bet on the outcome of the races, and enjoy a meal or drink in the clubhouse. It is worth visiting if you're looking for an authentic racing experience. However, if you're looking to gamble online, you'll need to find another site.
Is There An Pensacola Greyhound Track App?
No, there isn't a Pensacola Greyhound Track app. But! You can keep track of your progress toward a goal by using a simple task tracking app like Toodledo or Wunderlist.
Just create a task for yourself that says "Visit Pensacola Greyhound Track" and set a frequency (weekly, monthly, yearly, etc.). Then, mark the task as complete every time you visit the track.
You'll be able to see at a glance how often you're visiting the track and whether you're on track to reach your goal. And if you ever want to take a break from tracking your progress, you can always delete the task from your app.
What Is The Dress Code At Pensacola?
There is no dress code at this casino. However, they do recommend that visitors dress in comfortable clothing. This is because you will sit for long periods while watching the races. Additionally, the track can get quite crowded, so it's best to wear comfortable shoes.
Is There An Airport Shuttle Available From Pensacola?
No, there is not an airport shuttle available from this casino. However, plenty of taxis and ride-sharing services can take you to and from the airport.
What Is The Smoking Policy At Pensacola Greyhound Casino?
Pensacola is a non-smoking facility. However, they have a designated smoking area outside the main entrance. This area is for smokers only and is not open to non-smokers.
What Is The Pet Policy At Pensacola?
Pets are not allowed inside this casino. However, service animals are always welcome.
Is Wifi Available At Pensacola Greyhound Track?
Yes, Wifi is available at this casino. You can connect to the track's Wifi network by going to the Settings app on your device and selecting the "Pensacola Greyhound Track" network.
Once you're connected, you'll be able to browse the internet, check your email, and use all of your favorite apps without any data charges. And best of all, the Wifi signal is strong and reliable, so you won't have to worry about losing your connection in the middle of a race.
So whether you're betting on the dogs or just watching them run, you can do it all online at Pensacola.
What Is The Cancellation Policy For Pensacola?
No online casino exists, so Pensacola does not have a cancellation policy.
Conclusion
Pensacola Greyhound Track is great for watching live greyhound races and betting on the outcomes. With many on-site restaurants and amenities, it is easy to spend an entire day here. However, it does not have an online casino.
If you're looking for an authentic racing experience, the Pensacola Greyhound Track is definitely worth a visit.