Tampa Bay Downs
Address: 11225 Race Track Rd, Tampa, FL 33626
Phone Number: (813) 855-4401
Website: www.tampabaydowns.com
Hours: Tampa Bay Downs is open Monday 11 AM – 2 AM, Tuesday 11 AM – 2 AM, Wednesday 11 AM – 2 AM, Thursday 11 AM – 2 AM, Friday 11 AM – 2 AM, Saturday 11 AM – 2 AM, Sunday 11 AM – 2 AM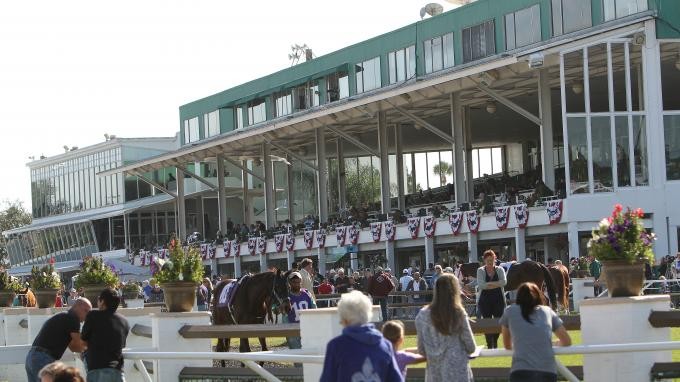 Tampa Bay Downs has been serving horse racing fans since 1926. It is one of the oldest thoroughbred race tracks on the West Coast of Florida and one of the oldest continually operating racetracks in the United States.
In 2003, the facility added the Silks Poker Room, which opened the door to a new guest experience. It continues its commitment to outstanding service and hospitality by offering a variety of special events such as live entertainment concerts and horse racing.
And if you want to take a break and grab a bite, this racino offers multiple dining options ranging from casual to fine dining featuring elevated American Cuisine. Whether you think you have the next winning horse or want to experience a classic Florida tradition, this is the place to be.
On Google, this casino has a 4.5-star rating with over 3,700 reviews. One guest said, "The staff was very friendly and accommodating. The food was great, the drinks were cold, and the atmosphere was comfortable. Highly recommend this place for a day of racing."
Another guest commented, "This is an excellent racino to visit for fun and excitement. The slots are nice, and there's also live horseracing which is always exciting. Great food and drinks too. Highly recommend."
(Related reading: Florida casinos)
Gaming
Their poker room offers a variety of games, including Ultimate Texas Hold'Em, Limit and No Limit Texas Hold'em, Omaha Hi-Lo, Pot Limit Omaha Hi and more.
Table Games
If you're a fan of table games and happen to find yourself in this racino, you're in for a treat. This casino offers an impressive selection of games to try your luck at. One particularly popular game among visitors is Ultimate Texas Hold'Em.
And, if you prefer the classic version, fear not! The casino also offers Limit and No Limit Texas Hold'em. For those looking for a bit more variety, Omaha Hi-Lo and Pot Limit Omaha Hi are also available.
This racino offers a wide range of tables with various betting limits. The minimums vary, but the most popular games at this track offer low-limit betting starting at $40.
Slots
Unfortunately, this racino does not currently offer any slot machines. However, there are still plenty of other ways to try your luck and enjoy yourself at this popular Florida destination.
Whether you want to bet on a favorite horse, hit the poker tables, or enjoy the atmosphere of one of Florida's premier race tracks, this racino is always a great choice.
Hotel/Resort
While there may not be a hotel attached to this racino, visitors need not worry about finding a place to rest their heads. For those seeking a comfortable stay just a stone's throw away, La Quinta Inn by Wyndham offers all the amenities travelers need for a relaxing stay.
Alternatively, Country Inn & Suites by Radisson is another great option for those seeking a cozy and inviting atmosphere. Both hotels offer friendly service and top-notch accommodations, ensuring guests have an enjoyable and stress-free experience during their visit to this place.
Restaurants & Buffets
When dining at this racino, Silks Bar and Grille is a must-visit spot. Located within the premises, this restaurant serves delicious American fare and offers a fantastic view of the horse races.
The friendly and helpful staff caters to your every need, making your dining experience an enjoyable one. Whether you're in the mood for some appetizers to share with friends or a hearty entrée, Silks Bar and Grille has something for everyone.
Concessionaires are also located within the premises for a quick and convenient bite. Whether you want to grab an ice cream cone or a hot dog, there are plenty of food stands offering delicious treats.
Pools
While this racino may not offer swimming pools in its facility, there are still plenty of exciting and entertaining activities. Visitors can experience the thrill of live horse racing, test their luck at the on-site poker room, or take in a concert or event at the venue.
Additionally, with the warm Florida weather, guests can always find a nearby beach or pool to enjoy during their stay in the area. The staff at this racino are always happy to offer suggestions and recommendations to make each visitor's experience a memorable one.
Tampa Bay Downs, FL FAQ
Does Tampa Bay Downs Have A Sportsbook?
This racino does not have a standard sportsbook, but bettors can still enjoy horse racing and simulcasting. Guests can bet on their favorite horses at the track and also place wagers on simulcast races from other tracks in the United States and around the world.
Is Poker Available At Tampa Bay Downs?
Yes, this is their main focus. The on-site poker room offers a variety of limit and no-limit games, including popular versions like Texas Hold'em and Omaha Hi-Lo. Players can also compete in special tournaments hosted at this racino throughout the year.
What Are The Age Requirements For Gambling At Tampa Bay Downs?
All guests must be at least 21 to participate in gambling at this racino. This includes betting on horse races and playing the poker room. Visitors under the age of 21 are allowed on the premises but may not take part in any wagering or gaming activities.
Does Tampa Bay Downs Have An Online Casino?
No, there is no online casino associated with this racino. However, guests can access simulcast horse racing events and place wagers on their favorite horses. Additionally, they offer a poker room with a variety of limit and no-limit games, as well as tournaments throughout the year.
Is There An Tampa Bay Downs App?
No, they do not currently have an app for their racino. However, they offer a mobile-friendly website that can be accessed through any browser to place wagers and view race results. Guests can also sign up for their email newsletter to stay up-to-date on the latest events and promotions.
What Is The Dress Code At Tampa Bay Downs?
Guests are asked to wear appropriate attire at all times. This includes shirts with sleeves, long pants or skirts, and closed-toe shoes. Tank tops, cut-off shorts, bathing suits, and any other clothing deemed inappropriate by management are prohibited on the premises.
Is There An Airport Shuttle Available From Tampa Bay Downs?
No, they do not offer an airport shuttle service at this time. However, the racino is conveniently located near several major airports and transportation services.
Guests can take advantage of public transportation or book a shuttle through one of the local companies to get to and from the racino with ease.
What Is The Smoking Policy At Tampa Bay Downs?
Smoking is not allowed in any of the indoor areas at this racino. However, there are designated outdoor smoking areas for guests and visitors.
Additionally, all vape and e-cigarette devices must be used in accordance with Florida state law. Smoking policies are subject to change without notice, so it's important to check before
What Is The Pet Policy At Tampa Bay Downs?
Unfortunately, pets are not allowed on the premises of this racino. Only service animals that have been certified by a professional organization are permitted. All other animals must remain outside of the racino and be supervised at all times.
Is Wifi Available At Tampa Bay Downs?
Yes, this racino offers complimentary wifi for all guests and visitors. The wifi speed may be limited in certain areas, so it's important to keep that in mind when connecting. Additionally, guests should be aware of any terms or policies associated with the wifi service before using it.
What Is The Cancellation Policy For Tampa Bay Downs?
They do not offer accommodations or tickets for sale, so there is no applicable cancellation policy. However, refunds may be available on certain wagers or activities if they are requested before the event starts time. Guests should consult with staff members directly for more information.
Conclusion
This racino offers various activities, including horse racing, poker tournaments, and simulcast wagering. Visitors need to take note of the age requirements, dress code, smoking policy, pet policy, wifi access, and any applicable cancellation policies before visiting this racino.
With this information, guests can have a great time at this exciting racino. From placing bets to enjoying the races, there's something for everyone at Tampa Bay Downs.