Victory Casino Cruises Cape Canaveral
Address: 180 Christopher Columbus Dr, Cape Canaveral, FL 32920
Phone Number: (855) 468-4286
Website: www.victorycasinocruises.com
Hours: Victory Casino Cruises is open Monday 9 AM – 5 AM, Tuesday 8 AM – 7 PM, Wednesday 8 AM – 7 PM, Thursday 8 AM – 7 PM, Friday 8 AM – 7 PM, Saturday 8 AM – 7 PM, Sunday 9 AM – 7 PM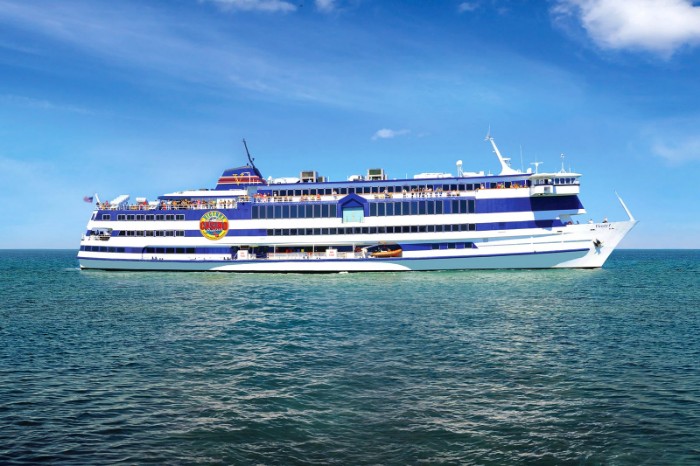 Victory Casino Cruises is a gambling ship that began in 2011 and is now the number-one casino cruise line in Florida. It has been serving the Port Canaveral area since then, offering a wide array of thrilling casino games, great food, and entertainment to its guests.
Their amazing casino floor features over 600 of the newest slot machines and all your favorite table games, such as Roulette, Craps, Blackjack, and more. It also features a variety of live entertainment, including bands, DJs, comedians, and more.
They also offer casual dining options for those who want to grab a quick bite. Whether you're looking for a great night out or want to experience the best of what Port Canaveral offers, this gambling ship is sure to please everyone.
On the popular review website, Yelp, this casino has an average rating of 4 stars out of 5. One guest said, "It offers a one-of-a-kind experience with friendly and professional dealers. The food was delicious, the entertainment was top-notch, and we had so much fun."
Another reviewer said, "This is an excellent way to spend a day or night at sea with friends. The staff was friendly and helpful, the drinks were cold and delicious, and the games were fun."
(Related reading: Florida casinos)
Gaming
Their gambling floor has something for everyone, from the newest slots and table games to classic favorites. They also offer tournaments such as Texas Hold 'Em and Blackjack, with various buy-in levels.
Table Games
If you're looking for a fun and exciting way to spend a day in Florida, check out this casino cruise. Not only can you enjoy all the amenities of a luxurious cruise ship, you can test your luck in the onboard casino.
With a variety of table games, this casino has something for everyone. Try your hand at blackjack or craps, or spin the roulette wheel to see if Lady Luck is on your side. If you're feeling particularly daring, give baccarat a shot.
And for those looking for a more unique gaming experience, this casino also offers Ultimate Texas Hold 'Em, Mississippi Stud, 3 Card Poker, and Let It Ride. Whatever your preference, this casino has everything you need for a truly unforgettable evening.
The minimums for table games vary from day to day and ship to ship. The minimums also depend on the game you are playing, but, however, the minimums typically range from $5 to $15.
Slots
At this casino, you will find all your favorite slots. Popular slot machines include:

Jaguar Mist
Dragon Lines
Emperor Penguin
Rawhide
Breaking Bad
Tabasco
Unfortunately, this casino has no set percentage for their slot machine payback. Instead, they adhere to the state of Florida's regulations and payouts, which sets a minimum of 85% payback on all slot machines.
Hotel/Resort
When it comes to accommodations at this casino in Florida, there is no hotel attached to the property. However, there are plenty of nearby options that provide comfortable and convenient stays.
For those seeking a classic and affordable experience, the Best Western Cocoa Beach offers clean rooms, friendly service, and a prime location just minutes from the casino.
Alternatively, guests seeking a bit more luxury might consider checking out the Beachside Hotel Cocoa Beach or the Courtyard by Marriott Cocoa Beach, both of which offer comfortable beds, ocean views, and high-end amenities such as pools and fitness centers.
No matter which option you choose, you can rest assured that you'll be well taken care of during your stay near the gambling ship.
Restaurants & Buffets
When it comes to dining options on this casino ship, guests have a variety of choices. Among the top options are the Atlantic Café, the Dolphin Bar, and the Sportsbook Lounge.
The Atlantic Café offers traditional American cuisine with a modern twist, making it the perfect choice for anyone looking for something familiar yet unique. For those looking to enjoy a drink with a view, the Dolphin Bar is the place to be.
This beach-themed bar overlooks the water and offers a range of cocktails and beers, as well as a selection of casual bites. Finally, the Sportsbook Lounge is the perfect choice for sports fans who want to catch all the action while enjoying some delicious food and drinks.
Pools
Unfortunately, this casino does not offer any swimming pools on board. However, there are plenty of other activities and amenities that guarantee a thrilling and fun-filled experience.
From exciting games and slot machines to delicious dining options and live entertainment, this gambling ship has something for everyone. So, while you may not be able to dip in a pool, you can still enjoy a memorable adventure out at sea.
Victory Casino Cruises, Cape Canaveral, FL FAQ
Does Victory Casino Cruises Have A Sportsbook?
Yes, it does have a sportsbook. It offers guests the chance to bet on all their favorite teams while enjoying delicious food and drinks. This also has several big-screen TVs so you can catch every exciting moment of the game.
Is Poker Available At Victory Casino Cruises?
Yes, poker is available at this casino. There are cash games, and tournaments of Ultimate Texas Hold 'em, Mississippi Stud, and other variations. The minimums for table games vary daily, so check beforehand.
What Are The Age Requirements For Gambling At Victory Casino Cruises?
The age requirement for gambling at this casino is 21 years old. All guests must present valid identification before being allowed onto the boat to verify their age. Guests under 18 are not permitted on the boat and will not be able to participate in any of the casino activities.
Does Victory Casino Cruises Have An Online Casino?
No, they do not have an online casino. They only offer gambling services on their physical casino boat in Cape Canaveral, Florida. While this limits the audience to those who can travel the boat by land or sea, it also allows for a unique and exciting experience that can't be found anywhere else.
Is There An Victory Casino Cruises App?
No, they don't have an app. However, they offer a mobile website that provides guests with information on the boat and its various amenities, as well as news on upcoming events and promotions.
What Is The Dress Code At Victory Casino Cruises?
The dress code for this casino is casual and relaxed. Guests are asked to dress in comfortable clothing appropriate for being on the boat and participating in various activities. Avoid wearing swimwear, tank tops, or any clothing with offensive messages.
Is There An Airport Shuttle Available From Victory Casino Cruises?
No, there is no airport shuttle service available from this casino. However, there are several transportation options to get you to and from the boat. Taxis, rideshares, and shuttles are all available for a fee.
What Is The Smoking Policy At Victory Casino Cruises?
The smoking policy for this casino is that guests are allowed to smoke on the outdoor decks only. There is a designated smoking area with dedicated ashtrays and seating areas, as well as indoor areas that are completely smoke-free.
What Is The Pet Policy At Victory Casino Cruises?
Unfortunately, this casino does not allow pets on board. This is to ensure the safety of other passengers, as well as the comfort and health of the animals. Guests should make arrangements for pet care before their trip.
Service animals are welcome on the boat, but guests should contact customer service before their trip to ensure they have all the necessary documents and permits.
Is Wifi Available At Victory Casino Cruises?
Unfortunately, this casino does not offer wifi. Guests should plan ahead for their trips by downloading any necessary files or entertainment onto a mobile device with a data plan before boarding the boat.
What Is The Cancellation Policy For Victory Casino Cruises?
You will need to contact customer service directly to inquire about cancellation policies. Generally, this casino requires that you cancel at least 24 hours before your scheduled trip to receive a full refund.
Conclusion
This gambling ship offers a unique and exciting experience for anyone looking to try their luck on the high seas. With its wide range of games, delicious food and drinks, and comfortable accommodations, this boat will surely be an unforgettable experience.
Before booking your trip, check out the age requirements, dress code, pet policy, smoking policy, wifi availability, and cancellation policy. With all these details in mind, you can be sure to have the best time possible on your gambling journey with Victory Casino Cruises!