Win! Derby St. Petersburg
Address: 10490 Gandy Blvd N, St. Petersburg, FL 33702
Phone Number: +1 727-812-3339
Website: www.win-derby.com
Hours: Win! Derby is open 24 hours a day, 7 days a week.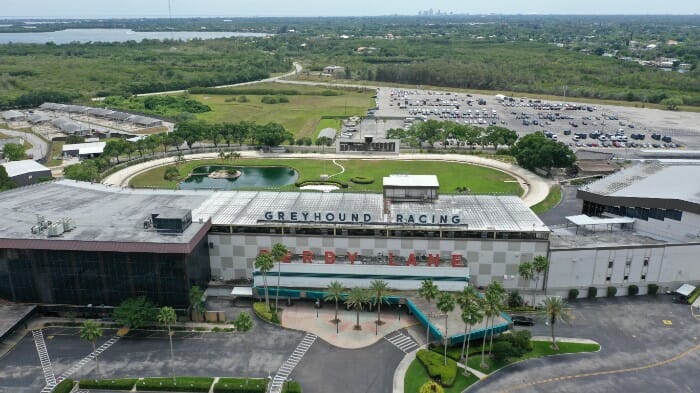 Win! Derby St. Petersburg was established in 1925 and has since become a premier entertainment destination for all ages in the Tampa Bay Area. The property is popular with visitors and locals looking for a night of fun and excitement.
The gaming space boasts several tables for different poker variations ranging from Texas Hold 'Em to Stud. There are no other casino games, such as slots and blackjack, at this casino. However, they have multiple promotions, such as tournaments and jackpot games.
On top of poker, the property offers live and simulcast horse racing. There is a grandstand with seating for up to thousands of people, along with a clubhouse area that offers private boxes and tableside dining.
The facility also has a casual restaurant that serves light fare and snacks. There is also a full-service bar with craft cocktails, local beers, and wines by the glass. So no matter your preferred drink, you won't be disappointed.
It is easy to see why this racino has been around for over 90 years. It is a top entertainment destination attracting visitors from all over the Tampa Bay area. With its great gaming, horse racing, dining, and bar options, there's something here for everyone.
This racino has an overall rating of 4 out of 5 stars on Google Reviews from its guests. One guest commented, "The atmosphere at Win! Derby is always great. The staff is friendly and knowledgeable, and the gaming options are top-notch."
Another guest stated, "The horse racing here is really fun. Plus they have a good selection of drinks and food. And the poker tournaments are always entertaining."
(Related reading: Florida casinos)
Gaming
Their poker room boasts several tables for different variations, including Texas Hold 'em and Stud. With promotions like tournaments and jackpot games, there's always something fun going on.
Table Games
At this racino, table game enthusiasts have a wide range of options. Whether you're looking for a game with a bit of a twist or a classic favorite, there's something for everyone.
Poker lovers can try their hand at Ultimate Texas Holdem, Mississippi Stud, Three Card Poker, or One Card Poker. For those feeling a bit more daring, I Love Suits, and DJ Wild offer exciting variations on traditional poker.
Meanwhile, Pai Gow is perfect for players who enjoy a relaxed and social gaming experience. Additionally, the table minimums at this casino depend on the game being played. However, they only offer poker variations, so you must check the minimums at the poker tables.
Slots
If you're heading to this racino hoping to play some popular slot machines, you may be disappointed to learn that this venue does not offer any.
However, if you're a fan of poker, you're in luck as they are known for their wide variety of poker games, including Texas Hold'em, Omaha Hi-Lo, and Seven Card Stud. Whether you're a seasoned pro or just starting out, there's a game for everyone at this casino.
Hotel/Resort
If you're planning a stay at this racino, you may wonder about accommodation options. Although there isn't a hotel attached to the property, there are some great options nearby. One option is the Holiday Inn Miami West, which provides comfortable rooms and an outdoor pool.
Another possibility is the Fort Lauderdale Grand Hotel, which offers a range of amenities, including a fitness center, sports bar, and restaurant. If you're looking for a more affordable option, the Garden Inn Homestead is a good choice.
Finally, the Maingate Lakeside Resort is another popular option, offering an on-site restaurant and two pools. With all these great choices, you can find a hotel that suits your needs and budget.
Restaurants & Buffets
If you're looking for a dining experience in the St. Petersburg area, look no further than this casino's onsite restaurant. Their recently updated menu offers a variety of options, from breakfast to specialty sandwiches to international dishes.
If you're unsure what to try, the friendly staff can offer suggestions and guide you toward a meal satisfying your taste buds. So if you're in the area or simply looking for a new dining spot, make sure to check out their restaurant for a satisfying meal.
Pools
Although the casino does not offer swimming pools on its premises, there are many other enjoyable activities to experience in the surrounding area. These include things like beaches, various outdoor activities, and fun local attractions.
Whether young or old, with friends or family, the St. Petersburg area is the perfect place to relax, unwind and enjoy all the beauty and excitement that this amazing part of the world has to offer.
Win! Derby, St. Petersburg, FL FAQ
Does Win! Derby Have A Sportsbook?
In place of a sportsbook, this casino has a racebook. The racebook offers betting on various horse racing events from around the world. They also offer simulcast wagering, allowing players to bet on races taking place in other parts of the country.
Is Poker Available At Win! Derby?
Yes, this is the only game offered at this casino. They offer a variety of poker games, including Ultimate Texas Hold'em, Mississippi Stud, Three Card Poker, and more. Additionally, they also offer Pai Gow for players who enjoy a relaxed gaming experience.
What Are The Age Requirements For Gambling At Win! Derby?
Players must be at least 21 years of age to gamble at this racino. This is strictly enforced, and anyone found to be gambling while underage will be asked to leave the premises. To ensure that everyone playing is of legal age, ID checks are conducted when entering the casino.
Does Win! Derby Have An Online Casino?
No, they do not offer an online casino. However, you may visit their physical location in St. Petersburg. This racino offers a variety of horse racing, poker, and other casino games for players to enjoy.
Is There An Win! Derby App?
No, they do not have an app. However, they do offer a loyalty program where players can earn points and rewards for playing at the casino. Additionally, they also have various promotions and bonuses that can be accessed through their website.
What Is The Dress Code At Win! Derby?
This casino has a casual dress code. It is recommended that patrons wear comfortable clothing and shoes while playing at the casino. The only items not allowed to be worn include hats, tank tops, swimwear, and offensive or inappropriate attire.
Is There An Airport Shuttle Available From Win! Derby?
No, there is no airport shuttle available from this racino. However, the area offers a variety of transportation options to get you to and from the casino. These include Uber, taxi services, rental cars, and more.
What Is The Smoking Policy At Win! Derby?
Outdoor smoking is allowed on the casino grounds. However, all indoor areas of the casino are strictly non-smoking. This includes all gaming tables and restaurants. Patrons who wish to smoke must do so outside in designated areas.
What Is The Pet Policy At Win! Derby?
Only service animals are allowed in the casino. Pets are not permitted inside any casino area, though they may be walked outside on the grounds in designated areas. All service animals must remain on a leash at all times and must have proper identification.
Is Wifi Available At Win! Derby?
Unfortunately, there is no wifi available at this racino. However, the surrounding area does have access to multiple internet providers if you need to stay connected while in St. Petersburg. Additionally, cell phone service is generally reliable in the area.
What Is The Cancellation Policy For Win! Derby?
Since there are no hotels or accommodations on the premises, there is no cancellation policy. However, if you make reservations at external hotels or restaurants, they may have their own cancellation policy.
For special events, please get in touch with the venue directly for information on their cancellation policy. This is to ensure that all patrons are aware of the terms and conditions for any event they may be attending.
Conclusion
This racino is the perfect place for horse racing, poker, and other casino games. They offer simulcast wagering and a variety of promotions and bonuses to take advantage of. It is important to note that all patrons must be at least 21 years of age or older to gamble here.
On top of that, they also have other policies that guests must be aware of. This includes a dress code, smoking policy, pet policy, and more. So if you're ready to try your luck, head on down to Win! Derby and make some memories.